Before we get into this week's contest, I'd like to take a minute to introduce you to Erin Blackwell. Erin is my friend and a member of the AllEars® Team. She handles the Fort Wilderness section of the site as well as other areas, but her biggest job (so far) is the Menu section. As if that isn't enough, Erin is adding yet another job to her AllEars® profile. She is going to be your new host for the Where in the World photo contest!
I've been running the contest for about 2 ½ years and it's been a blast! It's time to let someone else have some fun though. I'll still be posting Monthly Disney Calendars, Pics of the week, and occasional photo tips. But it's Erin who will be challenging you every Sunday with a new Where in the World photo. In fact, Challenge #163 came from Erin. So, without further ado, may I present your new contest host, Erin Blackwell!
Woohoo! Streamers and confetti and wild applause ensue!

This was Challenge #163:

And here's the answer: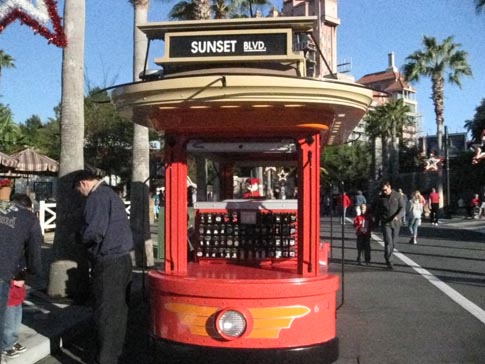 Copyright © 2010 Erin Blackwell, Canon PhotoShot SD890 IS, 6.6mm VR, f/9.0 , ISO 3200 (ISO 3200 SCN Mode)
You will find the answer at Disney's Hollywood Studios on Sunset Boulevard. It's a gift cart that looks a trolley and is marked with Pacific Electric, car number 694. The 694 represents the month and year that the Studios opened!
Larissa Huda was the first to send in the correct answer for the challenge! Congratulations to Larissa and all the other readers who got the answer right: Julie Wickware, Bill Mckim, Evanna Huda, Betsy Silvestri, Sharon Pierce, James Berry, Kathy Berry, Kevin, Irene Kleintop, Paul Dickson, Tim Rachuba, Patti Deluca, Sharon Dale, and Kristin Dormuth! Additional kudos goes out to Irene Kleintop and Patti Deluca for knowing what the 694 represented! Each of winner will be entered in this month's winners' drawing.
_______________________________________________________________________
Challenge #164: Where in the world is this?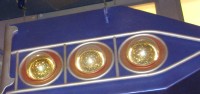 Do you know? Do you have a guess? Please send in your answer, before the end of the day on Thursday, February 17, by clicking on the blue box below. Please do not post answers using the Feedback Form link at the bottom of this post. Remember to be specific with your answer – just naming a park will not get you into the drawing.


_______________________________________________________________________
Everyone who sends in a correct answer to a Where in the World Challenge this month will be entered in a drawing at the end of the month for some special AllEars® goodies and a cool Disney book!