First, a little history.
In the early 16th century, the people living in New Spain (now Mexico) began to hear rumors of the "Seven Golden Cities of Cibola" located in the deserts hundreds of miles to the north. The legend told that these cities held vast amounts of wealth just waiting to be claimed by anyone fortunate enough to discover their whereabouts.
In 1535 Francisco de Coronado left his home in Salamanca, Spain and came to the New World. He climbed the social and political ladder quickly and was soon appointed to the position of Governor of Neuva Galicia. In 1540, Mexican Viceroy Antonio de Mendoza sent Coronado on an expedition to find the "Seven Golden Cities of Cibola" and secure their riches for Mexico and Spain. Coronado's travels took him through Northern Mexico, Arizona, New Mexico, and as far north as Kansas, but he never did discover these magnificent cities teeming with gold. He returned to Mexico empty-handed in 1542.
Disney's Coronado Springs Resort was not so much named for Francisco Vasquez de Coronado as it was for his journeys. While traveling through Northern Mexico and the Southwestern United States Coronado encountered breathtaking landscapes, unique architecture, and fascinating cultures. The resort draws its inspiration from the missions, pueblos, haciendas, and cabanas he saw during his journeys. In addition, a new myth regarding the "Seven Golden Cities of Cibola" has emerged at the Coronado Springs Resort. It proposes that if the stars align correctly during the new corn moon, images of the golden cities will be reflected on the waters of Lago Dorado, the Lake of Gold, found in the middle of the resort.
Coronado Springs is one of three moderately priced resorts located at Walt Disney World. The others are the Caribbean Beach Resort and the Port Orleans Resort. Coronado Springs opened on August 1, 1997, has 1,921 guest rooms and suites, and is the only resort in this price category to have a full-fledged convention center. The entrance to the complex is located off of West Buena Vista Drive.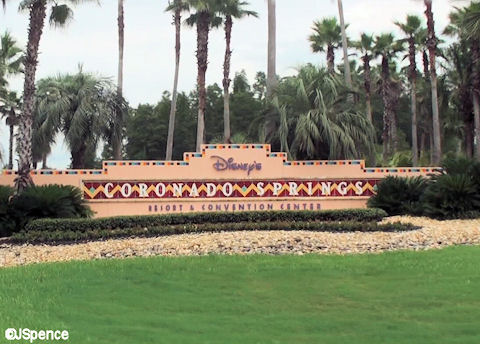 The Spanish influenced architecture is unmistakable when you approach El Centro (The Hub or Center). This area was intended to create the illusion of a 16th century Mexican village marketplace, complete with stalls, civic buildings, and eateries set alongside the waterfront. A multifaceted façade was created to invoke the look of a community that has grown over the years.
Underneath the porte-cochère are a number of cast members waiting to help you with your luggage and direct you to the registration desk.
The indoor design hints at the lavish palaces and town halls of latter-day Mexico. The centerpiece of this design is "La Fuente De Las Palomas" (Fountain of the Doves). This lovely fountain is a gathering place and acts as a seating area for families and friends waiting to begin their day. On top of the fountain is the traditional symbol of hospitality, a pineapple. Be sure to take a look at the hand-painted domed ceiling which is filled with clouds and doves. The sky and clouds were painted on canvases off-site and applied to the dome in pieces. The doves were added once everything was in place.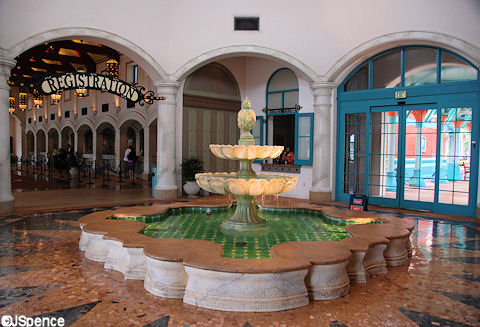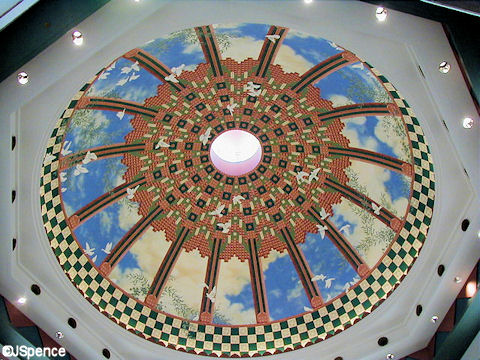 In a room to the right of the fountain are the registration and concierge desks. The architecture in this room is stunning. Large wooden beams crisscross the ceiling, hammered-tin chandeliers hang from wrought iron chains, and stucco arches line the wall. Be sure to take a look at some of the murals located behind the check-in desk. They depict colonial life in Mexico.
To the left of the fountain is Panchito's Gifts and Sundries which sells the typical array of Disney souvenirs. Named after Panchito Pistoles, this feisty rooster is one of "The Three Caballeros" and joins Donald Duck and José Carioca in a tour of Mexico and Latin America.
"The Three Caballeros" (1944) followed the movie "Saludos Amigos" (1943) and was part of a good-will tour promoting Latin and South America. Tiles depicting these feathered adventurers can be found high overhead in the shop. In addition, a statue of Panchito Pistoles is prominently located in the middle of the store and a likeness of José Carioca can be seen perched on a balcony railing.
In the Disney series "House of Mouse" (2001-2003) we learn a little more about Panchito's lineage and find out that his full name is Panchito Romero Miguel Junipero Francisco Quintero González III. Somehow his original family name of Pistoles is lost in this explanation.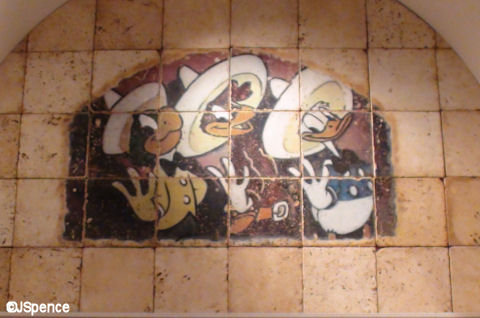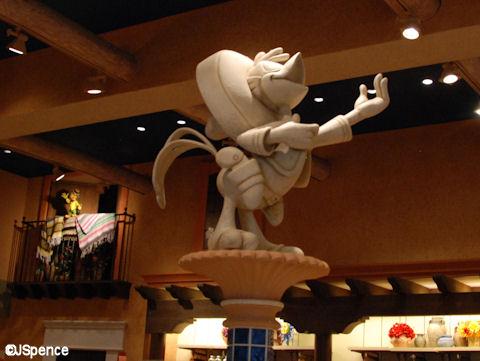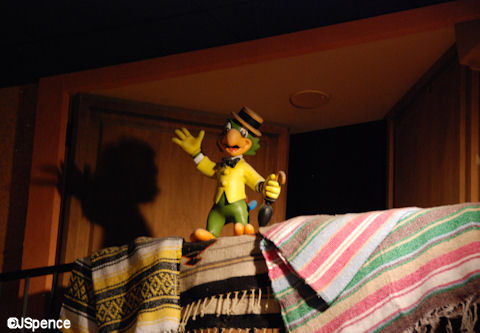 "The Three Caballeros" was a collection of short segments loosely bound together by the presence of Donald Duck opening gifts throughout the movie. One of these shorts is titled "The Flying Gauchito" and tells the story of a little boy from Uruguay who discovers a winged donkey, Burrito. A likeness of this cute little animal can be found near the entrance of the shop.
Also radiating off of the fountain is a long hallway. Along this corridor you'll find several restaurants and a lounge/bar. This is also the way to the convention center.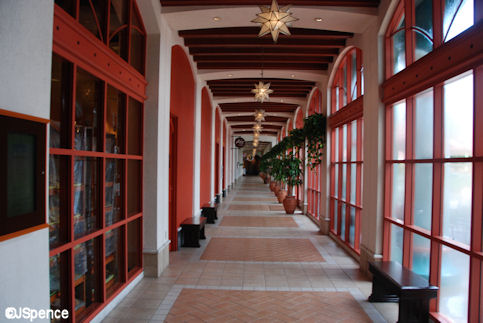 Café Rix, a grab-and-go restaurant, was added to Coronado Springs several years ago. Before its existence, there wasn't any place for guests to quickly pick up a bite to eat and be on their way. Breakfast is offered from 6:30am to 11am and includes such items as egg-&-cheese sandwiches, pastries, quiche, and fruit plates. Lunch and dinner is served from 11am to midnight and offers standard fare such as hot dogs, hamburgers, and pizza. A temping selection of ice cream is also offered. Tables are available next door in Rix Lounge. If you want to take the food back to your room, the cast members will be happy to provide you with a nice carrying bag.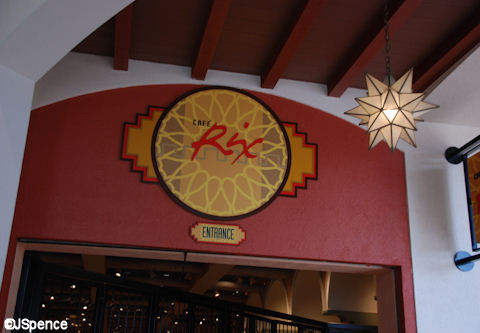 Rix Lounge, located next door to Café Rix, is perhaps one of the best watering holes at Walt Disney World. Even though it can accommodate 300 guests, it feels dark, mysterious, and cozy due to its well-designed layout. It's a wonderful place to hide away for an hour or so. Although the tables are available all day to accommodate Café Rix, the bar is only open from 5pm to 2pm. A DJ cranks out music from 9pm Thursday through Saturday and a private room is also available for special events. Full catering options are available. For more information about Rix Lounge, click here.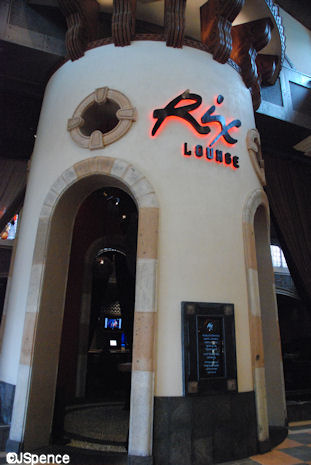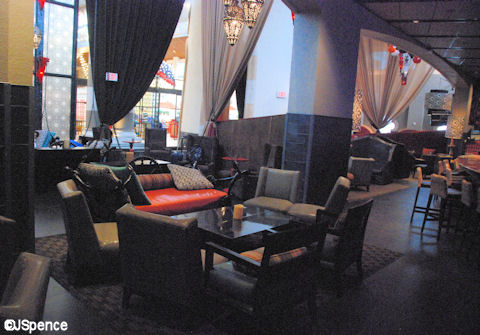 One of the things I hate about the food courts at the other resorts is the way you pay for your meal. By the time everyone in your party gets what they want and you make it to the cashier, your food is already starting to cool off. And if there's a line waiting to pay, your meal can be cold by the time you get your beverage and find a table. But this isn't a problem at Coronado Spring's Pepper Market.
Your meal begins with a host or hostess escorting you to an assigned table. As you're being seated, each person is given a "receipt" and it's explained that everything you order will be recorded on this piece of paper. Shortly after the hostess leaves the table, a server will approach and take drink orders and each person's selection is written on their receipt. Refills for Coke products and similar beverages are free and brought to you by your server.
Designed to resemble an open-air marketplace, the Pepper Market is comprised of a number of stalls and booths, each serving a specialty. One stall might offer grilled items while another serves pasta dishes. It's fun to wander from stall to booth and vendor to merchant, inspecting their wares.
When you finally make up your mind, you tell the vendor what you'd like to order and they will stamp your receipt with your selection. Depending on cooking time, you order might be dished up immediately or within a couple of minutes. Once you're served, just return to the table with your food and receipt in hand. If you want dessert, just take your receipt back to the food stalls and make another selection. At the end of the meal, one person in your party can gather up all of the receipts and pay as you leave. No more cold food. A 10% gratuity is automatically added to your bill unless you're on a Dining Plan. In this case, no tip is added so please remember your server.
The seating area is very festive. A large kachina doll stands watch over multi colored tables and chairs, complete with umbrellas to add to the illusion you're dining on an expansive patio. Strands of lights hang overhead and soft music plays in the background.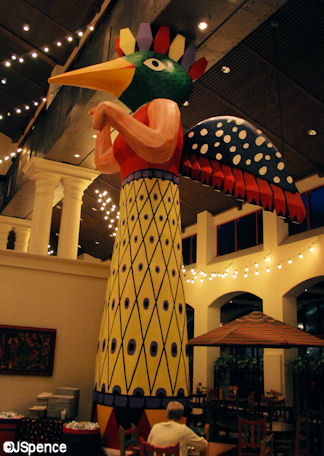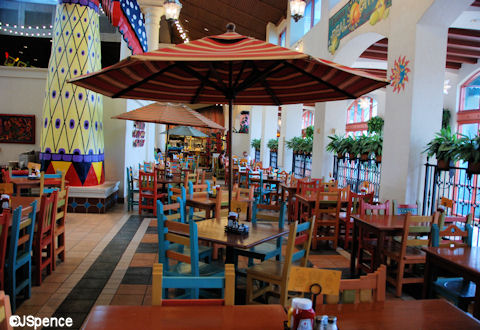 At the far end of El Centro is the Maya Grill. But you won't find typical Americanized Mexican fare like tacos and burritos here. This is an upscale restaurant where guests sit inside a Mayan temple and are offered seafood, chicken, beef, and pork prepared with a Latin and Caribbean flair, much of it cooked on a wood-fired grill. The restaurant also features wines from Mexico, Argentina and Chile. The Maya Grill is open for Breakfast from 7am to 11am and for Dinner from 5pm to 11pm.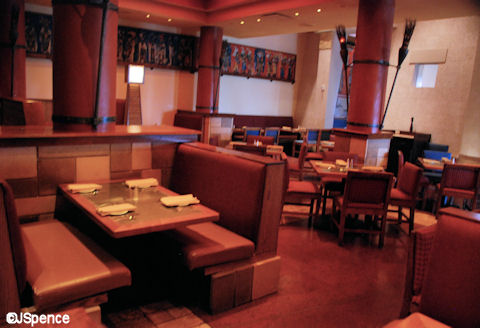 I think I've eaten at the Maya Grill five times, but to be honest, it's been at least four years since my last visit. The reason? This restaurant has yet to knock my socks off. The food and service has always been fine, but just fine, nothing spectacular. And although I like sections of the restaurant, other areas in this room leave me cold. To me, portions of this eatery have a "coffee shop" feel about it. When I'm paying $7-$13 for an appetizer and $20-$29 for an entrée, I want things to be better than "fine." But as I said, I haven't eaten here in a while. Although the atmosphere is unchanged since my last visit, maybe the food is now spectacular.
If any of you would like to share your dining experience at the Maya Grill with me, either positive or negative, please feel free to add a comment to this blog. Whenever I've had a less than fantastic experience at Disney, I like to think it was just bad timing on my part and not indicative of an overall pattern. If you leave a comment, others can scan the remarks and obtain more than just my opinion.
As I mentioned at the beginning of this blog, Coronado Springs is the first moderately priced Disney resort to offer full convention services. Although I have never had a problem with conventioneers interfering with my enjoyment of the resort's facilities, I started to wonder what would happen if a group of 500 let out for dinner and they all descended on the Pepper Market or Rix Lounge at the same time. I like to think that Disney designed Coronado Springs with this in mind and the resort can handle the ebb and flow of people. I asked several cast members about this, but I was unable to secure a firm answer. Once again, I'm curious about your thoughts. If you've experienced a convention letting out while staying here, let me know how everything went. Remember, I'm looking for positive as well as negative feedback.
You can also leave and read comments in the Rate & Review section of Allears.
El Centro sits on the shores of Lago Dorado or Lake of Gold. This fifteen acre body of water offers a tranquil setting for cocktails at Laguna Bar (open 11am to 11pm) or for a run around the ¾ mile jogging track.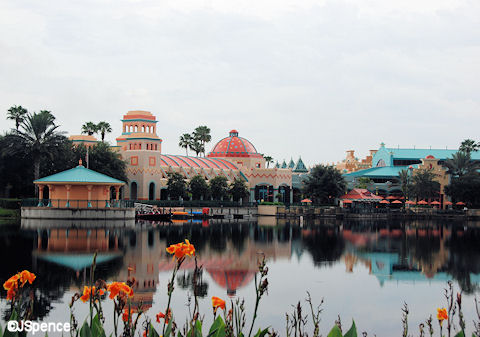 This area is also the perfect spot to gather with your friends and family and enjoy some good conversation. There are a number of tables, many with umbrellas, in which to kick back and relax. Nighttime is especially pleasant here when the heat of the day has dissipated and a cool breeze blows off of Lago Dorado.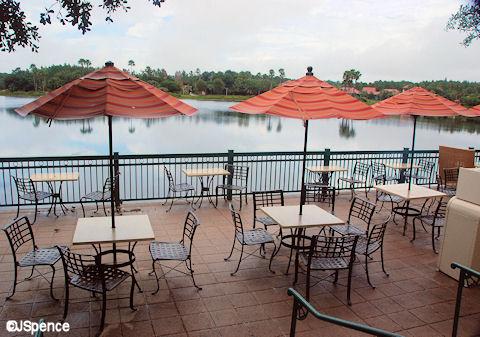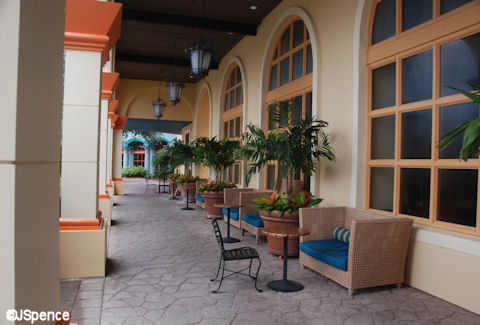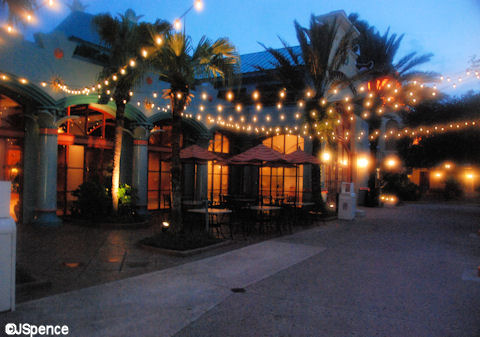 And don't forget to check out "The Three Caballeros" topiary located nearby.
The Marina is the spot to rent surreys, bikes, kayaks, pedal boats and more. Please note, this facility is open seasonally so if these amenities are important to you, check with your reservationist when booking your room.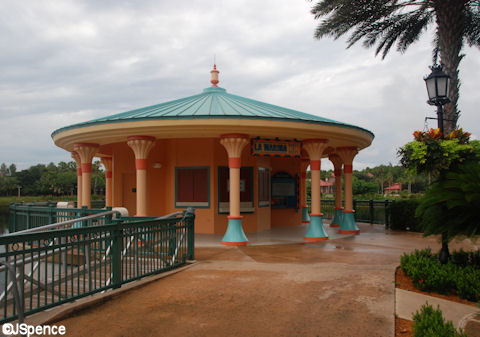 This ends Part One of my article about Coronado Springs Resort. Check back tomorrow for Part Two.