Thanks for checking back for Part Two of my French Quarter blog.
Leading from The Courtyard to Doubloon Lagoon (the swimming pool area), is a rather unique walkway. Here you'll find a number of jazz-playing gators to liven things up. This is also an irresistible picture spot. Here's a shot of a much-younger me on my first stay at the French Quarter followed by a similar shot taken recently. Notice how the length of my shorts has changed.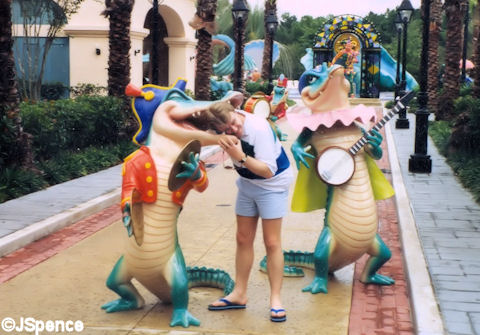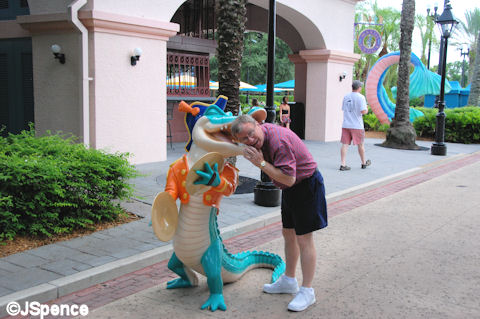 Flanking this walkway is a children's playground (ages 2 -12) and hot tub (open 7am to midnight).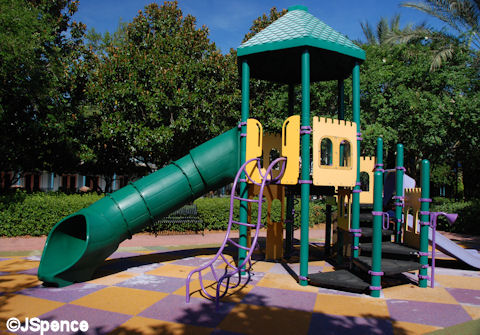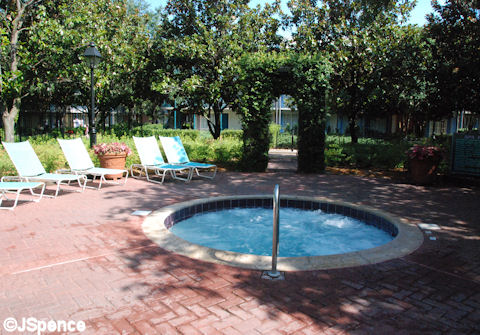 Further along the walkway is Mardi Grogs Pool Bar (I just love this pun). Open 11:30am until dusk, this spot serves alcoholic concoctions, soft drinks, and snacks.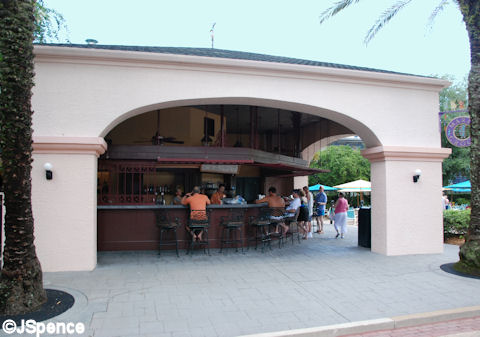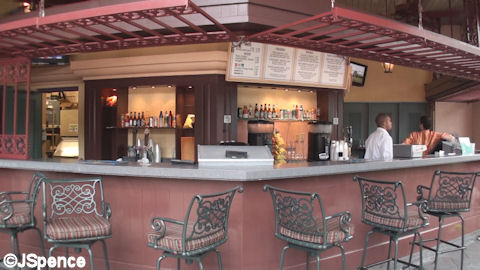 The harlequin character that guards the swimming pool is based on a similar figure found next to Canal Street and the Algiers Ferry Terminal in New Orleans.
The pool area at the French Quarter is called Doubloon Lagoon. The centerpiece for this oasis is "Scales" a huge sea serpent that snakes its way in and around the deck. Legend has it that when the French Quarter was in its infancy, folks created a makeshift serpent to frighten children away from the dangerous bayou. Eventually, this creature became a part of the Mardi Gras celebration and ultimately, a permanent fixture of the French Quarter. Today, kids enter Scales and slide down his tongue for a splash landing. Atop Scales is King Neptune, keeping a watchful eye on those below. And more jazz-loving gators can be found nearby.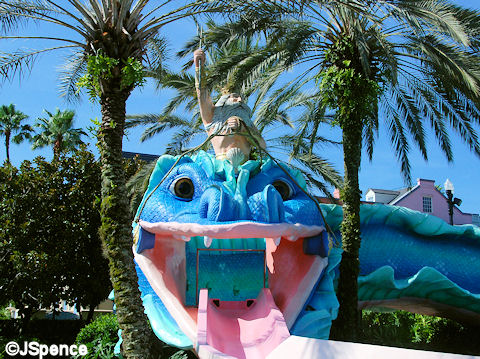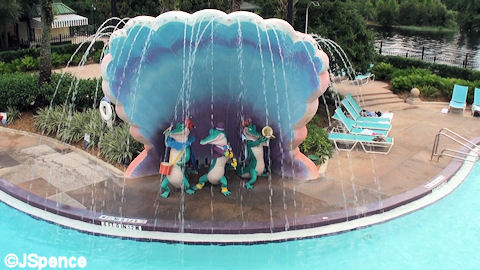 Adjacent to the main pool is a children's wading pool, but there are no secondary, "quiet" pools at the French Quarter. However, guests may also use any of the pools at Disney's Riverside Resort located a short walk up the Sassagoula River. Towels are available at Doubloon Lagoon; however, you'll need to take your room towels with you when using other pools. You can call Housekeeping to replenish the towel supply in your room.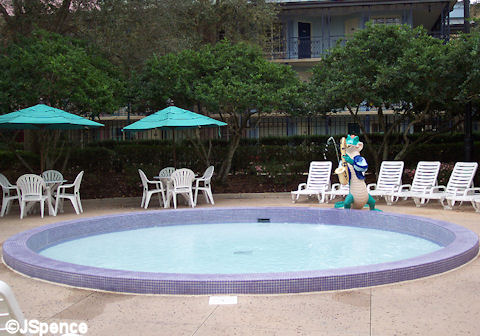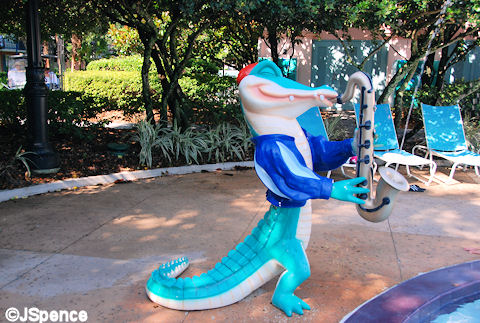 Also near the pool is the one and only self-service laundry facility. "Laundry on the Levee" features a large number of washers and dryers in air conditioned comfort. Vending machines offer soap, bleach, beverages, and change. If you must wash clothes while on vacation, this is a good spot as you can easily enjoy the pool while taking care of this otherwise boring task. Dry cleaning and laundry service is also available for pickup from your room.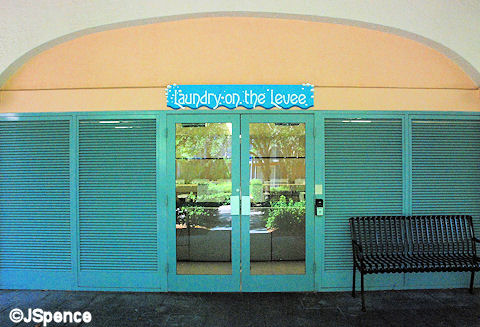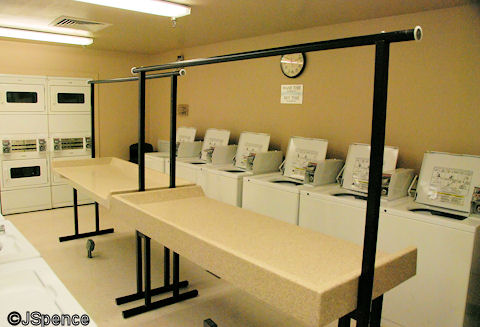 The French Quarter opened on May 17, 1991 with 432 rooms in three guest buildings. In the months to come, the resort was expanded to seven buildings and a total of 1,008 rooms. Of these, 946 rooms have 2 double beds and 62 rooms have a king-size bed (with a higher room rate). There are also 12 disabled-accessible rooms. The typical room is 314 square feet. Each building contains 144 rooms and is clearly identified with a number and a musical instrument associated with jazz music.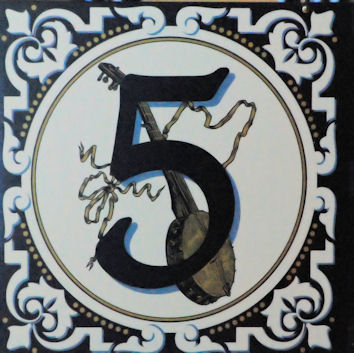 Although the seven buildings are quite large, the clever use of color, different styles of wrought iron, brickwork, rooflines, and angles create the look of row houses in New Orleans rather than large, institutional structures. Lush landscaping and cobblestone "streets" add to the effect and make guests believe they're wandering in a bygone neighborhood rather than a modern resort.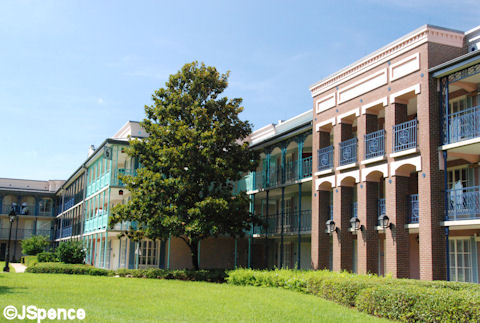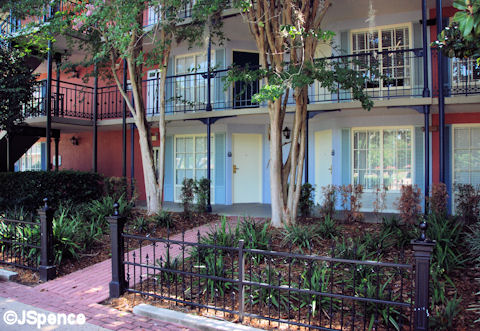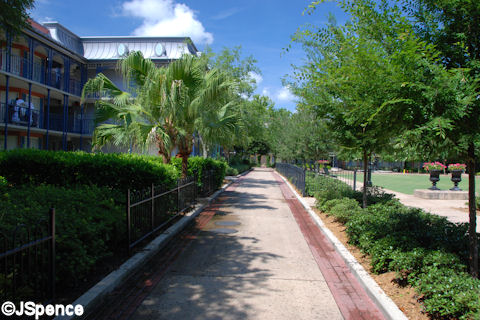 To help you find your way around, the streets have been given some imaginative names that are sure to make you smile.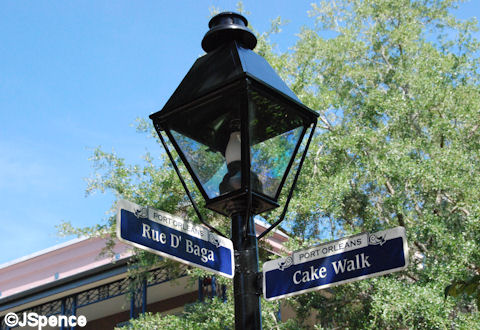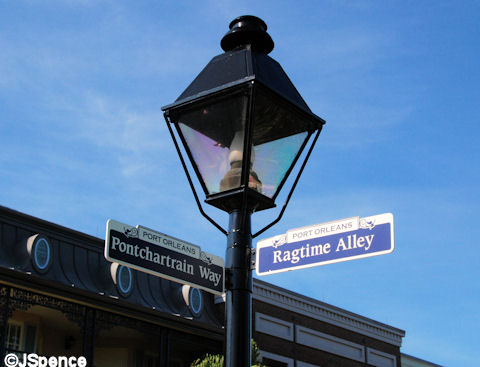 Between many of the buildings are manicured courtyards complete with fountains. Note, most of these areas are designated smoking sections so those of you with an aversion, plan accordingly.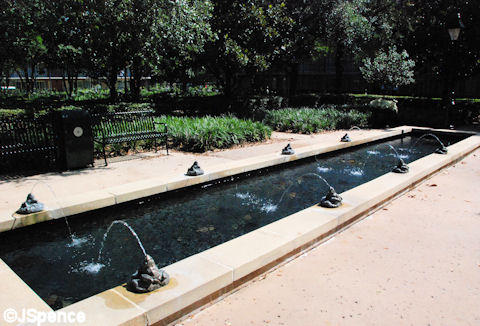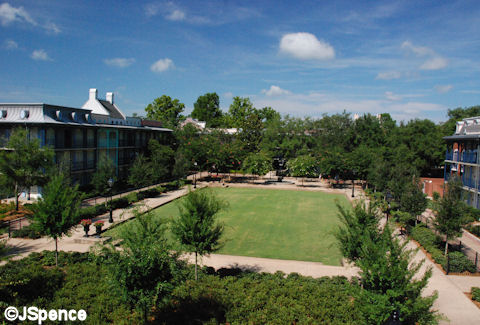 Basic rooms contain the following:
Two double beds or one king
Chest of drawers
A table and two chairs
Vanity area with two sinks – curtain divide from bedroom
Private shower/tub & toilet area
Clock-radio-alarm
Cable TV with Disney programming
High-speed Internet Access (for an additional fee)
Hairdryer
Safe
Iron and Ironing Board
Coffee Maker
Refrigerator
For guests with disabilities, wheelchair-accessible bathrooms and rooms designed for the hearing impaired are available (not shown). Elevators and snack and beverage machines can also be found in each building.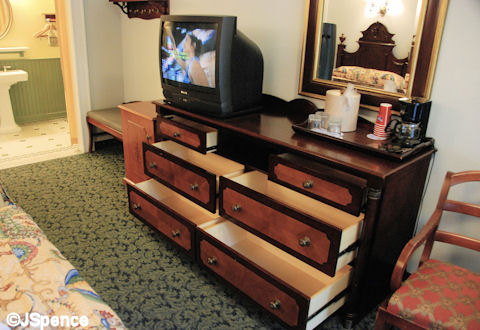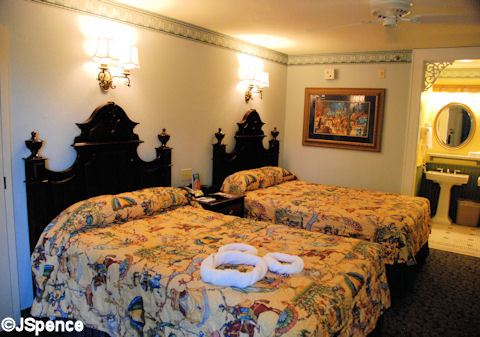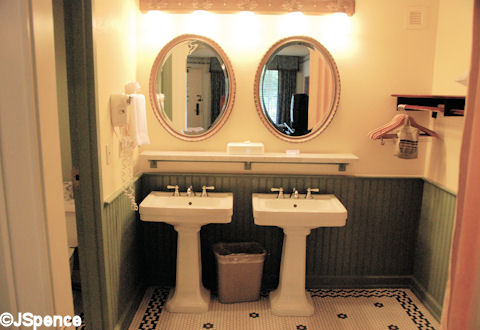 Finding the right spot to park your car is a breeze. Large, easy-to-read signs mark each lot and none are too far away from your room. Note, staying at a Disney Resort entitles you to complimentary parking at the theme parks.
For me, one of the most delightful activities at Walt Disney World is a boat ride on the Sassagoula River. Flat-bottom craft make their way between the French Quarter, Riverside, and Downtown Disney. Service begins each day at 10am with pickups every 20 minutes. Starting at 4:30pm, the interval is 10 minutes until the end of service at 11pm. Bus service to the resort is available from 11pm to 2am.
I like the French Quarter. I feel it is more compact than the Riverside, thus, easier to navigate. However, it might not be perfect for everyone. A number of facilities and amenities are only available at the Riverside Resort next door. Although Disney touts this as an easy journey, it isn't necessarily so. Depending on your room location, the walk can be anywhere from 10 to 15 minutes (in the heat or rain). And waiting for the boat can be just as long if not longer. Here are a few of the services found only at the Riverside:
Boatwright's – a full service restaurant
Fishing hole and fishing excursions
Boat rentals
Bicycle rentals
Horse-drawn carriage rides
Quiet pools
Now if you don't plan on using any of these services, then I think you should definitely consider a stay at the French Quarter. As I said at the beginning of this article, Disney has done a wonderful job of combining festivity with relaxation. Charm oozes from every nook and cranny and your senses are in for a treat. It's hard to believe the French Quarter is a moderate resort. It has an allure worthy of a deluxe facility.
I have created a 10 minute video that highlights most of the resort. For those of you who are curious, the songs played are:
Down in New Orleans (from the Princess and the Frog)
Swanee River (Disneyland's Royal Street Bachelors)
Happy Rag (Disneyland's Royal Street Bachelors)
My Grandfather's Clock
Enjoy.