Yesterday's blog covered the talk from Epcot Vice President Dan Cockrell.
This blog will cover talks by:
WDW Parks Events Content Development Operations Manager, Michael Jenner
Twinings Tea's Daniel Wasilick
Epcot's International Flower and Garden Festival Horticulture Manager, Eric Darden
Michael Jenner, WDW Parks Events Content Development Operations Manager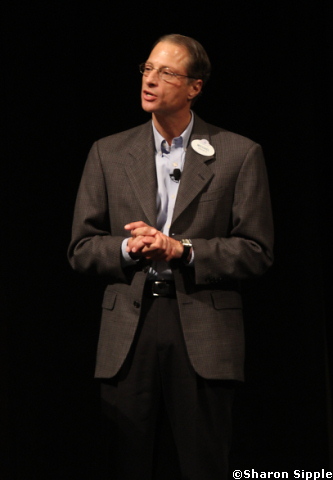 Michael shared a history of the Food and Wine Festival…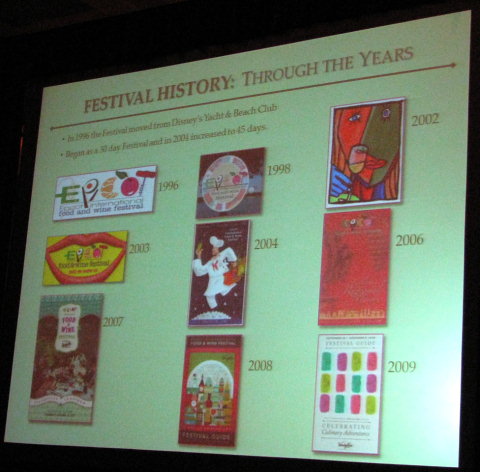 and some very interesting tidbits ….
— Just 2 items have remained on the menu for all past Festivals; Sushi in Japan and Kielbasa and Pierogies in Poland
— Only 9 Marketplaces have participated in all 14 Festivals: Canada, France, Germany, Italy, Japan, Poland, UK, Mexico and USA. 4 Marketplaces have made 13 of the 14 years: Australia, Greece, New Zealand and South Africa.
— 7 of the top 25 food menu items from 2009 were brand new to the Festival; Fishersman's Pie #2 (Ireland), Beef Tenderloin #7 (South Africa), Chicken Souvlaki #11 (Greece), Tostado Pollo #15 (Mexico), Chocolate Lava Cake #19 (Ireland), Ribs #20 (France), and Cannelloin #24 (Italy).
— Over 600,000 folks are used each year and it takes 750,000 beer cups and 338,000 wine glasses.
— Guests enjoyed over 100,000 miniature desserts.
— 1,500 pounds of fresh strawberries are used.
There was also a lot of news concerning the 2010 Food and Wine Festival:
— This year's theme will be "Delicious Discoveries."
— Two big new events were announced:
1) Delicious Discoveries First Bites, to be held on September 30, is a sneak peek before the festival opens with food and beverage samplings from the marketplaces, wine seminars, culinary demos, and entertainment. This will be a "hard ticket" event at the Festival Center, but there is no price info as yet;
2) 3D Delicious Dessert Discovery will be held every Thursday evening. This will be a dessert reception featuring both "action and prepared stations of sweet enticements" paired with wine, cordials, and coffee, followed by exclusive IllumiNations viewing. Cost will be approximately $50 per person.
— New in the International Marketplaces this year will be: Belgium, featuring steamed mussels; Singapore featuring Shirmp Cake on Sugarcane Skewer; and South Korea featuring "Bo Ssam" Lettuce wraps with roast pork and kimchi slaw.
Also new this year will be a Marketplace Discovery Passport that can be picked up at the Festival Center. It will allow you to jot down tasting notes and keep track of where you visited. Each marketplace booth will have its own unique stamp for the book.
— Returning celebrity chefs this year include Cat Cora, Jamie Dean, and Robert Irvine, among others.
— France will have Grand Marnier tastings.
— There will be an entrance display featuring cakes; while World Showcase Plaza's display will have champagne to mark the festival's 15-year celebration.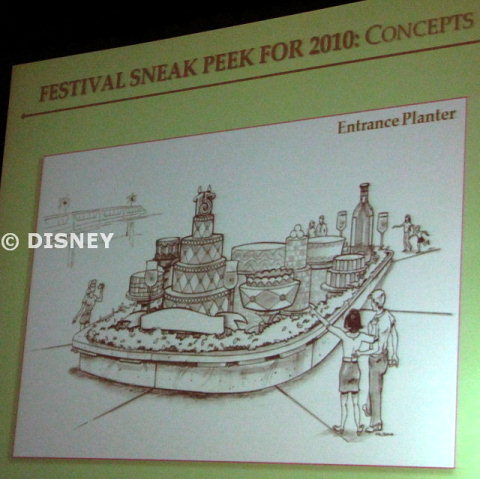 — Wine Pairings return to the France, Italy, Morocco and Japan pavilions.
— The Party for the Senses will continue with the VIP experience, but will eliminate the weekly themes, which were not popular with guests. Cirque du Soleil is in discussions to return as the entertainment for the events, but there is no contract yet.
Daniel Wasilick from Twinings of London was next.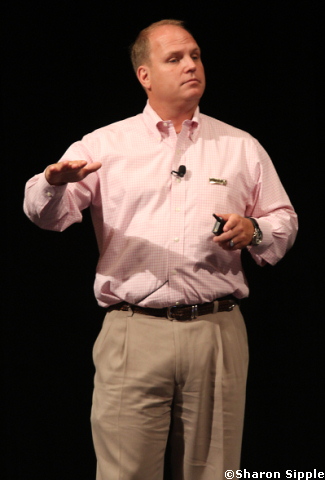 Daniel shared a brief history of tea and how Twinings have been part of Epcot for 28 years!
Daniel's big announcement was that Twinings will be introducing a full lime of organics and fair trade teas in partnership with Whole Foods. The Twining products are 100% organic and there will be 12 different varieties. The teas will be released in August of this year and they will be for sale in the Epcot shop as well as Whole Foods.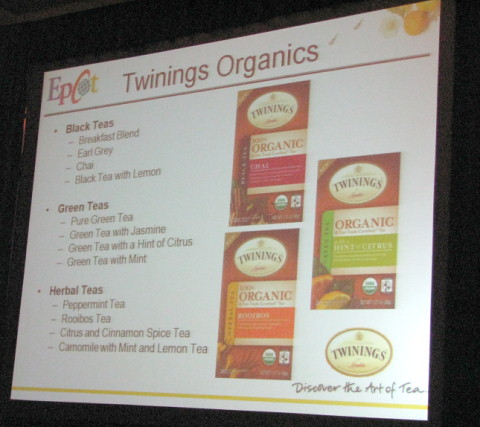 The last official presenter was Eric Darden, Epcot's International Flower and Garden Festival Horticulture Manager.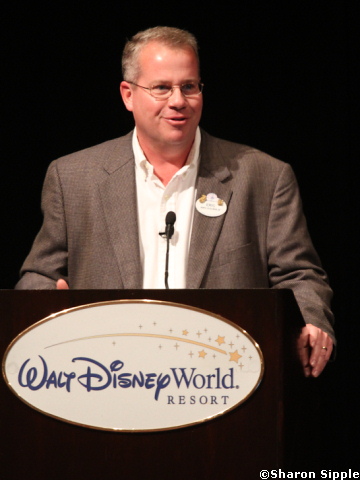 Eric gave a great presentation showing how the Flower and Garden Festival has evolved over the years. He had numerous photos of festival components from the early days and compared them to today's festival.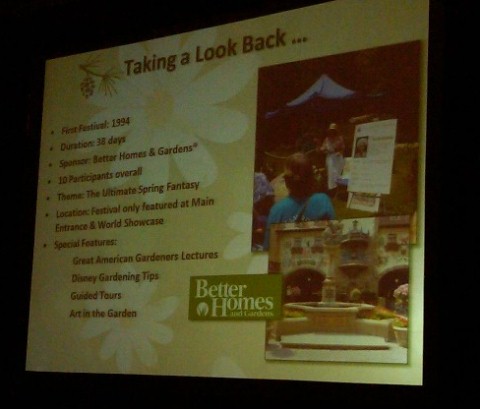 The park's history with horticulture goes back to Walt Disney. Imagine today's parks with no landscaping?!
Bill Evans worked for Walt and designed his estate. When Walt decided to build Disneyland, he brought Bill on board. Bill Evans had his hands in the landscaping of every single park through Disneyland Hong Kong. Eric reflected on some of Bill's story's about Walt Disney.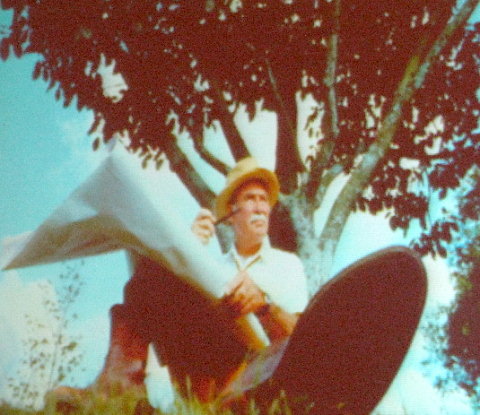 At the end of the final presentation, all 4 gentlemen returned to the stage to answer audience questions.
Afterward, they stayed around for a while and chatted with D23 members.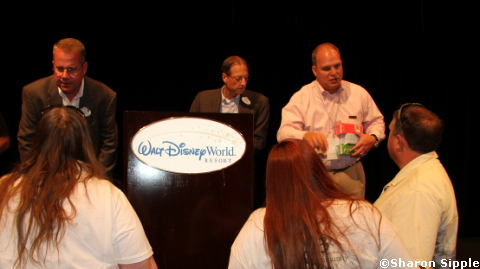 Thank you all for a great informative morning! This made the D23 event for me!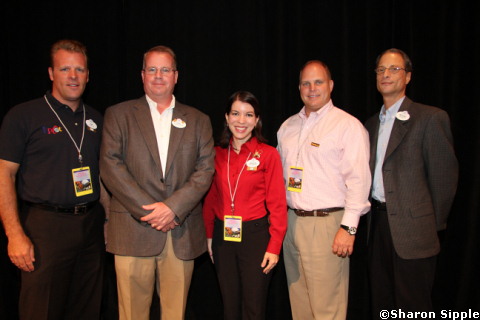 Food Presentation by the Patina Group and Via Napoli!!!
Here is an artist rendering of Via Napoli!
We were in for an unexpected treat! The team from Via Napoli prepared samples of a number of the items that will be at the restaurant. In addition to pasta, zucchini, and focacccio, there were several dessert samples.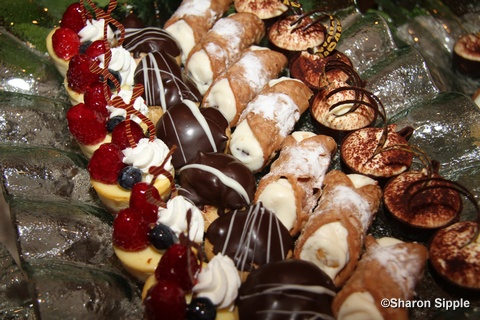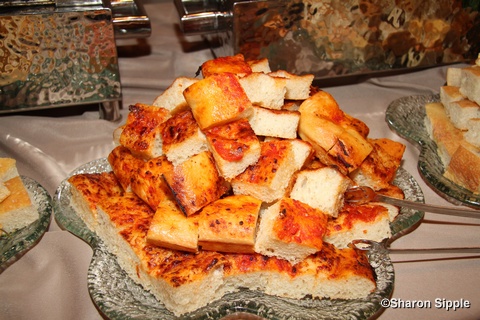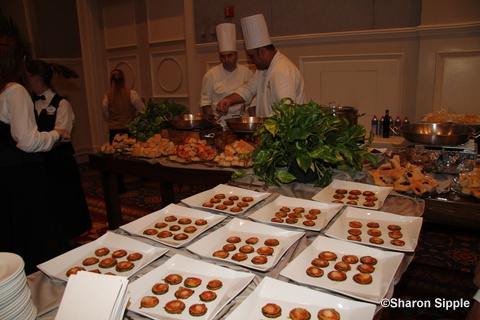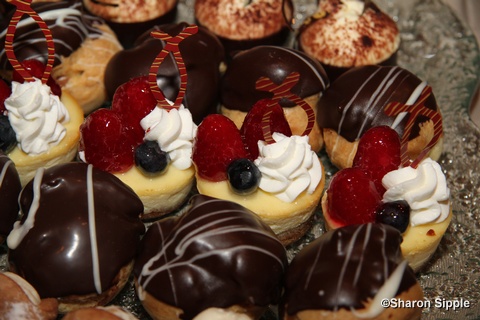 Benito and team from Italy!

On the way out, we were handed a Flower and Garden Festival bag with some additional items: wine glass from the 2009 Food and Wine Festival, a DVD on the Making of Epcot's Flower and Garden Festival, samplings of Twinings Teas, a Captain EO button (from Disneyland) and perfume samples.
Once again, I must comment about how wonderful this portion of the D23 event was. I really enjoyed the speakers, they were interesting and had some great slides. I felt as though we received some information not previously made public. The food was outstanding and overall a A++ experience!
That's it for Part 3. The last blog will report on Chubby Checker's concert and the IllumiNations dessert party!