"So, what did you think?"
Observations (and photos) from a first time visitor to Disneyland
by AllEars® Team Member Cathy Bock
"So, what did you think?" – I've been asked that question several times since returning from my first trip to Disneyland. Short answer, I loved it! Going to the original Disney park has been a dream of mine since the days of watching Walt speak of it on Sunday nights. Having been to Walt Disney World multiple times, I wondered if Disneyland would be as exciting as I had anticipated for all these years. Well, once I walked under the train track and left today behind, I was hooked!
Main Street: It felt familiar – different shops and restaurants in different places – but the same general feeling of Main Street WDW, a return to another place and time. I had been warned that Sleeping Beauty castle is smaller than Cinderella Castle in Florida. So that didn't surprise me when I turned the corner and saw it for the first time. Honestly, I expected to be disappointed. What I saw, however, was a simpler, yet charming castle, that I would stop to gaze at time after time. Walking through it for the first time with the realization that this is where Walt walked, that's as good as it gets for this Disney parks geek!
The early morning castle:
The cloudy afternoon castle: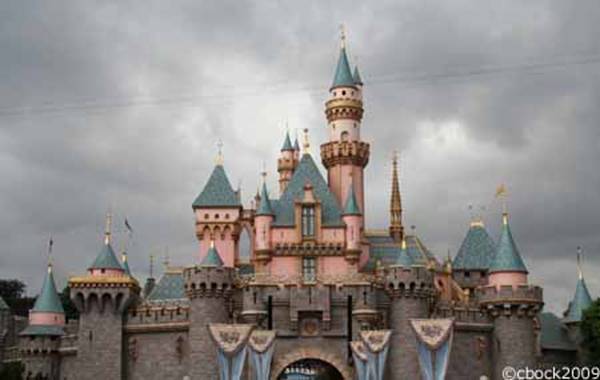 Lay of the Land: Exploring the park was a bit surreal – things were similar enough to feel comfortable but different enough to be an adventure. Being in a new park meant relying on a map! Where are the Pirates? How do I get to Fantasyland? And where the heck are the bathrooms? Then there were Critter Country and New Orleans Square – new lands to explore. I'm sure I took the long way around a few times but by the end of the trip, I had my bearings. It helps that Disneyland is a bit smaller than the Magic Kingdom and the attractions are a bit closer to one another.
Halloween: Such a great time to visit the parks. Last year, we were at WDW in October and thoroughly enjoyed the decorations and Mickey's Not So Scary Halloween Party. Likewise, Disneyland was all decked out for the holiday. Hands down, the highlight of the Halloween spirit at DL are the attraction overlays – Haunted Mansion Holiday and Space Mountain Ghost Galaxy. Both are extremely well done! That being said, I absolutely adored Haunted Mansion Holiday – an overwhelming "WOW" and straight back to the entrance for another ride. (And I would return twice more.) Ghost Galaxy was the opposite but that's not the fault of the ghost. I confess to not being a Space Mountain fan in the first place, and haven't been on the WDW version in a couple of years. But I'd heard that Disneyland's version is smoother and has a better sound system, and besides, I wanted to see the ghost. I did it, I survived it, won't do it again. I liked the ghost effect but the ride itself just isn't for me. If you're a Space Mountain enthusiast, go for it! Halloween Screams – the fireworks show for the season – was also very well done. Lots of villains and hosted by Jack Skellington. I liked it as well as Hallowishes from last year at WDW.
Another highlight for me was the Big Thunder Ranch area, filled with carved pumpkins and Halloween decorations. The ranch also features a petting area with goats and sheep, which was a nice treat.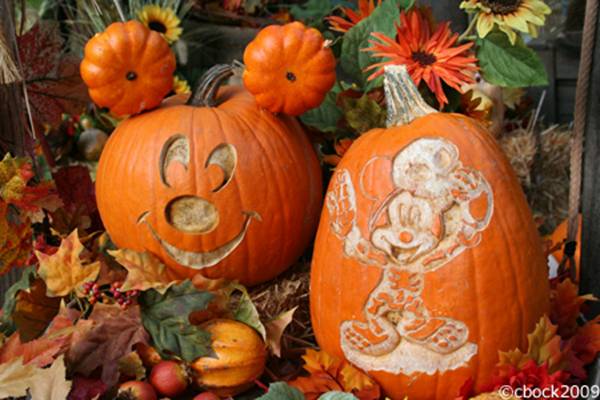 Disney's California Adventure was also decorated for Halloween. I didn't get a chance to attend Mickey's Trick or Treat party but saw a lot of families heading into that park for the party. AllEars team member Lisa Berton attended the party and has a review HERE. MNSSHP at WDW is my favorite party so I would have liked to compare the two. Hmmm… maybe another trip?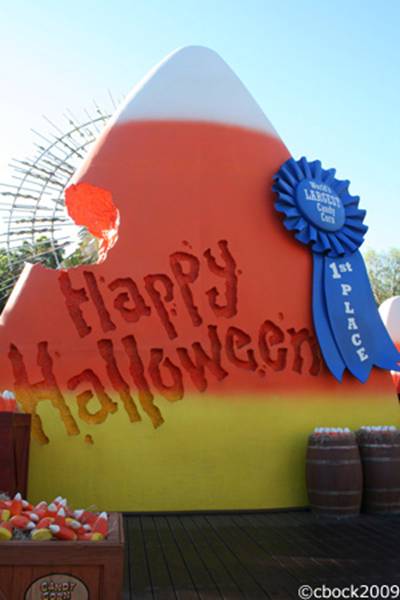 Fantasmic! This isn't one of my must-do attractions in Florida. Not that I dislike it, but I'd rather be sure to see Illuminations or Wishes. In Disneyland, there is no stadium for the show so folks start staking out spots well in advance. Luckily, we had gone the route of reserved dessert party seating, so other than standing in line to check in, we didn't have to spend a long time waiting for the show. I'm not sure I would have fought the crowds to see it – the area tends to be very congested even when folks are "on the move" and the crowds were very heavy on the nights we were in the park. Fortunately, the powers that be added a third show on those nights so that more visitors could enjoy it. The show is much the same as its Florida counterpart except for larger ships (LOVED the pirate ship!) and a new and improved dragon (even though it didn't breathe fire the night we were there). As with Florida, I liked it well enough but am not sure I'd camp out to see it.
Other Highlights:
The Indiana Jones Adventure – a great fit for Adventureland. I'd love to see
this one in Florida.
Pirates of the Caribbean – now one of my favorites in two different parks.
"it's a small world" – the façade is beautiful, and there is a cute outside show every quarter of the hour.
Splash Mountain – very similar to the Magic Kingdom's version and yes, I did get wet.
Toontown – exploring this land with the AllEars "Toons" was a blast!
AllEars Meet – thanks to all who came by to say hello – it was great to meet you and hear of your passion for the parks. And Lisa, it was fun to meet your posse!
Club 33 – never in my wildest dreams would I have expected my first trip to include this restaurant. Many thanks to those who made it possible.
Grand Californian Resort – a very pleasant surprise was the proximity to the parks. Take one exit and you're in Disney's California Adventure; take another exit and you're in Downtown Disney and within walking distance of Disneyland. No buses, no cars!
Disney's California Adventure – Unfortunately, I didn't get to spend as much time in this park as I'd have liked. Soarin' over California and the Tower of Terror were highlights – those are two of my favorite attractions anyway. It was nice to experience some unique attractions as well. Monsters, Inc. Mike & Sulley to the Rescue was too cute – great family fun. And the Aladdin Musical Spectacular was one of the best park shows I've ever seen. (and had comfy indoor seating!) This park has real potential, especially with the new attractions (Carsland, the Little Mermaid, World of Color). I'm looking forward to returning.
Other than Space Mountain, there were really no lowlights for me. It would have been nice to have lighter crowds or better weather. The first weekend was overcast and cool, the second weekend was sunny but hot. Neither the weather nor the crowds stopped the fun though.
So what did I think? For a while, I left today behind and entered a world of yesterday, tomorrow and fantasy. That, my friends, is the magic of Disney parks. My other expectations – clean park, friendly and helpful cast members, and a variety of attractions – were exceeded many times over.
Thanks Walt, I enjoyed your park.