As usual, not enough time to write everything I'd like to write about, so just a few things.
Lee's been busy editing video, so we have a few new videos on youtube from Jay Rasulo's Imagineering the Future of Disney Parks talk that we'd like to share with you:
The Fantasyland Expansion:
Star Tours II at Disneyland (unfortunately he had to change the camera battery just before this started so he missed the beginning):
And the new Cars Land at Disney's California Adventure:
Today – the final day of the Expo. Deb Wills and I attended the Making of Toy Story Midway Mania talk. It was wonderful. Deb said that talk alone was worth the trip to California. The four speakers, Imagineers Kevin Rafferty, Robert Coltrin, Lori Coltrin (who are siblings, not husband and wife), and Roger Gould of Pixar's Theme Park group, described the development of the ride from concept through design, construction, and completion. It was really fascinating – I plan to do an entire blog on it – I learned so much about the ride and the story and details within the ride that I never noticed.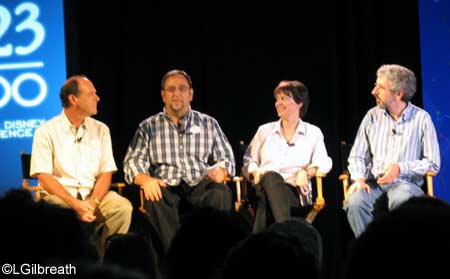 Next we attended John Lasseter's talk on the Future of Walt Disney and Pixar Animation. John Lasseter is the "Chief Creative Officer of Pixar and Walt Disney Animation Studios" (among other titles). There weren't really a lot of surprises or announcements in this one, but I have to say that the future of Disney animation looks really good.
There were a lot of clips, including a few that had never been seen before, so no cameras were allowed inside and we have only this image provided by Disney to show you.
We saw an all-new trailer for the 3D versions of Toy Story 1 and 2, which was all-newly developed and not actual footage from the movie. Short, but very entertaining, as the Toy Story characters have fun playing with being 3-D – like reaching into the audience.
In Toy Story 3, coming out June 18, 2010, Andy has grown up and is headed off to college, and decides to donate his old toys to a daycare center. These kids make Sid look gentle!
A grown-up John Morris returns as the voice of Andy. And of course there are a bunch of new toys, voiced by actors such as Ned Beatty, Bonnie Hunt, and Whoopi Goldberg. The character of Barbie is back, and this time she's joined by Ken, voiced by Michael Keaton. We saw a very amusing clip that they "found" called "Groovin' with Ken", where he talks about how good it is to be him, and how he's a man's man. He ends the "interview" when the interviewer points out that on his box, Barbie's name is a lot bigger than his. 🙂
Another new character is Mr. Prickle Pants, a lederhosen-wearing hedgehog thespian voiced by Timothy Dalton(!). That looks like fun.
We saw a brand-new trailer that was 100% scenes from the movie. It looks we're in for a lot more fun times with the Toy Story gang.
Walt Disney Animation Studios is bringing back Winnie-the-Pooh in a new movie. They went back to the original A.A. Milne books and chose some new story lines. This movie will be all hand-animated to match the original style of Winnie-the-Pooh and the Honey Tree and Winnie-the-Pooh and the Blustery day, including the watercolor backgrounds. Bernie Madison, an animator who worked on the original Honey Tree movie (and looks a bit like Pooh!) is working with new artists to recreate the classic look. They showed a bit of the older movies – I'd forgotten how clever they were with things like bringing the pages of the book into the movie and having characters jump from one page to the next, or slide down the edge of several paragraphs. That one should hit the screen in spring 2011.
We saw a new Cars Toon, directed by John Lasseter – he said he enjoys these so much that he directs them himself. This one is in the series of Mater's Tall Tales, and was called Unidentified Flying Mater. Really cute.
Cars 2 is scheduled for summer, 2011. John Lasseter was traveling the world promoting a film, and when looking out his hotel window at the streets below he wondered what would happen if Mater was driving in a foreign country – how would he deal with the Autobahn, or French roundabouts, or dodging motor scooters in Italy – or driving on the left side of the road in the UK. In Cars 2, Lightning McQueen is invited on a world racing tour with Mater as his crew chief (and of course other inhabitants of Radiator Springs come along, too!). Mater gets caught up in an espionage thing with a super-sleek and gadgety spy car named Finn McMissle. The story starts with a race in Japan, then moves on to Germany, Italy and Paris before ending in London. It looks really clever and a lot of fun!
John Lasseter may be best known for his work in computer animation, but his roots are in classic hand-drawn animation, and they are bringing that back to Walt Disney Animation Studios with movies like the upcoming The Princess and the Frog. This also marks the return of the musical to a Disney animated feature. We saw some new footage of the bayou scene. Fun stuff.
There is going to be a whole sequence of Tinker Bell movies – each related to a different season of the year. The first movie was set in spring, the next one, Tinker Bell and the Lost Treasure, is set in the fall. Tinker Bell and the Great Fairy Rescue will be set in summer, and Tinker Bell and the Mysterious Winter Woods is set in winter, where Tinker Bell will encounter a whole new set of fairies. Tinker Bell – Race Through the Seasons is set on Leap Day – the one day every four years when the fairies get a day off and play the fairy version of the Olympics. These are all direct-to-video releases over the next several years.
Of the fairy tale princesses instantly recognizable by name, the one Disney hasn't yet done is Rapunzel. But that changes during the 2010 holiday season. Rapunzel will be the 50th feature animation film and the first computer-animated fairy tale and the first CGI musical. This Rapunzel has spunk and "lots of girl power" – she's not just waiting for a prince to come. One of the "characters" in the film is Rapunzel's 70 feet of hair.
Mandy Moore is the voice of Rapunzel and Zachary Levi (from the Chuck tv series) provides the voice of her "rescuer" Flynn.
Prep and Landing is a new holiday special coming to ABC this holiday season. Apparently Santa Claus has an elite force of specially trained elves who prepare each house for Santa's arrival – making sure the kids are asleep, the milk is the proper temperature, and that any dogs won't cause trouble. We saw a short clip – this looks like it's going to be a hoot and a half, and I'm really looking forward to it.
He finished by showing us another Cars Toon – Heavy Metal Mater. Never knew that Mater was in a heavy metal rock band, did you? 🙂 Their big hit was "Dadgum".
Deb Koma, Lee and I tried to go to the Muppets Presentation, but the Lasseter talk ran long enough that we didn't get up there in time to get in line before the theater reached capacity. It was VERY popular. I'm sorry we missed that…we all love the Muppets!
Lee and I had to head back to San Diego after that since we have had tickets for months to see Spamalot tonight! Though I kept wanting to yell: "Grail, grail, grail…uhhhhh" every time they said "Holy Grail"… 🙂
More on the Expo and a wrap-up coming "soon".
(Yes, I know I said at the beginning this would be "just a few things". But I got on a roll!)