I know, that is not a title to a Disney movie but Meet the Robinsons really did not fit for this article (see, I got a Disney movie reference in anyway!).
It's been over two years since I took the photo of Cinderella Castle from the Tomorrowland Transit Authority and it's still one of my favorites. It's one of the first photos I shared here on the AllEars.net Picture This! blog. Even before Lisa came on board to help out Barrie and I. As much as I like this photo, I always thought the colors looked faded and there was too much clutter in the foreground and to both sides.
Original Photo of Cinderella Castle at Dusk.
Nikon D70/18-200VR, 1/250s, f/8, 400 ISO, EV -0.3, 80mm Focal length
Over this time, I have learned a lot about digital photo processing. I am sure you have or will do the same. It's a good exercise to return to some of your older work and look at it from the prospective of your new knowledege of post-processing. This is what I did with this photo.
Using Apple's Aperture 2 software, I first cropped it to eliminate what I considered clutter. In doing so I found I liked a portrait (more vertical) composition than the original landscape (horizontal) one. I, then, started to select different areas of the sky with the color dropper selection tool and enhanced them making them more vibrant. Your software may have a different way of doing this so consult the manual. I had to remove some sensor spots (I had not learned how to clean my camera's sensor yet) and adjusted the exposure to eliminate any overexposed areas. Lastly, I applied sharpening to clean up the edges. The result you see below.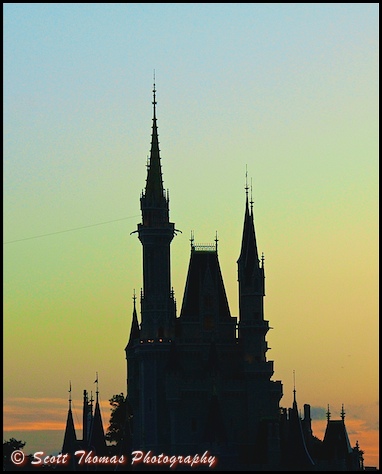 Adjusted Photo of Cinderella Castle at Dusk.
When you are not able to go and create new images, look back at your photo archives and "see" the future. It's a lot of fun and a good way to learn the capabilities of your photo editing software.