While looking for interesting bits of trivia in the Magic Kingdom to share with you, I recently came across a Main Street window that brought back an old memory of mine. This window isn't located high above your head on a second story pane, but rather on the side of the Car Barn. The Car Barn is located between the Fire Station and the Emporium and houses the trolley cars and horses being used that day in the park.
The name on the window that jogged my memory was Owen Pope.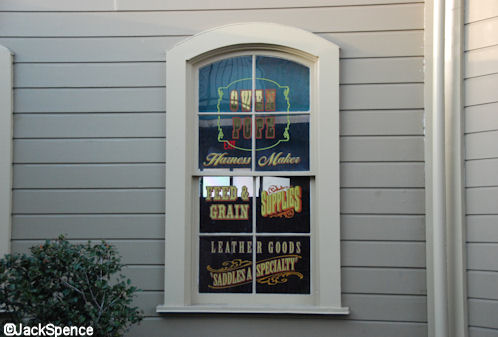 Because I used to work at Disneyland, I knew the story of Owen Pope. But I thought he was strictly a California icon and I wondered why he'd have a place of honor here in Florida, so I did a little research.
In 1951, Walt hired Harper Goff to begin drawing up plans for the little park he was visualizing being built on the Studio grounds in Burbank. Walt also hired horse trainer Owen Pope and his wife Dolly. He wanted the couple to begin training horses for the western section of his new park. Being close to the livestock was necessary for the amount of training that was to ensue so the Pope's moved into a trailer on the Studio lot. Besides teaching horses and mules how to behave, they also helped build wagons and coaches for the new park.
As plans for Walt's dream changed and grew, the location of his park moved from the Studio to Anaheim. Eventually the Popes needed to move to Anaheim as well to be near the horses.
Before construction began on Disneyland, something had to be done with the houses that belonged to the former owners of the land. Walt told the Popes they could choose any one of them to live in. Their selection was soon moved to a ten acre area behind what would eventually become Fantasyland. This area was known as the Pony Farm and at one time, the Pope's cared for as many as 220 animals. The Popes are also the only people to actually ever live at Disneyland. Walt may have had an apartment above the Fire Station, but he never lived there. This honor belongs to the Popes alone.
The Popes continued working and living at Disneyland until 1971. It was at this time that they moved to Florida to help open the Magic Kingdom. They created the Tri Circle D Ranch at Fort Wilderness where it still stands today. They retired in 1975 and it's due to their efforts here in Florida that they earned a window at the Magic Kingdom – and it is appropriately located on the Car Barn.
But why did this window bring back memories for me? I started working at Disneyland the same year Owen and Dolly left for Florida. I never met them and I worked at Disneyland for several years before I even learned of their existence. What is to follow is a personal story that I'm not sure will be of any interest to you, but for me it's a walk down memory lane.
After I had worked at Disneyland for four years, I interviewed for, and was selected to be, a University Leader. This is a high honor as only those Cast Members who exemplify the true Disney spirit are chosen. A University Leader serves for six months and is responsible for instructing new-hires in the Disney ways. We taught them the proper lingo – things like "costume" not "uniform" and "cast member" not "employee." We taught them about grooming. We taught them about Disney history.
Today, this class is one-day in length and is called Traditions. But in my day, it was a two-day session and it was called Orientation. The first day was spent in a classroom and the second day was out in the park. It's the second day that I'm writing about now.
The morning would begin at the Flag Pole in Town Square. I would read the inscription plaque to twenty to thirty new-hires and try to instill the reverence it deserves. Then we would tour the park as I pointed out such things as the "draw concept" and "forced perspective." But most importantly, I pointed out each and every restroom. Believe me, this is one of the most commonly asked questions of any cast member.
Around noon we arrived at Bear Country and I arranged lunch for my group. Then we headed backstage and my new cast members began to learn how the magic is created. I took them to the carpentry shop and the props division. I showed them the molds and rubber that were used to create the elephants in the Jungle Cruise. As the tour continued, we moved further and further backstage. Eventually we were all the way at the back of Disneyland, behind Fantasyland and entered a classroom in the general vicinity of Owen Pope's home.
Before I go any further, I need to give you a little Disney history. Walt was very proud of his audioanimatronic figures and often touted their abilities on his weekly television show. In one segment he demonstrates how a prototype of a Tiki Room bird can be controlled with a joystick. Eventually, this prototype (pictured on the right) found its way to Disneyland and was used during Orientation sessions.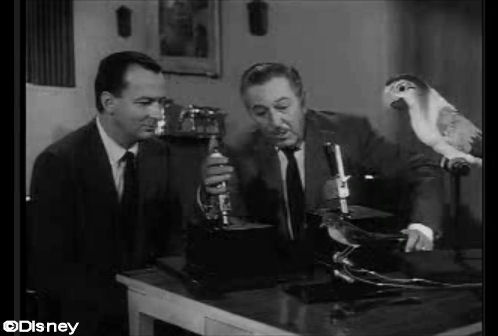 After I got my class seated and settled down, I would present Jose. Then I would demonstrate how he could turn his head, breathe, ruffle his feathers, and talk. After my demonstration, I would select someone from the class to give it a try. It always made me feel special that I was allowed to handle this valuable piece of Disney history and touch something that Walt himself had used to promote Disneyland.
After the audioanimatronic demonstration I would turn out the lights and turn on a projector (that's right, a projector, not a VCR). For the next 15 minutes the class would watch some awe-inspiring Disney motivational movie. It was during this time that I could escape for a few moments and relax.
Okay, here comes the good part"¦
Outside of Owen and Dolly's house were two old oak trees. Stretched between them was a hammock. For a few minutes each Sunday afternoon, I would recline beneath a canopy of leaves and contemplate how cool it was to be in The Happiest Place on Earth, in a way very few others have ever experienced it. Millions have visited Disneyland, but only a handful of people ever laid in this hammock and enjoyed the park as I have.
The Pope's home still exists today. It currently houses offices for the Pony Farm and can be seen on several of the backstage tours offered at Disneyland. I have no idea if the hammock still exists. Obviously if it does, it's been replaced several times over the years.
So that, my friends, is why I chose to tell you about the Owen Pope window on Main Street.