'What Will You Celebrate' Kicks Into High Gear This Spring at Disneyland Resort; Special Vacation Packages Add Value Now Through April
Anaheim, CA / FEBRUARY 5, 2009 /PRNewswire/ – A favorite Disneyland attraction returns to Fantasyland, Friday, Feb. 6, when "it's a small world" opens with some new storytelling magic. With the premiere of a new "Spirit of America" scene, new musical enhancements and a new look for some of the attraction's familiar child dolls, "it's a small world" will once again take guests of all ages on "the happiest cruise that ever sailed."
This classic attraction has been renovated and enhanced while retaining the world-renowned charm that holds such a special place in the hearts of Disneyland guests. The "it's a small world" journey continues to celebrate children of the world and their message of harmony and friendship. And now, for the first time, guests will be able to find some of the child dolls dressed as their favorite Disney characters, in the countries where their stories take place. For example, dolls dressed in Aladdin and Jasmine costumes are in the Middle East scene, and a doll dressed as Alice from "Alice in Wonderland" appears in the Great Britain scene.
Guests will enjoy riding "it's a small world" again and again as they search for the 29 Disney and Disney·Pixar characters now represented in the attraction. The new doll costumes and playful toy decorations are fashioned in the same artistic style that was created by art director, color stylist, Disney Legend and Imagineer Mary Blair, whose sense of design shaped "it's a small world" from the beginning.
Also among the enhancements is an entirely new "Spirit of America" scene. It's based on original concept art by Mary Blair and maintains the "it's a small world" theme that friendship crosses all nationalities, including that of the United States. Additional fresh touches may be found in the augmented "it's a small world" soundtrack. As the familiar "it's a small world" plays throughout the attraction, now some subtle film music is seamlessly woven into the song as counterpoint melodies fitting the characters represented in certain scenes.
The "it's a small world" attraction made its debut as an exhibit at the 1964-65 New York World's Fair. After two hit seasons at the fair, the attraction moved to Disneyland in California where it was expanded and then dedicated by Walt Disney himself on May 28, 1966.
The refreshed "it's a small world" is just one highlight of the year in which guests are invited to celebrate milestones, large and small, at the Disneyland Resort. The year will also see a variety of new shows and other immersive experiences in Disneyland and Disney's California Adventure parks as the Resort asks, "What Will You Celebrate?"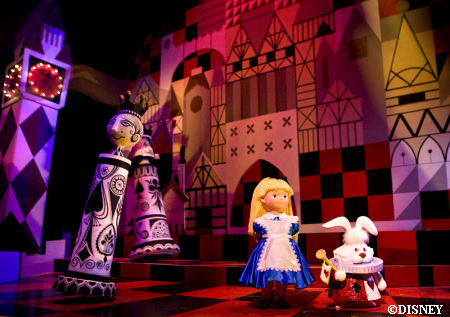 In addition, now through April 30 the Resort offers special travel values that make celebrating easier than ever.
Guests may book a three-day vacation package for as little as $68 per person, per day with the "Everyone Plays for the Kid's Price" package. Travel must be completed by April 30. Each package includes two-night hotel accommodations at a nearby Good Neighbor Hotel, three-day Park Hopper Tickets, Magic Morning entrance (to enjoy select theme park attractions before Disneyland opens to regular guests), an interactive Disney character experience in Mickey's Toontown, and preferred seating at select attractions and restaurants at Disneyland Resort. For more information, contact your travel agent, visit www.disneyland.com or call Disney at 1-866-276-6780.
Now through April 30, guests who stay at one of the three on-site Disneyland Resort hotels – Disneyland Hotel, Disney's Paradise Pier Hotel and Disney's Grand Californian Hotel & Spa – will receive a Disney Gift Card: $50 for a two-night stay, $100 for a three-night stay, or $150 for a four-night stay. The gift cards are provided upon check-in and available for use at any of the Disney-owned restaurants and stores located inside Disneyland and Disney's California Adventure theme parks, Disneyland Resort hotels and Downtown Disney.
New This Spring, as Disneyland Resort asks "What Will You Celebrate?"
Throughout 2009, Disneyland Resort will introduce new experiences and planning options to help guests celebrate the special moments in their lives, including birthdays, anniversaries and graduations. Mementos, souvenirs, food and dessert options will be introduced throughout the year.
Free On Your Birthday – To put everyone in a celebration mood, for the first time ever Disneyland Resort is offering guests free admission to one theme park on their birthdays. Guests can register at www.disneyparks.com.
Celebrate! A Street Party – Beginning Friday, March 27, at Disneyland, a cast of dancers, DJs and Disney characters will invite guests to join the celebration as they take to the street for a high-energy street party featuring lively music, colorful costumes, confetti and streamers. Guests can join in twist dancing, a conga line and all the colorful fun of a celebration on Main Street, U.S.A., or at "it's a small world" mall.
Celebration Roundup and Barbecue at Big Thunder Ranch – Disneyland guests can celebrate any occasion cowboy-style when the Celebration Roundup opens this April at Big Thunder Ranch in Frontierland. Disney characters will join in the rootin' tootin' entertainment, while diners enjoy Western-style ribs and chicken in the new outdoor Big Thunder Family Barbecue restaurant.
Bibbidi Bobbidi Boutique – Every little girl's dream of becoming a Disney princess can come true in this magical makeover location, opening in April in Fantasyland. Fairy Godmothers-in-training will transform would-be princesses with makeover options including hair, makeup and nail polish designs.

Blue Sky Cellar – As the multi-year expansion continues at Disney's California Adventure Park, the Walt Disney Imagineering preview center/workshop inside the park will be changing and adding new concept art and other sneak peeks at the exciting new projects coming soon. Meanwhile, some newly transformed attractions will reopen this spring.
Mickey's Fun Wheel – The thrilling giant Ferris wheel attraction (formerly the Sun Wheel) on Paradise Pier will return this spring with a new look and a fun new Mickey Mouse theme. Riders will board newly redecorated cars to swing along the circular route around a giant replica of Mickey's face.
Games of the Boardwalk – The Paradise Pier Boardwalk games, closed for renovation when the dazzling, immersive Toy Story Mania! attraction opened in summer of 2008, will return this spring with a colorful new look featuring, for the first time, Disney characters as part of the play experience.
Disneyland Resort features two spectacular theme parks – Disneyland (the original Disney theme park) and Disney's California Adventure park – plus the downtown Disney District composed of unique dining, entertainment and shopping experiences. The Resort's three guest-welcoming hotels are the luxurious 745-room Disney's Grand Californian Hotel & Spa, the magical 988-room Disneyland Hotel and the "day-at-the-beach" fun of the 489-room Disney's Paradise Pier Hotel. For further information on attractions, events and vacations at Disneyland Resort, visit www.disneyland.com, call (866) 60-DISNEY or contact local travel agents.
Free theme park admission details: – To receive free admission to one of the Disneyland or Walt Disney World theme parks on your birthday in 2009, guests must bring valid ID including proof of birth date. Guests who already hold a valid multi-day ticket they will use on their birthday may choose from other birthday treats instead, however, no cash refunds or credits will be given. To register your birthday and find out more details, visit www.disneyparks.com.