In an ever changing world of technology, even memory cards are affected. Some of them stop being birthed all together like the SmartMedia card, while others improve in capacity such as the SDHC. I will now rundown the list of current memory cards and which camera brands they work with.



Olympus and Fufifilm cameras record images to the xD card. While Olympus only accepts these cards, Fujifilm now works with SD cards, too. The cards shown here are Type M and Type M+, the difference is that M+ can download images 1 and 1/2 times faster than it's predecessor. Both memory cards come in 1GB and 2GB*.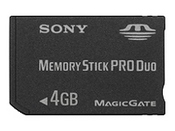 Sony cameras use Memory Sticks. The difference between these two Memory Stick Pro Duo cards is that the one on the right, reads High Speed. That means it transfers images faster, in this case, up to 80MB**/second. Please be aware that Sony changes their media cards frequently so be sure to check and see if your camera is compatible with their current Memory Sticks.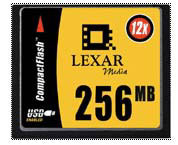 These are Compact Flash cards and nowadays you only see them being used in digital SLRs . Several years ago they were used by Canon in their point and shoot cameras. The card on the left has 256MB which held a lot of photos on a 4 megapixel camera. Compact Flash cards are now sold in 1GB, 2GB, 4GB, and 8GB capacities.


SD (Secure Digital) cards are the most commonly used memory cards, right now. With the exceptions stated above, these little guys go into every digital point and shoot and a good number of DSLRs. SDHC cards are upgraded versions of SD cards. What's the HC stand for? High Capacity. What does it mean for you? Less time downloading your images to the computer. Be aware that SDHC cards will only work in SDHC compatible cameras.
If you are unsure of what memory card your camera accepts, check your manual or the box.
*GB=Gigabyte, **MB=Megabyte