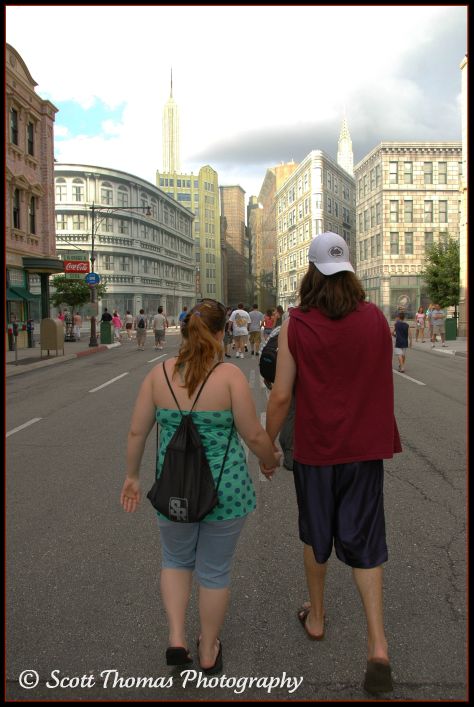 My daughter and her beau walking on New York Street in Disney's Hollywood Studios.
Nikon D70/18-200VR, 1/200s, f/7.1, 200 ISO, 0 EV, 18mm Focal length
While I enjoy taking pictures of all the buildings, scenery, characters, parades and shows at Walt Disney World. I am there to enjoy it with my family, too. My daughters have grown up in the Disney parks over the last 23 years. I always have fun trying to find new ways to capture their time there. Last year, a new wrinkle was added, as my youngest brought her boyfriend with us. He had not been to Walt Disney World since he was very young. My daughter had fun sharing with him all the new rides and parks that have been added while he was away.
I was taking extra care to be aware of them and took lots of photos. Some they knew about and some they weren't aware of like the one above as they walked hand in hand through Disney's Hollywood Studio's Streets of America. So, as lovely as Walt Disney World is, it's those closest to us that make it truly magical. Don't forget about them.