AllEars® reader JeanineY is part of the NFFC trip to Tokyo Disneyland. She will be filing reports along the way. Here is Day #1: DisneySea
Tokyo Disney has an odd quirk about it's passes–you can buy multi day passes up to 4 days but you must specify which park you are going to each day for the first two days, and there is no park hopping permitted until after those two days are up. For our purposes, it was essential we designated Disneyland as our second day, so as to be there for the official 25th anniversary date. Consequently, we spent today at DisneySea.
Tokyo DisneySea is unique among all Disney parks. It is based upon the concept of seven different lands joined by their varied connections to the sea. It is insanely detailed in terms of theming and is probably the most beautiful Disney park I have ever visited. Of all the American parks, it resembles EPCOT more than any other in its lack of reliance on conventional Disney characters, and its representation of multiple different cultures and geographic areas.
After breakfast in the lounge I went downstairs to register for the NFFC events. After being given copious amounts of papers, tickets, shirts, bags, pins, etc., we were off to DisneySea for Early Magic Hours. Apparently, the first day of your ticket you are allowed in an hour early before the park opens to the general public if you stay at one of their associated hotels–this was a boon as we pretty much had the park to ourselves the first hour, although not essential as the crowds were fairly minimal for the whole day.
Along with the anniversary decorations, the Tokyo Disney Resort is also celebrating their version of the Flower and Garden Festival so there are various topiaries and merchandise available as well.
Our first stop for the morning was the relatively new Tower of Terror ride in the American Waterfront area. This variation jettisoned the Twilight Zone theme and instead features a storyline of a wealthy American adventurer Harrison Hightower, who absconds with a tribal idol and ends up taking an unfortunate elevator ride shortly thereafter.
The main difference I noted was that there appears to be a much higher emphasis on the decoration and show value of the line as you walk through the lobby, his study, and numerous trophy/artifact storerooms, and much less emphasis on the actual drop. Anyone looking for the same thrill value found in the WDW or CA versions would likely be disappointed, however anyone who typically felt those rides were too intense could easily enjoy this version.
It had begun to rain somewhat by now, so we soggily made our way to the most dramatic of all the lands, Mysterious Island. Set in sort of a Jules Verne era of exploration, it contains two of the more popular rides of the park, Journey to the Center of the Earth, and 20,000 Leagues Under the Sea.
In both rides, you start out plumbing the depths of each respective media in vehicles designed by Captain Nemo–what could go wrong? They are each immensely enjoyable and understandable despite being almost entirely in Japanese. The only difficulty I see with them is that the ride vehicles are rather small and in the case of 20k Leagues you actually have to practically crawl in back of the other people in the pod in order to reach your bench. The windows are, as with everything in Japan, rather low to the ground so it's hard to imagine that really tall people would not have to stoop down for the duration of the ride.
By this time, the NFFC luncheon at Magellan's was taking place. Magellan is a restaurant in the Fortress Exploration area which incorporates multiple Spanish fortress architectural elements to make up a center for exploration in the Galileo era. The food was excellent and was topped off by a great talk by Dennis Tanida, an Imagineer and NFFC member who worked on the Fortress and the beautiful Spanish galleon attached to it.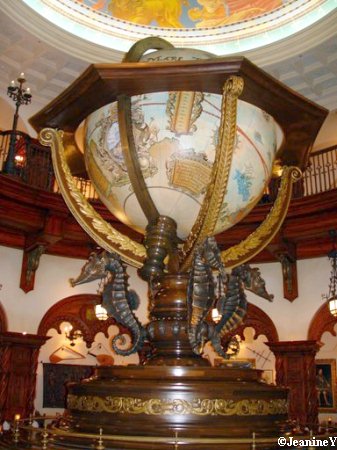 Subsequently we staggered over to the Lost River Delta area, themed after the jungles of Central America and rode Raging Spirits–a ride about the same size as Primeval Whirl, but with the distinction of having a 360-degree loop.
Of interest, they are so afraid things will fall off of you, they offer free 3-hour lockers outside the ride for your belongings. I'm not sure they have too much to worry about, as the ride seems to go so slowly, compared with all the other coasters of its ilk, that it seems as though you have time to reach out and grab anything that falls.
We went on to Indiana Jones Adventure: Temple of the Crystal Skull which is essentially the same ride as at DL, but with slightly different theming and effects. I would say the rides are about equivalent, although I am partial to the DL version out of hometown loyalty.
At this point, it was time to make our way over to the Mediterranean Harbor to see the daily showing of The Legend of Mythica, their big water show. It's hard to describe it as, unlike the rides, the storyline does escape you a little if you don't know Japanese.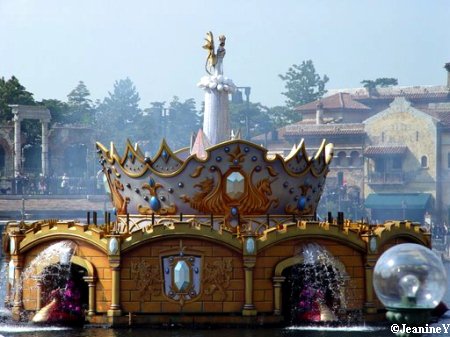 The only thing you can imagine is that someone decided to throw everything anyone might like to see in a show together into one glorious spectacular. There's singing, dancing, characters, floats, fire effect, water effects, drumming, jet skis, kites, fireworks, and more. There must be a phenomenal number of CMs working on this one show, and it all goes to form an extravaganza that's unlikely to be matched in any US park.
Subsequently we went around picking up a number of smaller attractions around the park until it was time for the second big water show, the nighttime production BraviSEAmo! I believe it's supposed to be a romance of sorts, between a water spirit and a fire spirit, and it works out about as well as you'd think. The production itself is excellent and I could only advise getting there early enough to get a decent viewing point.
After a long day at the park, we managed to catch the monorail to Ikspiari for a couple of bowls of tempura udon, and then back to the hotel.
Tomorrow: Tokyo Disneyland's 25th Anniversary.