I had a new experience last Friday – I got to tour Disneyland with a
fellow All Ears staff member – All Ears Picture This! blogger Lisa
Berton. We hit both parks, all three resorts and Downtown Disney.
It was a beautiful southern California day – they don't get much better.
Lisa was taking
lots of pictures, since she's going to try to fill in a lot of the things
that we don't currently have in the Disneyland section of AllEars.
Let me tell you that it was a real treat for me NOT to be taking
photographs – it was great to leave it in the hands of a professional.
There were a lot of characters out and about and many of them are total
hams when it comes to getting their picture taken. Pluto kept
striking all kinds of different poses for Lisa, and putting his ears
in various positions. My favorite was when he rolled them into
round Mickey Mouse ears. 🙂 I was surprised to see the Mad Hatter
over in DCA outside the Animation Building – I guess they'd let
him escape from Disneyland for the afternoon!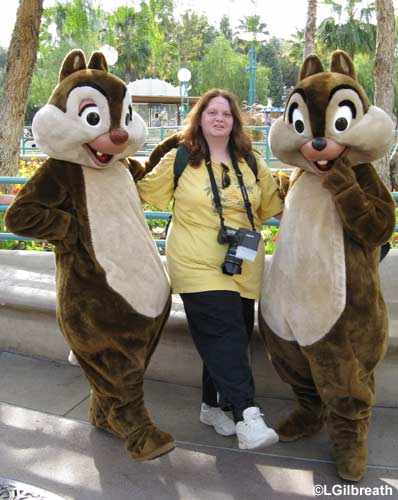 I've found another fan of the Orange Stinger – Lisa enjoys flying around
on it, too, so we had fun doing that. And we checked out the S.S.
Rustworthy play area. They've cut waaay back on the water effects (no
more water cannons – and I don't think that's such a bad thing!), so
it's pretty hard to get wet these days. But you can try "surfing", or
steering the ship, or ringing the ship's bell, or pushing buttons for
the foghorn, dropping the anchor chain, and throwing a life preserver.
We caught a bit of High School Musical 2 before heading over to the
Paradise Pier for dinner. At this point we REALLY wished that the back
entrance that Paradise Pier guests used to be able to use to enter DCA
was still open! We used the Grand Californian's egress instead.
We had a very nice dinner at the PCH Grill at the Paradise Pier – but
I'll write more about that later.
After dinner we went back to Disneyland – by way of the Disneyland
Hotel and Downtown Disney. Last month I wrote about the new floral
Mickey inside the entrance, and how it has new sparkling lights
that show up better at night. Of course just as we walked up the
lights *stopped* twinkling. We waited for a few minutes but no luck – we think Tinker Bell was mocking us. Eventually we gave up and went into the park
and found a spot in the hub for the Remember…Dreams Come
True fireworks.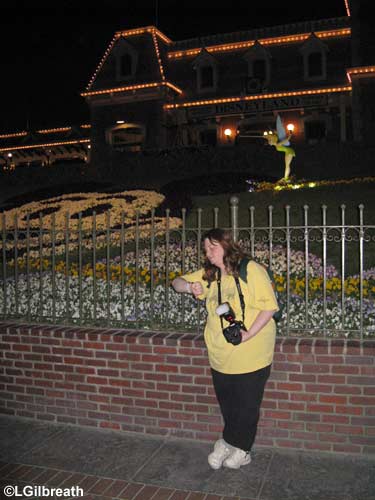 Though we had a good view of the castle and a great view of the
Matterhorn, we had an obstructed view of the fireworks – they were
off to the left of the castle, and mostly blocked by some trees. I'm
beginning to wonder if there is any spot where you get a good view of
*everything*. The show proceeded just fine until Tinker Bell's
flight…the spotlight went on her and she flew about 50 feet…and then
she stopped. And kind of swung in place. Eventually they turned the
spotlight off and the rest of the show continued, but she was stuck
there for at least 5 minutes before they were able to get her apparatus
moving again and she finished her descent. Normally she makes a return
appearance near the end of the show – not that night!
The rest of the show appeared to be unaffected.
On our way out of the park we checked the floral Mickey again – sure
enough, it stopped twinkling just as we arrived. Guess that's my new
mission in life!