The new Pixar Play Parade officially opened at DCA on Friday evening (there
were several preview performances). I was on-hand for the first
official parade, which started at 5:15. I claimed a spot on the edge of
the parade route at Sunshine Plaza (where it starts) about 4:00 – turns
out I didn't really have to be there quite that early for a front-row
seat.
Prior to the parade Cast Members went down the parade route warning
guests that they would get slightly wet…I'd heard the parade involved
water, but didn't know how much, and I worried a bit for my camera.
A few minutes before the parade started we heard the voice of Mike
Wazowski (Monsters, Inc.) making a few announcements – and heckling Roz, who seems none-to-pleased with her role as drum majorette (complete with twirling baton!).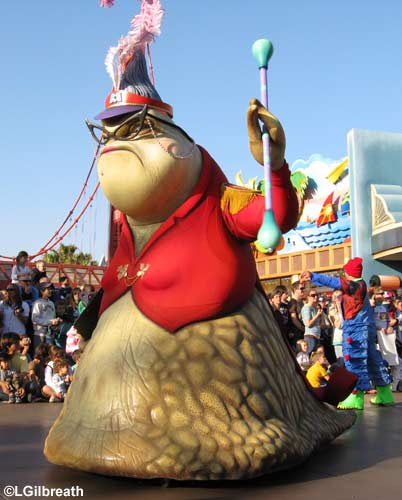 The parade includes sections representing all of the Disney-Pixar movies:
Toy Story and Toy Story 2, Cars, Monsters, Inc., "a bug's life", Finding Nemo,
The Incredibles, and Ratatouille. The floats have a lot going on – they
can all spray water, for one thing – and there are lots of characters on
board or accompanying the float. The larger floats have some additional
surprises, like bugs swinging on giant daisies, bungee-jumping rats,
and cowboys and cowgirls twirling on a high bar. My favorite was The
Incredibles float – that segment starts off with Mr. Incredible,
Elastigirl and Frozone all riding their own hovercrafts (and I wonder if
there's really a Segway buried underneath all of that fiberglass),
followed by the VERY large Omnidroid – with baby Jack-Jack perched on
top. Not to worry for Jack-Jack, though – every so often he bursts into
flame! And that looks really cool. (They didn't do the flame effect at
Sunshine Plaza, though – I saw that back at Paradise Pier.)
In addition to the aforementioned bugs, rats, and cowboys, there are
also a number of talented parade performers cast as dancing bugs and
monsters, puppeteers with Dory, Nemo, and Marlin puppets, stilt-walking
chefs, and those guys on the bouncing stilt things.
The parade is a little over 20 minutes long – after it ended at Sunshine
Plaza I zipped over to Paradise Pier via Condor Flats and the Grizzly
Peak Recreation area and caught up with the beginning of the parade in
front of the Golden Zephyr. I really didn't need to worry about getting
a spot for the parade an hour early – I got a front row spot in Paradise
Pier even after the parade had started! But it was nice to see it twice
– and as I said, I saw the fire effect which I'd missed in Sunshine
Plaza, and also saw one of the high bar twirlers – they weren't in
action yet at Sunshine Plaza, either.
I think the parade is a lot of fun, though since it doesn't have a
performance stop, it's missing the interactive component that Block
Party Bash and the Parade of Dreams have. Still, there are lots of
characters walking the route and they greet the guests. The floats are
complex and really visually interesting. And even Hopper (the menacing
grasshopper from "a bug's life") has a smile on his face!
But…I could've done with a lot less water. While nothing was
drenching and probably isn't going to damage a camera, my lens got drops
on it a couple of times when I didn't see the water coming in time to
shield it. I understand that in cooler weather they'll blow bubbles
rather than spraying water.
I found the Ratatouille float a little bit creepy – the jumping rats
were ok, but there were several rats hanging upside down in some
ropes looking rather lifeless. It just looked odd.
Still, overall I liked it, and think it will be quite popular with
guests, particularly the younger ones who have grown up with the Pixar
movies.
You can see a gallery of parade photos on AllEars.net HERE.