I'm sure that many of you if not all of you have taken photos of your family, friends and/or vampires at night. The lights are low, Cinderella's Castle is basking in the glow of magenta and blue gels. You want to capture the end of a glorious day at the Magic Kingdom. As an excited mom or dad, you tell your offspring to stand there and smile.
Mom: The castle is beautiful. Let me take your picture in front of it.
Teenager: (head tilts back, foot stomps cement) Mommmmmmmmmmmmmmmmm.
Mom: Oh come on, do it for me. It'll be quick.
Teenage: You like already took like a GAZILLION photos.
Mom: I'm glad you're keeping track. Count this as a gazillion and one. Now go stand over there and for crying out loud, try to look happy.
Teenager: Ugh! (stands, gives big cheesy grin). Can we go nooowwwww?
In order to recreate this photographically, I had to improvise. I'm not at Walt Disney World right now so my neighborhood will act as Main Street less the delicious scent of baked goods, throbs of people heading to the monorail, shops, Cast Members and a stunning castle. Please use your imagination. Also, I don't have children of my own so I borrowed my neighbor, Ciara. I loaded her down with props and put her to work. She received no payment for modeling however I wouldn't be surprised if she tried to sneak in with my luggage when I leave for Disneyland in October. (waving) Hi Ciara!
The pictures below were all shot with a Nikon Coolpix 5600. I also used a tripod to show you that they are imperative for night photography. This camera only has Auto ISO and will make it's selection based upon available light. I stood roughly 8 feet away from her.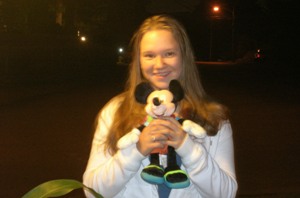 Shot using the Night Portrait setting.


The camera slows down the shutter and uses the flash with red eye reduction. You can see a yellow tint caused by the street lamp next to Ciara and she's slightly out of focus. Since the shutter stays open longer in order to allow available light to hit the sensor there's a chance that the photo will be slightly blurred.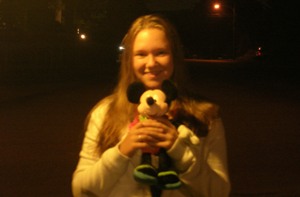 Shot using the Night Landscape (looks like a building with a moon) setting under the Scene Menu. Again, the camera slows down the shutter but does not use a flash. This mode is designed to shoot scenes not people. You can see that she is extremely yellow and blurry.

Shot using Auto Mode (icon is a camera) with the flash on with red eye reduction. Ciara is now sharp and has the proper skin tone. The street behind her is dark.
When you're photographing your loved ones at 11:32 PM and you don't have a tripod with you or a flat surface to place the camera on, use the auto setting with flash. Maybe the castle won't be as bright as you'd like it to be but your kid won't be able to try and tell your parents that you were drinking yourself silly based on blurry photos.
This blog entry is designed to help those whose cameras don't allow for manual control over shutter speed, aperature and/or ISO. It's also for anyone who isn't sure how to use such settings. I will go over advanced night time shooting later. Until then, remember that vampires don't like it when you use a flash.