AllEars Team Member Jack Spence files this report: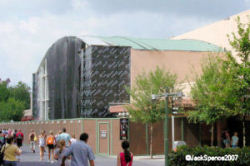 Here's a photo of the latest construction on Toy Story Mania at the Disney-MGM Studios. The attraction was officially announced at the January Press Event in Walt Disney World. This ride will also be opening in Disneyland's California Adventure next year as well.
Over in Animal Kingdom…..
A CD of "Finding Nemo, The Musical" is now for sale at the Animal Kingdom for $12.98. This is a very nice recording of the entire show.
Construction on Yak and Yeti restaurant continues. To fit in with Anandapur, the fictional village that is home to Expedition Everest, the restaurant will be themed as a rural village in the Himalayan foothills. The pan-Asian establishment will house both a table service restaurant that seats 300 and a quick-service eatery that can hold 200 customers. The restaurant was announced in February 2006, and is set to open October 8, 2007.

The "Leave A Legacy" purchasing area at Epcot is now all boarded up as is the "Leave A Legacy" display under Spaceship Earth. Speaking of Spaceship Earth the new rehab dates are July 9th through November 13th.
Below are a couple photos of the new Arcade on the 4th floor of the Contemporary. The operating hours are 8:00am to 11:30pm. Lots of other changes coming at the Comtemporary too. Big changes are coming to the dining options at the Contemporary Resort. The Food and Fun Center will close in July to be converted to a new table service restaurant. Beginning July 30, 2007, a temporary quick service restaurant called Tempo Grab and Go will operate near the Outer Rim lounge on the 4th Floor. It will be open through August 14, 2008. The new table service location will be called The Wave, and is tentatively set to open in late March or April 2008. Once The Wave opens, the Concourse Steakhouse will close and a new, permanent quick service restaurant will be constructed in that space, set to debut in mid-August 2008.