TOURING
AT A GLANCE...
Entertainment
Special Events
Special Reports
OTHER WALT DISNEY WORLD THEME PARKS
OTHER DISNEY THEME PARKS
Magic Kingdom Archives

Cinderella's Surprise Celebration
Cinderella's Surprise Celebration went on hiatus
February 26, 2005, to make way for the new
Cinderellabration show, which has been adapted from a popular Tokyo Disneyland show.
Cinderellabration officially debuted when the
"Happiest Celebration on Earth" (Disneyland's 50th Anniversary)
kicked off May 5, 2005.
Cinderella's Surprise Celebration is due to return at the end of
the Happiest Celebration on Earth, September 30, 2006.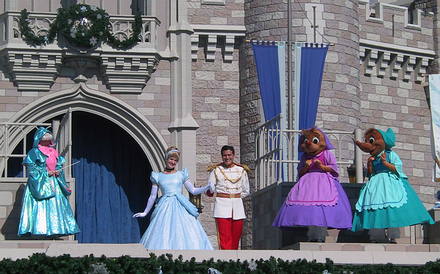 Cinderella is the hostess with the mostess in this Castle Forecourt Show which debuted October 1, 2001. Many of your favorite characters participate in the show.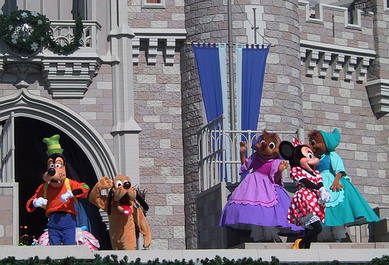 Cinderella begins by greeting everyone. With the help of her Fairy Godmother and everyone in the audience, she invites her old friends to join her in a gift giving party to celebrate 100 Years of Magic!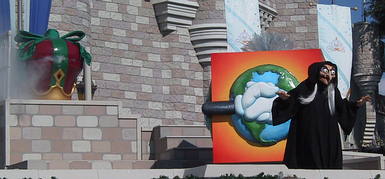 Gifts are brought on stage, including the Gift of Romance and Laughter. But wait, the Old Hag suddenly appears with a gift of her own -- its an Apple! And she disappears as quickly as she appeared.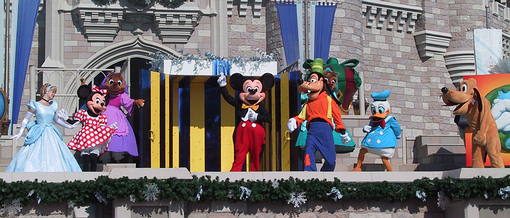 There's lots of commotion around one beautifully wrapped gift! Woo Hoo! Here comes Mickey Mouse to join the party!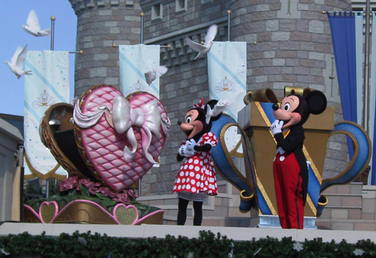 Minnie opens the Gift of Romance for Mickey!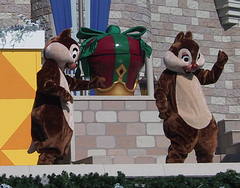 The stage is filled with Belle and Beast, Snow White and Prince Charming, Cinderella and ....even Chip and Dale come out to join the celebration. But, Donald, just has to see what's inside the present wrapped like an apple, so he climbs up the stairs. Everyone shouts NO, Donald, NO! But he opens the gift anyway!
Oh no, the Villains are taking over the Castle! It's Captain Hook and the Evil Witch!
The audience has one final gift to open, the Gift of Courage! Peter Pan fights Captain Hook, Mulan comes to fight off Shan Yu, the spell on Donald is broken and everyone returns for a final celebration!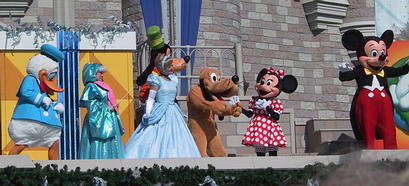 At the end of the show, Cinderella invites everyone to meet their favorite Characters for photos and autographs!
Cinderella's Surprise Celebration takes place on the Castle Forecourt Stage. Show times vary. Check your Times Guide when you arrive at the park. For more information on WDW Live Entertainment, visit Steve Soares WDW Entertainment Website.