Child Care FAQ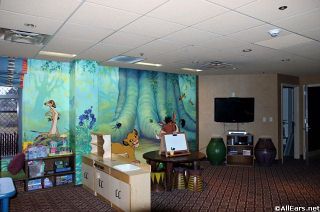 I've heard that some Walt Disney World resort hotels have special clubs that provide child care. Which ones? And what are the services they offer there?
Some deluxe resorts offer child-care services on-site for Disney resort guests. In some cases these services are also available to off-site guests. (Call to determine availability.)

GENERAL CONDITIONS: The following conditions apply to most Walt Disney World resort hotels' kids' clubs, but are subject to change at any time. Call first if you have any questions or to verify specifics.

Age: Child-care is provided for children over age 3 who are potty-trained (no Pull-Ups) through age 12. Resorts will not make exceptions.

Hours: 4:30 p.m. to midnight (11:55 p.m.), with some exceptions.
Parents leave their cell phone numbers so they can be contacted in case of emergency. (Parents may also call the child-care club to check on their children if desired.)

Price: $15 per child per hour with a two-hour minimum. Dinner is usually included and is typical children's fare, such as peanut butter and jelly sandwiches, hot dogs, hamburgers, macaroni and cheese, chicken nuggets and French fries, fruit and ice cream.

Activities offered at the clubs include board games, puzzles, arts and crafts, video games, Disney movies.

Reservations are required in most cases, although walk-ins may be available on a first-come, first-served basis. To make reservations, call 407-WDW-DINE. You may also call some of the resorts directly -- the phone numbers are listed with the resort details below.

Cancellations must be made at least 24 hours in advance, otherwise a fee of $23 per child is assessed. Reservations are held for 30 minutes before they are released to other guests.

The Disney resorts offering evening childcare are:
Animal Kingdom Lodge
Simba's Cubhouse
located on the first floor near the Uzima Pool deck area
(407) 938-4785

Polynesian
Lilo's Playhouse (formerly Club Disney; originally The Never Land Club)
located near the bus stop, across from the Great Ceremonial House
(407) WDW-DINE

Wilderness Lodge
Cub's Den
located outside the main lobby, near Wilderness Lodge Mercantile
(407) 824-1083

Beach Club
Sandcastle Club
located just off the main lobby, near Atlantic Wear
(407) 934-7000, ext. 6191
Also on Disney property, although not a Disney-operated resort:
Walt Disney World Swan and Dolphin Hotel
Camp Dolphin
located on the first floor near the Dolphin Health Club
(407) 934-4000, ext. 4241

Age: Child-care is provided for children 4, if they are potty-trained, through age 12.
Hours: 5:30 p.m. - midnight
Price: $10 per hour, per child (two-hour minimum)
Activities: Arts and crafts, video games, a visit to the Dolphin game arcade and Disney movies.
Meals: Counselors take the kids to nearby Picabu restaurant, where the meals they have pre-selected from a menu of traditional kid favorites, such as cheeseburgers, mac and cheese, chicken fingers and hot dogs, are served. Then, they are treated to ice cream from The Fountain shop.

Reservations: Accepted by calling 1-407-WDW-DINE, plus a limited number of walk-ins will be available on a first-come first-served basis.
What if my child is too young for one of the clubs? Or what if I'd prefer to have a babysitter come to our room?
Disney recommends:
Kid's Nite Out
1-800-696-8105 (press 0 for reservations)
Kid's Nite Out Caregivers are at least 18, are insured and bonded, have hands-on training and child-care experience, including child/infant CPR and basic first aid. They will provide one-on-one in-room child care in a Walt Disney World Resort room, and will provide a variety of activities, including reading, coloring, or games. A sitter can also be hired to accompany children to area attractions (with the exception of water areas) or act as father's/mother's helper. Kid's Nite Out also plans and works children's parties, camps, and children's theme conventions.
Children ages 6 weeks to 12 years are eligible. Kid's Nite Out also cares for children with special needs. -- call for details.
Hours: Available 24 hours a day, 7 days a week at all Walt Disney World Resorts

Rates: One child = $18 per hour; two children = $21 per hour; three children = $24 per hour; four children = $26 per hour. For five or more children, please call 1-800-696-8105.
There is a four-hour minimum.
There is also a $10 transportation fee.
*Reservations that begin after 8:59 p.m. require an additional $2 per hour premium. Cancellations require a 24-hour advance notice. Advance reservations are required. Holidays and special events require an additional premium. Rates are subject to change.
If you have comments or tips to share with others about child-care options at Walt Disney World, please post in our Rate and Review Area.