I met up with family at Disney World over the holidays. One evening, we stayed until Yeehah Bob, a wonderful entertainer at Port Orleans Riverside, was out of time. In the photo are (from left to right) my sister Donna, my son Steven and my wife Vickie.
It's difficult to catch Yeehah Bob in a photo; he's usually a blur of activity! He's an accomplished piano player, and his piano sways back and forth with him as he plays.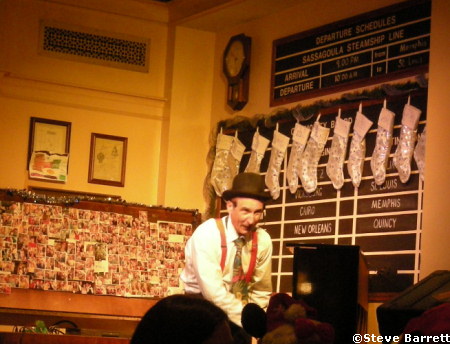 Disney artists place Mickey images on holiday displays in the WDW Resort lobbies. We found several Hidden Mickeys on the display in the Yacht Club lobby. Here's one on the side of the mountain.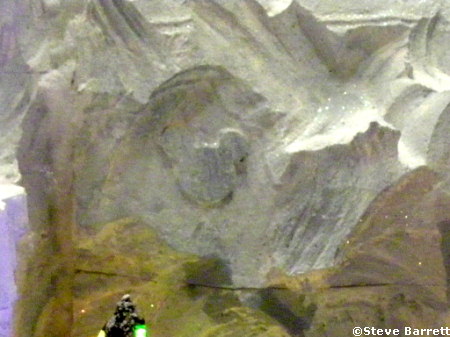 The names of Mickey and friends are still on cabinet labels in the Yacht Club lobby.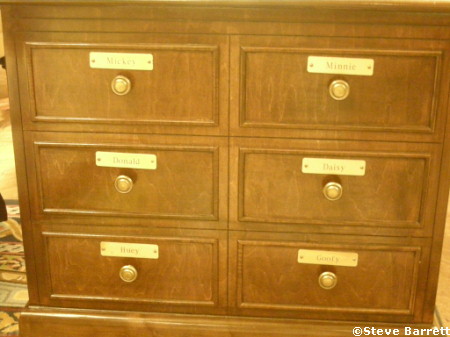 On Christmas morning, I entered Epcot at opening time and hopped onto the Living with the Land ride. Many folks have sent me photos of a cool Hidden Mickey in the aquaculture area, in the shrimp tank. I like to wait a while to see if Mickey images last, and this one has been in place for over four months now, so I hope it will stay.
In recent years, the Land horticulturists have been growing plants in Mickey-shaped containers. Along the boat ride, I spotted this container, which is evidently growing an eggplant. The sign below the container says "Earning My Ears."
As I was leaving Epcot on Christmas morning, the crowds were building! I hope this holiday season will be busy as usual at Disney World.
Read more about Steve's Hidden Mickey finds on AllEars.net
Steve maintains a Catalog of Hidden Mickeys on the Hidden Mickeys Guide.