This was Challenge #32: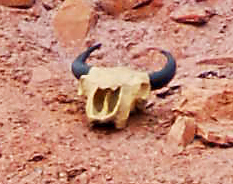 And here's the answer: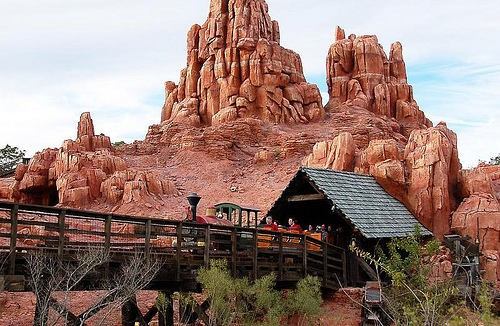 Copyright © 2008 Barrie Brewer, Nikon D50, 18-200VR, 1/800s shutter, f3.8
Yay! I was beginning to wonder if anyone was playing anymore. I'm glad to know you're still with me. The winner for this week was Angie Young. She was the first to let me know that Challenge #32 was from Big Thunder Mountain in the Magic Kingdom. You can see the scull at the base of the mountain, just above the train engine.
More than 200 readers knew the answer to this past week's contest and sent it in before the end of Thursday: Mike Kaczanowski, Tricia Dean, Jennifer Tremley, Michele, Mary Kuks, Allison Dibiase, Dana Schirnhofer, Heather Coursen, Kim Riley, Suzy Kozicki, Kelly Jean Clarkson, Dolly Dolores Guerrera, Lisa Ann Pompa, Anne Hainsworth, Michele Gaudet, Heidi Goodhue, Alicia Reimer, Margie Addington, Michelle Sergot, Alan Lichtman, Robert Flaherty, Mark Robertson, Barbara Turner, Kristi Humphrey, Mandy P, Melissa Rebelo, Meg Comeau, Ella, Betsey, Felice Ciccione, John Silvestri, Kate Fanning, Becky Myers, Noreen Rachuba, Elizabeth Squires, Melissa, Cathy Evans, Michelle O'connor, Jennifer Gatti, Kelli Vancil, Maureen Tavrell, Kimberly, Marcia Thompson, Chip Vermette, Melanie Woodall, Leslie Tischler, Patti Sturgis, April Haddock, Julie Ellis, Sherri Chavis, Kristi Marks, Walter N Clark, Jeremy Hardy, Trish Avery, Bev Carson, Lisa Hall, Tom Linder, Liz Moreau, Anna Eldred, Linda Kuehnle, Christina Rose Cooper, Aimee Hewitt, Kelly Geyer, Christine Mckay, Bill Sosebee, Mary Butler, Heather F, Janet Theriault, Natalie Covey, Amy, Stacey Magee, Sharon Leitgeb, Debra Kuklinski, Bob Sertic, Merry Shippee, Mary Ellen Domeseck, Todd & Lily Drebnisky, Eric Bouchet, Chris & Alison, Beth Dickerson, Sheila Saey, Barbie, Rhonda Foss, Kathy Mcneal, Paula H, Abbie, Amie Mumpower, Andrea Roberts, Kellie Carter, Jackie Purcell, Tyra Trueblood, Melesia Love, Jaime Thomson, Karyn, Patricia Ovesny, Megan K, Kristin Coon, Lisa Stamey, Chris Bertelmann, Chris Connors, Ann Carr, Bsherwin, Shirley Mclaughlin, Shannon Milair, Amanda Campbell, David Wickware, Amy Miller, Alyssa Nutter, Lora Myers, Hollie Hinton, Trish Babler, Nick Straka, Juliet, Holley Blyler, Richard Caprio, Gary Genteman, Melissa Blackwell, Diane Blanchard, Shiraz Biggie, Nicole Lassiter, Karen Dresser-Smith, Jason, Jude Toups, Melissa Mathias, Michael Gainey, Jennifer Spraker, Penny, Jen Campbell, Laura Pranaitis, Susieh1957, John, Ken Jackson, Sarah Smee, Brian Gallant, Bryan Timko, Tina Lefante, Becky Davies, Aruna Mohan, Ken Kleiner, Loretta Reed, Wendy Snelgrove, Bruce Lawson, Megan, PaulIgnudo, Lisal Hoffman, Carinne Kight, Eric Hoffman, Jessica Longdon, Jared Orth, Steve Benson, Trygve Cumpston, Ken Fischler, Rachel Sipes, Lynn Barber, Garland Cox, Sharon Lee, Barry Fisher, Lauren, Tim Rachuba, Deb Ragno, Gloria Martin, Michelle Ellis, William Ellis, Chris Thomas, Lisa Pompa, Heather B, Sabrina, Kris Dunkeson, Sharon Pierce, Brian Harrigan, Denise, Linda Mac, Christine Benoit, Jim Thompson, Hillary W, Jennifer Lalli, Leslie Budd, Katie Wetzel, Nora Beirne, Jon Ward, Kendall Huffman, Theresa Rucando, Kyle Carty, Jennifer Horst, Kelley H, Robin Fitts, Willie Tople, Kathy Lowe, Melissa Nute, Kathryn Hughes, Erica Andrews, Amy Schweizer, Maryann Eckenrode, Stacey Barboza, Emily Rogers, Judy Koslowski, Ann Fowler, Rob K, John Agnew, Caryn Schill, Rick Shea, Aaron Hale, Brittany Irish, Scott Cullen, Belicia Dawson, Karen Nelson, Patty Sindone, Evelyn Cowdell, Dan Record, Frank F Fincken III, Christina, Austin O'Blenis, Jane Bradley, Elisa Dillon, Brandy White, Darlene Harmon, Heather Young and Josh Rohrbach. Whew!
And now for the BIG winner of the month" Richard Caprio has won the March drawing for the Hidden Mickeys book and AllEars goodies! Way to go Richard!
Here's a special shout out to Brian Stake who wrote in to say, "In relation to your question of if that is a bird house or not… that is exactly what it is! I am currently stationed overseas in Baghdad, Iraq and we have a rather large birdhouse on Forward Operating Base Victory that looks very similar to that." Thanks Brian!
_______________________________________________________________________
Challenge #33: Where in the world is this?
Do you know? Do you have a guess? Send in your answer, before the end of the day on Thursday, by clicking HERE!
_______________________________________________________________________
Everyone who sends in a correct answer to a Where in the World Challenge this month will be entered in a drawing at the end of the month for a copy of Hidden Mickeys Walt Disney World by Steve Barrett and some special AllEars® goodies!