Winnie the Pooh for President
by
Jim Korkis
Feature Article
This article appeared in the November 3, 2020 (#1109) edition of ALL EARS®
Editor's Note: This story/information was accurate when it was published. Please be sure to confirm all current rates, information and other details before planning your trip.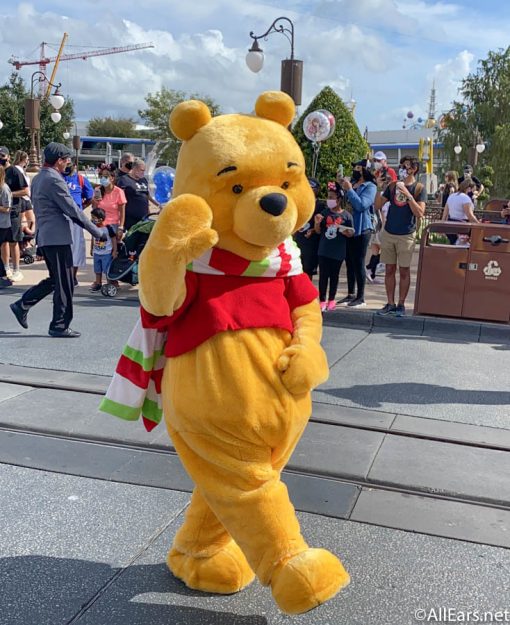 Certainly, something that has been on most people's minds these past few weeks has been the presidential election that takes place today.
For much of his life, Walt Disney was apolitical and dictated that the Disney Studio be the same. Even today, the Walt Disney Company donates to both political parties and shows no preference. Everyone is welcome at a Disney theme park regardless of their party affiliation or lack of one.
Voters will protest the candidates (especially in presidential elections) given to them on a ballot by writing in the name of a celebrity or fictitious character instead. However, most states can not officially count write-in votes for uncertified candidates since they require potential write-ins to register.
Mickey Mouse is perhaps the best known and most frequently used as a write-in candidate. The earliest known documentation of Mickey Mouse as a write-in candidate was in the 1932 New York mayoral elections.
It has been estimated that Mickey Mouse can get up to as many as 20,000 votes in an election year as a write-in candidate for some office. In the November 2014 election in Orange County in Florida, Mickey Mouse pulled in 273 votes for slots ranging from governor to commissioner of agriculture.
My parents warned me to never talk about politics at casual get-togethers if I wanted to be liked and the atmosphere to remain pleasant but I am going to break that rule in this presidential election year to state my support for Winnie the Pooh for President. By the time you read this column, you have already voted so my preference should make no difference to the outcome.
I remember the lyrics from his 1976 campaign song: "Pooh is in the country's heart. And while the words of elephants and donkeys fill the air perhaps, you'll find that now's time to vote for Pooh the Bear."
In the turbulent year of 1968, Disney's version of Winnie the Pooh was an unofficial candidate for President of the United States, even though it was obvious the fictional teddy bear was not an American citizen, and so he was ineligible to run for the highest office in the United States.
Disney had obtained the rights to use the character in June 1961 and although Walt's intention was for Pooh to appear in an animated feature, he found challenges translating the whimsical stories into something acceptable for American audiences. Pooh appeared in the Disney animated short Winnie the Pooh and the Honey Tree in 1966 to try to introduce American audiences to the cuddly character. .
Disney marketing decided promoting the upcoming December 1968 release of the next cartoon short Winnie the Pooh and the Blustery Day at Disneyland during that summer would be a good thing.
It was no problem to adapt the existing costume where Pooh wore a honey pot on top of his head into one where he wore a top hat that resembled a red, white and blue American flag with stars and stripes. He also wore an appropriate patriotic vest.
Pooh's first campaign for president began on the night of July 14, 1968 at a special Family Night at the Hollywood Bowl. Ten thousand people attended that kick-off that included Disney costumed characters showing up in support of the candidacy along with the Kids of the Kingdom and the Hollywood Bowl Orchestra. His campaign would later be continued in the Kids of the Kingdom show on the Tomorrowland Stage during the months of July and August.
Disneyland executives noticed that this little stunt garnered big publicity, as well as being a huge guest satisfier. By the time of the next presidential election came around in 1972, Disneyland enlarged Pooh's campaign with a ticker tape parade down Main Street U.S.A. However, for this campaign, Disney decided to include the recently opened Walt Disney World, as well.
As Orlando Magazine editor Edward Prizer remembered:
"There was a big political rally on a Saturday afternoon in the open field beyond Frontierland. It is an occasion to entertain the press (for who can more surely influence the success of a candidate).
"We disembark from the train at the new Frontierland railroad station. The rostrum is draped in red, white, and blue bunting. A band plays old time tunes. For each of us, a picnic box is stuffed with fried chicken, ham sandwiches, pickles, and such. The smiling Disney hosts pin us with 'Pooh for President' buttons and cap us with straw hats bearing 'Pooh for President' streamers.
"Each of us receives a handful of wooden nickels. They prove to be legal tender for the day, good for Pepsis, corn on the cob and watermelon. We cheer the speeches…shake hands with the candidate…dance to the Dixieland band…and afterwards have the run of the Magic Kingdom until midnight."
On October 1, 1972, at a convention held at Walt Disney World, Pooh was nominated to run for president on the Children's Party ticket. Drawings had been held at Sears, Roebuck and Co. and those stores across the nation selected delegates from each of the 50 states to be sent with their families to Walt Disney World.
Sears was having huge sales of exclusive Disney Winnie the Pooh merchandise so were eager to get on board for the promotion. The Sears stores sold some exclusive "Winnie the Pooh for President" merchandise like a plush figure attired in his campaign costume that proved extremely popular.
As part of the festivities, the delegates nominated Pooh for President of the United States in the forecourt of Cinderella Castle. Two days after the Walt Disney World event, from his "West Coast retreat" at Disneyland, Pooh announced his platform and campaign strategy.
His short speech outlined his policy platforms to put "hunny in every pot." He also mentioned his battle to "lick" the high price of ice cream cones and that there would be hot fudge sundaes every Monday and banning all spankings. The crowd cheered enthusiastically and loudly.
Pooh and his press secretary Tigger, with campaign manager Eeyore, left on a old-fashioned two week cross country, whistle-stop train campaign tour sponsored by Sears and Amtrak before setting up his official campaign headquarters in Disneyland where he picked Piglet as his running mate.
One night, the Disney personnel were awoken in their private sleeping car at 1:30 a.m. as they approached a small town in New Mexico with a population of only 200 people.
"It turned out there were about 2,000 people waiting there to see Winnie the Pooh," said Gary Moore who was the Disney photographer accompanying the group. "Children were bundled up and sitting on their dads' shoulders and more, so they switched us to the siding there so we could do the show."
"Pooh-litical" rallies in support of Pooh for President were held at Disneyland and Walt Disney World during October, with marching bands and free balloons, pictures, buttons, and posters for kids supplied by Sears.
"Winnie's a Honey of a Candidate" was the campaign slogan for the Winnie the Pooh for President campaign in 1976 where Pooh was touted as "The Children's Pick in '76". When children exited the park at the end of their day with their family, they could pick up a free "Pooh for President" poster, pin, and coloring kit.
Once again, Sears aggressively sponsored the promotion. Winnie the Pooh merchandise was prominent in Sears stores and its catalogs. Sears even sponsored television network broadcasts of the Pooh featurettes.
For Pooh's 1976 campaign, Sears had in-store, point-of-purchase materials and a special record. The original song was written and performed by novelty songwriter Larry Groce who had written Junk Food Junkie earlier in 1976 that became a Top Ten hit.
Winnie the Pooh for President Disneyland Records 563 (Sears Exclusive / 7″ 45 RPM) ran for eight minutes. The song itself was only about two and a half minutes long. The rest was Christopher Robin (voiced by Billy Simpson) offering a basic overview of the U.S. election process. The record included an eight page coloring book.
WTVJ, which in 1976 was a CBS affiliate in Miami, produced a homegrown "Pooh for President" television special.
Pooh had one more short shot at running for president in October 1980 at Disneyland, but it was much less elaborate than previous attempts. He ran against Captain Hook and guests were encouraged to fill out a ballot for their favorite candidate.
It is no surprise that when it came to counting the ballots near the end of the day in Town Square, Captain Hook had tried to steal the election, but was caught.
Controversies over the rights to use Winnie the Pooh prevented further campaigns although in 1995 Disneyland tried to hold a Mascot for Disneyland election pitting Pooh against Hook using some of the same elements from the 1980 event.
Considering all his wonderful qualities, maybe it is not so crazy to consider Winnie the Pooh for president even though he is a bear of very little brain.
As his campaign song stated:
Groce: I'm proud to nominate a bear who's been a friend to me. A bear whose name in stories are known by millions sea to sea. And so right now, without more words or any more adieu, I give you our next president The Honorable Winnie the Pooh.
Chorus: Pooh for President! (Vote for Winnie the Pooh!) Pooh for president! (Pooh is right for you!)
Pooh (the voice of Sterling Holloway): Thank you! Thank you! If I'm elected, I make a promise to all you girls and boys! I'll do away with taxes on bicycles and toys! A bit of honey in every pot will be my golden rule and each you will have a snack when you come home from school.