WDW Chronicles: Tales of Typhoon Lagoon
by Jim Korkis
Disney Historian
Feature Article
This article appeared in the January 17, 2012 Issue #643 of ALL EARS® (ISSN: 1533-0753)
(AUTHOR'S NOTE: This coming year, each installment of this column will hop around to different locations and different time periods at Walt Disney World. I will be documenting the stories, history, events and people that made Walt Disney World the beloved vacation destination that it is today. To help warm the cold winter months somewhat, this installment takes a fond look back at how Walt Disney World created a new approach to water parks, and perhaps stir up some warm summer memories in the process.)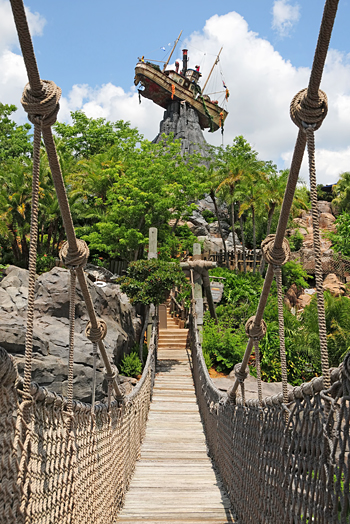 Disney's River Country was the first water park at the Walt Disney World Resort, opening on June 20, 1976. It was considered part of the Fort Wilderness Resort and was on the shore of Bay Lake. Arguably, it was the very first completely themed water park ever built in the United States, meaning that it was not just a varied assortment of water activities, but had a simple story concept that connected everything together.
Imagineer Fred Joerger, who did the rock work on attractions such as Big Thunder Mountain, Schweitzer Falls at the Jungle Cruise and the caves of Tom Sawyer Island, designed the rock work at River Country as well. He included pebbles from streambeds in Georgia and the Carolinas to help achieve an authentic look.
Originally, this water park was going to be called "Pop's Willow Grove" and was meant to be reminiscent of "an old fishing hole" from the time period of Tom Sawyer and Huck Finn, with items like rope swings enhancing that story. River Country was about one-fourth the size of Typhoon Lagoon, since the Disney Company had no idea whether such a then-radical idea would be successful.
Water from Bay Lake was pumped through the inside of River Country's artificial mountain to the top of the flumes and raft ride at the rate of 8,500 gallons a minute and then eventually through the miracle of gravity spilled back into the lake. There was a natural soft sand beach underfoot, which was a unique innovation at the time.
Despite its huge popularity resulting in many sold-out days, the Walt Disney World water park had limited capacity and the water was unheated. It also had other challenges, including new regulations about water safety that would have required a massive financial investment to rehab the area to meet the appropriate specifications. It made more sense, both from a financial and a guest satisfaction level, to simply build a new water park that used everything that the Imagineers had learned from the building and operation of River Country.
Typhoon Lagoon opened on June 1, 1989, just across the street from the newly built Pleasure Island. It was home to the world's largest outdoor surf pool (not just a wave pool). It was part of the 1989 expansion of Walt Disney World that also saw the opening down the street of the Disney-MGM Studios theme park.
According to the back story created by the Disney Imagineers for the new water park: "A furious storm once roared 'cross the sea, catching ships in its path, helpless to flee. Instead of a certain and watery doom, the winds swept them here to Typhoon Lagoon." That same fictitious storm from 1955, known as Hurricane Connie, inflicted near total destruction on the nearby island belonging to the descendants of Merriweather Adam Pleasure as well.
The fabled typhoon drastically changed the small Placid Palms resort village and, to make matters worse, a resultant earthquake and volcanic eruption left the community almost in complete ruins. Surfboards, fishing gear, boats and other nautical items were flung wildly throughout the area. Trees toppled not only onto some of the buildings but into them as well. One old ship tanker was completely overturned, but today guests can walk into it and through the portholes see sharks and nearly 2,000 fish swimming by in a man-made reef. Many species of marine life, not necessarily native to the area, were deposited in the surrounding waters by the wind and water. Even a pair of jaws from the fictional Sharkus Gigantus (reminiscent of an actual prehistoric shark known as a Megalodon) washed up on the beach.
The plucky inhabitants used their ill fortune to transform Placid Palms resort into the Leaning Palms resort, referencing the fact that some of the remaining palm trees were almost completely uprooted. The local residents resourcefully rebuilt their town as best they could with the flotsam and jetsam of "found" objects. The much-beloved Walt Disney Imagineer Randy Bright summarized the effect back in the 1980s: "Upon entering Typhoon Lagoon, guests find themselves in a ramshackle, tin-roofed island village landscaped with cargo, surfboards and other marine wreckage left by the great storm."
The preliminary designs for this water park identified it as being called "Splash" to reflect CEO Michael Eisner's love of the Touchstone mermaid film of the same name. Different concepts were pitched, including one revolving around a beached cruise ship. Another of the original concepts was that the park would be situated in a Florida swamp and it would be very tropical with dense Florida foliage, dark caves for guests to float or swim through, and audio-animatronics alligators. (When Blizzard Beach opened in 1996, it had a mythology surrounding its own mascot, a Florida alligator named Ice Gator. The character became so popular that the mascot named Lagoona Gator was introduced for Typhoon Lagoon shortly afterwards. Lagoona Gator's shack is filled with fanciful items relating to his reptilian interests.)
Guests immediately see one of the unfortunate boats stuck atop the entrance sign as they turn off Buena Vista Boulevard to go toward Typhoon Lagoon. A series of signs inspired by the famous "Burma Shave" roadside signs of yore tell the story of Typhoon Lagoon in rhyme snippets before the guests even get to the parking lot.
The main entrance to Typhoon Lagoon is a mixture of bits and pieces of ships damaged during the typhoon. Wheelhouses and cabins were reformatted into ticket booths with a mast and a sail creating the marquee. High above the booths is a row of nautical flags that spell out "Welcome to Typhoon Lagoon." On the right-hand side is a sign that is a "key" to deciphering what letter of the alphabet each flag represents. Nearby is a line of flags that translate to "Piranha in pool."
The Disney Imagineers purposely designed the entrance so guests have to follow a short winding path and up a slight hill before they finally catch a glimpse of the lagoon itself. The guests are literally walking into the story and discovering small bits of the fantastic jigsaw tale piece by piece.
Over to the right, guests can see the souvenir store owned by Singapore Sal. He is the fellow who is the first to get anything that washes up on the bench. That's why he has that telescope — so he can spot new treasures. Sal's girlfriend is Typhoon Tilly, and she has her own food and beverage location. The two of them have pretty much cornered the tourist market. Since this detailed story has been "lost" over the years, today many guests think that the name "Singapore Sal" refers not to a man but a woman named Sally.
Tilly also inspired the name of one of the main landmarks at Typhoon Lagoon. High atop Mount Mayday (Mayday, of course, is a famous distress call) is Miss Tilly, an old shrimp boat out of Safen Sound, Florida. ("Safe and Sound"). Miss Tilly is actually smaller in scale than a real boat, so that it looks like it is much further away. It is also made of 17 tons of sculpted and painted concrete to survive the experience. The story goes that the typhoon swept and impaled the boat on the top of the dangerous volcano, where it snugly plugs the opening. The geothermic pressure underneath the boat builds up and erupts every 30 minutes, causing steam and water to shoot up roughly 50 feet above Mount Mayday's peak as the volcano tries unsuccessfully to dislodge the ship. The real reason for the every half hour eruption is not primarily as a show element, but to let guests (especially young children) without watches know that a half-hour has passed since the last blowing of the horn and the alarm. The cooled and hardened lava flow from Mount Mayday has created unusually smooth mountain streams that are utilized as waterslides by guests today.
Typhoon Lagoon comprises three main styles of architecture. Early Key West-style resort architecture is seen at Leaning Palms. It has been left barely standing and is precariously held in place with a few salvaged ropes. Another style of architecture, suggested by some structures in Harbor Village, is reminiscent of a typical lagoon village with its thatched roofs. Finally, there is an unorthodox mix created by flotsam and debris found after the storm that has been incorporated into what remained of some damaged structures. An upright boat became a closet. A wheelhouse became a dressing room. A massive buoy became a sign.
In reality, the Imagineers also amusingly recycled real life elements into the design of the park. The water tower at Castaway Creek came from the old Fort Wilderness railroad.
When a new addition was made to the waterpark in 2005, Imagineers wisely decided to support the existing storyline. The new Crush 'n' Gusher is said to be an old fruit-washing and packing plant that was damaged by the same storm that transformed the rest of Typhoon Lagoon. Tropical Amity brand Fruit Exporters, "Your Friends from the Tropics," once boasted that, "Our juices are crushed with flavor… Our produce is gushing with taste!" That back story of a fruit processing plant is why the slides are named Banana Blaster, Coconut Crusher and Pineapple Plunger.
Today, the broken sign now ominously reads "Tropi Calamity" instead of "Tropical Amity." There is an old tractor on the roof and conveyor belts that have been overgrown by the tropical landscape. However, even when the facility was in full operation, apparently there were employee hijinks. Number two on a posted list of Produce Wash Facility Guidelines is: "Wash flumes are not to be used for recreational purposes. No horseplay!"
Today guests can ignore that edict and grab one of the inflatable fruit bins to use as a raft and use the still-existing produce wash chutes for a wild, watery adventure. However, even for Disney guests who don't enjoy nonstop water fun, there are plenty of amusing storytelling details to discover in addition to just stretching out on a lounge chair and letting this hidden oasis delight them. The huge success of Typhoon Lagoon encouraged the Disney Company to build another water park with a different theme, Blizzard Beach. However, that is another story for another time.
(photo copyright © 2011 Barrie Brewer)
= = = = = = = = = = = = = = = = = =
RELATED LINKS
= = = = = = = = = = = = = = = = = =
Typhoon Lagoon FAQ:
http://allears.net/btp/faq_tl.htm
Rate and Review Typhoon Lagoon attractions:
http://land.allears.net/reviewpost/showproduct.php?product=332
= = = = = = = = = = = = = = = =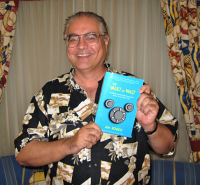 ABOUT THE AUTHOR:
Jim Korkis is an internationally respected Disney Historian who has written hundreds of articles about all things Disney for more than three decades. He is the author of the popular recently published book The Vault of Walt, which contains nearly 40 chapters of untold Disney stories. As a former Walt Disney World cast member, his skills and historical knowledge were utilized by Disney Entertainment, Imagineering, Disney Design Group, Yellow Shoes Marketing, Disney Cruise Line, Disney Feature Animation Florida, Disney Institute, WDW Travel Company, Disney Vacation Club and many other departments.
Read more about The Vault of Walt: http://astore.amazon.com/debsunoffiwaltdi/detail/0615402429
-o-o-o-o-o-o-o-o-o-o-o-
Editor's Note: This story/information was accurate when it was published. Please be sure to confirm all current rates, information and other details before planning your trip.