Walt Disney World AT LARGE
Disney through the eyes of people who know one size does not fit all.
One of the most frequent questions we get at AllEars.Net reads something like this: "I am taking my kids to Walt Disney World for the first time and I am scared to death that I will not fit on the rides. I took them to a local amusement park and was totally embarrassed when I tried to ride the 'wild mouse' and couldn't fit into the seat. Please tell me what to expect at Disney so I can be prepared for the worst."

Right off, let me tell you that you don't need to be prepared for the worst. In fact, you can prepare yourself for the absolute best experience you've ever had. Walt Disney World has all types of rides with seating designed to meet the size needs of all their guests, whether they be wider or taller than the average guest. You will be most pleasantly surprised. With just a few strategies and a word or two of caution, you will be able to enjoy almost every one of Disney's attractions.
Something to note though, "At Large" means different things to different guests. You might be "Pooh-size," or, as one reader described himself, "Baloo-size," or you might be quite a bit taller than the average Disney guest. Whatever your reason for reading this "At Large" page, we're here to put your mind at ease so you can have the best vacation ever.
GENERAL TIPS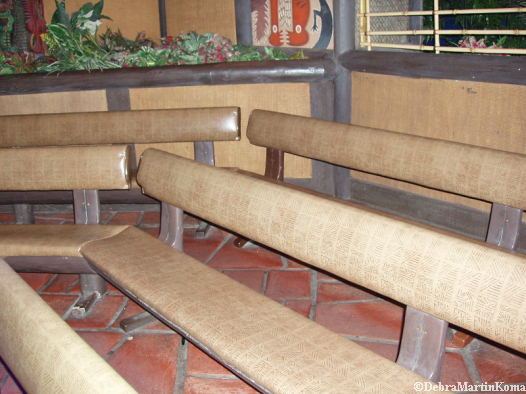 Bench Seats
Many Walt Disney World attractions have bench seats. These seats can accommodate anywhere from two to ten guests and have no arm rests to get in the way of larger guests. Cast members are trained to recognize that, with a larger guest, they can only seat five instead of six in a row, for example. If you feel you will be crowded in the row to which you have been assigned, politely ask for another (or a separate) row. (Examples: The Great Movie Ride, Ellen's Universe of Energy, Pirates of the Caribbean)
Seats for 2 or 3
Other attractions are designed with seats to accommodate two or three guests, but larger guests may be more comfortable riding alone. Don't hesitate to ask for your own ride vehicle if that's how you will be the most comfortable. (Examples: Peter Pan's Flight, The Seas with Nemo and Friends)
Individual Seats
Finally, there are attractions with individual seats. Generally, these seats are designed to accommodate guests of all sizes, but it is here where just a bit more research is needed on the guest's part. For some attractions, there is a "test seat" outside the attraction where you can see if you will be comfortable. Be sure to take advantage of those "test seats" if they are available. If not, you can ask the host or hostess cast member if there will be any problems. Cast members are a wealth of information. Be sure to "pick their brains," not just about attraction seating, but about any questions you might have about anything Disney.
Attractions with Seat Belts
If an attraction has a seat belt, a good strategy is to pull the seat belt out as far as you can BEFORE you sit down. Some attractions have seat belt extenders. Ask about that when you reach the cast member who assigns your row/seat, but in most cases, just pulling the seat belt out all the way will be enough. Also, sometimes it's hard for the At Large guest see to where you click the seat belt connector into place. Don't hesitate to ask a Cast Member or the person next to you for help. Friendly help is always available.
Attractions with Lap Bars
On "thrill" attractions where you share a "bar-across-the-lap" restraint with other riders, it is not a good idea to ride with very thin (or small) guests in the same row. Your larger girth will prevent the lap bar from coming down close enough for the smaller rider to feel secure. Just ask to sit in the seat behind the smaller guests.
One other caution about "thrill" attractions where riders share the seat: make sure a smaller rider is on the "inside" of a spin. Ask the cast member whether the smaller rider (especially if it's a child) should be on the left or the right. This will prevent the smaller rider from becoming squished by the centrifugal force of the attraction. (Example: Big Thunder Mountain)
Theater Seating
In the Disney Theaters, you should not have any problems, but if you are someone who carries a large amount of extra weight in the hip/bottom area, you might need to employ the "sliding" strategy. Sit on the edge of the seat and slide back into the seat rather than just sitting down, trying to fit between the arm rests. You will be comfortable in all Disney theaters, but a bit more comfortable in the newer ones like "Mickey's Philharmagic." Also remember, every theater has a place for wheelchairs. Armless or extra-wide chairs can be brought into that area for you if you find the regular seats to confining. Again, the Cast Members at the attraction are your "go to" people. They are there to help you; don't hesitate to ask.
Walking/ Mobility Issues
You will definitely walk a lot at Walt Disney World! Some guests have indicated a minimum of three to 11 or more miles a day. Prior to your Disney vacation, try to walk every day to build up your strength. If walking is not an option for you, Disney rents battery-powered ECVs (electric convenience vehicles) and manual wheelchairs. (You can also rent from outside companies.) If walking is going to be a big problem for you, don't hesitate to rent an ECV or wheelchair. You definitely will not be embarrassed using one since many, many Disney guests ride their way around The World. Learn more about renting electric convenience vehicles (ECV) and wheelchairs HERE. Each park has a few wide wheelchairs. If that's what you need, be sure to ask for one.
"Bendability"
Another issue that sometimes crops up with a bit of extra size is "bendability." If you have trouble bending your knees or lifting yourself from a seated position, there are a few attractions that might give you reason to pause. (Examples: Test Track, Space Mountain, Astro Orbiter) On these attractions, you must step down into the vehicle and then lower yourself into the seat. At the end of the ride, you must then raise yourself out of the seat and step up to get out of the vehicle and onto the unloading platform. One great strategy is, instead of trying to get out of the vehicle in one motion, first boost yourself to the back of the seat. Take a deep breath and from there it is much easier to step up onto the platform. Also, don't hesitate to use the seat as a step when you get in and get out of the ride vehicle. Using this "step" strategy really makes entering and exiting the vehicle much easier.
Turnstiles
Although most of the turnstiles have been removed at Walt Disney World, you will still encounter a few of them in The Magic Kingdom. Take a look as you approach the attraction. Most At Large guests will be able to enter through the turnstiles by turning sideways, but if that would embarrass you or if you think it would be too tight a fit, just ask to enter through the handicap/wheelchair gate. The gate should be right there next to the regular turnstile entrance. There is no reason not to request to use it.
Restaurants
All Walt Disney World restaurants can provide you with a chair without arms. If you need one, just ask. Don't suffer through a meal squished into a chair that is too small when there is probably an armless chair as close as the next table.
Rest Rooms
Most At Large guests should be able to use a regular stall in the Walt Disney World rest rooms, but if you have any questions at all, just use the handicap stall. All rest rooms have at least one.
Asking for Help
All Cast Members are there to help you. You should never have a problem when courteously asking for help or some sort of special accommodation. If the Cast Member can't help you, politely ask to speak with a supervisor. The supervisor will either help you or direct you to a place or person where your needs can be met.
Transportation
All transportation options at Walt Disney World, buses, monorails, and watercrafts, can accommodate guests of all sizes with no problems.
…and now for some specific information and suggestions from our readers
We want to offer a bit of a caveat here. The comments below are all meant to help you determine which rides/attractions might pose a problem. All of the comments that follow indicate one problem or another. We don't mean this to be negative or to scare you. There were just as many people who wrote us to say that they could ride everything without a problem. Listed below, however, are a few of the attractions that were a bit uncomfortable for some of our readers.
Taller than average guests' reports:
–I'm bordering on 6 feet tall and have found a couple of ways to avoid getting my legs crunched. The front row of Test Track and Rock n Rollercoaster have far more leg room than the back. If you're tall, you need to be especially aware during the Dinosaur ride. (I have huge bruises on my knee to prove it.)
–While I was able to fit, I was rather uncomfortable on Splash Mountain and Small World because of inadequate leg room.
–I am 6'5" and 300 pounds. I found Expedition Everest almost impossible. I had to ride alone and sit sideways which made the safety bar very uncomfortable. Haunted Mansion was a bit uncomfortable; had to sit at an angle and then stoop over a bit, but not completely impossible because it is not a fast ride and is not jerky.
–Taller riders will be uncomfortable on certain rides unless they ask for the front row that has more leg room. These attractions are Test Track, Dinosaur, Rock n Roller Coaster and Space Mountain.
Larger than average guests' reports:
–I am 5'7'' and weigh 280 pounds. My weight is fairly well-distributed, but a bit larger in the hips and fairly long legs. In the Animal Kingdom, if you are riding with another person on Primeval Whirl, ask to sit in a separate harness. At The Studios, Muppet Vision was a tight squeeze.
–If you are traveling with other large family members, some of the boat rides are tricky. Make sure the Cast Member evenly distributes the weight so as not to weigh down one side of the boat.
–The new Seven Dwarfs Mine Train is not At Large friendly! I do not have extremely large legs and was beyond uncomfortable, to the point of pain, due to the restraint.
–I am more "Baloo-size" than "Pooh-size." Kali River Rapids no longer offers seat belt extenders. The seat belts were nowhere near long enough to accommodate me and I was asked to leave the ride. Seven Dwarfs Mine Train has individual lap bars shaped like an upside-down U. Both legs must fit inside the U. While I was able to ride, it was very uncomfortable.
–The biggest surprise for me was trouble fitting in the Haunted Mansion Doombuggies. The lap bar couldn't close completely on its own because of my belly. I was able to pull it down, but it was a pretty tight fit.
–I am a large person and have never had any issues with any ride at Walt Disney World. To my surprise, I was unable to pull the restraint down on the Seven Dwarfs Mine Train. It would not fit over my legs. People of large size or height will have a problem with this attraction.
–On Dinosaur and Star Tours, I could feel where you were supposed to insert the seat belt buckle, but I could not see it. It was very difficult to get it buckled. On Dinosaur I was embarrassed by the Cast Member who made me stand and pull the seat belt out all the way before sitting back down to buckle it.
–I am a big person (6'2, 370 pounds, 54" waist) – On Splash Mountain, I was in the middle row of the boat. My legs were absolutely crushed; very uncomfortable.
–I am 5'4' and 400 pounds with a large chest. Went to all four Disney parks and had no problems with any of the rides. (Note: This review was sent prior to Seven Dwarfs Mine Train Ride.)
–I am 6'1", 320 pounds, 44" waist. I never had a problem on any Walt Disney World ride.
–At 5'9" and 494 pounds, I only had problems with two rides, Tea Cups in the Magic Kingdom and Kali River Rapids (I almost fit this one!) I even rode the kids' rollercoaster in the Magic Kingdom without a problem.
–I am a 355 pound woman, chest 58, waist 50, hips 64. I am 5'8" tall. I fit on everything I wanted to ride. Gran Fiesta in Mexico didn't have a lot of leg room; Test Track was uncomfortable. The seat belt was tight and my legs were smashed.
More than 10 years ago, gardenia, a dear All Ears friend, first recognized the need for At Large information and developed the first At Large page for our website. Her legacy lives on within this updated information. Thank you, gardenia.