The Disney Mom's Panel Expert – Kim LaPaglia
by All Ears® Senior Editor
Debra Martin Koma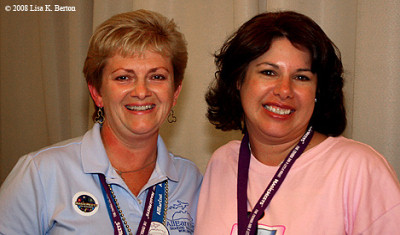 Sometimes you meet someone and just KNOW they are the right person for the job. That's the feeling you get when you meet Kim LaPaglia, chosen last year to sit on the newly created Walt Disney World Moms Panel.
Kim, of Pennsylvania, was one of only 12 moms (well, 11 moms and one dad) selected from among 10,000 entrants to be a part of the new panel, which is charged with answering questions from people planning their Disney World vacations.
AllEars Senior Editor Debra Martin Koma had the opportunity to sit and chat with Kim at the recent MagicMeets Disney Fans Gathering in Camp Hill, Pa., within driving distance of where Kim calls home.
Let's eavesdrop on their conversation:
DMK: Tell me a little bit about how you were chosen for the panel.
KIM: I was on the WDW website, planning my own vacation one day, and I saw the little announcement about the Moms Panel. I submitted my essays very quickly and then forgot about it. About a month later, I found out I'd been chosen, so I had to submit another three essays. After that, one phone interview later — here I am!
DMK: So it sounds like you're a major Disney fan.
KIM: Oh yes, I've been going to WDW since I was about 11 — I've been more than 30 times, I'd guess.
DMK: Is it the kind of thing where everyone in your family, all your friends, always come to you for Disney advice?
KIM: Sure, everybody knows, "If you've got a Disney question, go to Kim!" Family, friends, teachers…
DMK: What is it that makes you want to keep returning to WDW?
KIM: I think it's the bonding time you have with people there. I go now and see my mom experience the place with her own grandkids, just like I went with my grandparents. It's very special.
DMK: Are you enjoying being on the panel? What kinds of questions do you get?
KIM: This is a once in a lifetime chance for me to share what I know and love about Disney. I can inspire people to give Disney World a try. It's a lot of fun.
I get all kinds of questions, really. We read through them all, and we can answer about 80 percent of them. The hotels are really my thing, since I've been to nearly every one on Disney property.
DMK: So I have to ask — what's your favorite WDW resort hotel?
KIM: The Grand Floridian. It's wonderful. I guess partially it's sentimental — we honeymooned there. And we also celebrated our 10th anniversary there, with a vow renewal — I even had the chance to ride in Cinderella's coach!
DMK: What's the craziest question you've gotten?
KIM: Well, sometimes we get things like, "Which park can you find Shamu in?" And that's the thing that surprises me most. When I see that people haven't done their research. There are so many guidebooks, and sites like AllEars.Net out there — you really do need to research. But some of the questions are really interesting and need some research on my part. Like someone asked what the measurements were on the bunk beds at Wilderness Lodge. I had to really search for that answer.
DMK: I see that the Moms Panel is doing short videos now. Have you done any?
KIM: Yes, I have a couple coming up soon. I did one on the Kidcot stations around Epcot while I was on my vacation in June. And I also did one on Photopass. I think they'll really help people and give them a sense of us (the panelists) as real people.
DMK: Are you going to continue with the panel for a while then?
KIM: We started with a six-month contract, and they recently renewed us for another six months. After that… we'll see. But I am loving doing this — it really is a dream come true.
To read more about Kim and the WDW Disney Moms Panel visit:
http://disneyworldforum.disney.go.com/panelists.aspx?pid=64