Pet Kennels Walt Disney World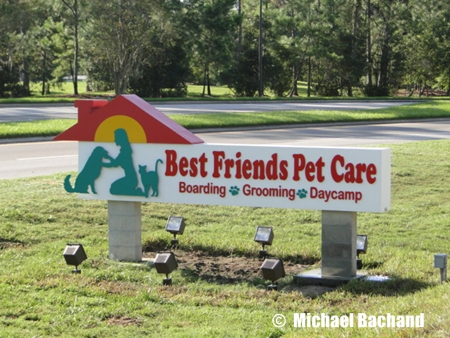 Best Friends Pet Care, the new pet care facility at Walt Disney World, opened September 1. 2010. All other kennels once on Disney property have closed.
Reader Reviews – Post Your Own Review
Best Friends Pet Care is located across from Port Orleans at 2510 Bonnet Creek Parkway, Lake Buena Vista, FL 32830. To book accommodations for your pets visit www.wdw.bestfriendspetcare.com or call 877-4-WDW-PETS.
For a list of services and pricing, visit the Best Friends PetCare Inc. website at www.wdw.bestfriendspetcare.com.
For a first-hand report on the new facility's opening day, visit DizneyMike Bachand's blog HERE.
Pet Sites/Cabins
Camping with pets is welcome in select Full Hook-up campsites for an additional charge, based on availability at Disney's Fort Wilderness Campground.
Dogs are also permitted in Wilderness Cabins, as part of Disney's pilot program allowing dogs at certain resorts. Read more about his program on our Pet-Friendly Hotel page.
When making your reservation, you must request a pet site or cabin.
There is a $5.00 per day charge (not $5 per pet) for having a pet at the designated camp loops. There is a $50 per night plus tax charge.
Pets MUST meet the vaccination requirements outlined above.