New York City RADP/ADD Meet – October 17, 1998

New York City RADP/ADD Meet

October 17, 1998

Here's what happened at the New York City addw/RADP meet on Oct 17, 1998. This is only part 1 because I had to leave early.

Who: alt.disney.disneyworld and rec.arts.disney.parks people

Where: at the Cooper Hewit National Design Museum for "Architecture of Reassurance – Designing the Disney Parks"

When: Saturday October 17, 1998

Why: because we like DISNEY!

I arrived with my boyfriend, Shannon a little late. I felt strange because I figured there would be some addw/RADP people already assembled in front of the museum. But there was a guy who was looking around in the same kind of confused way. It turned out it was John "Zamgwar" and his wife. He was leaving as we were arriving and wanted to catch us to say hi. We exchanged quick hello's. Soon Teddy arrived with her RADP pin. Then Jim "tdbear" Ryan arrived with a bunch of flowers intended for the female addw/radp-ers. It was very sweet of him : ) THANKS Jim!

We waited around a little more, but figured that everybody else probably went inside already.

The four of us bought our tickets and were about to go upstairs for the exhibit. At the bottom of the staircase was a sort of introduction essay. As I read the short essay, Shannon recognized another person with a RADP pin. It was Patricia with her sister and her husband. Good thing we stopped to read the blurb before going upstairs! As you go up the steps to the second floor, there are old Disneyland posters like those displayed under the train station on Main St. in Disneyworld.

At the entrance of the exhibit was a casting of a stone archway from one of the castles. I wasn't sure which castle it was from. I don't want to ruin the exhibit for anybody who is planning to go, so I won't really, go into detail about the exhibit. I'll just tell you this much: It is spread throughout the second floor. There are different rooms, with a loose theme for each room. Included in the exhibit are original sketches, models, plans, and conceptual pictures of all 3 Disneylands and Disney World, plus The Disney Store in Anaheim. Amongst some of the really cool things there are plans and models of attractions that never were, like Walt's original vision of EPCOT, the Russian Pavilion, Liliputian Land, etc. Also featured were some cool Disney "artifacts",
like the original Audio-Animatronic and one of the seats from Alien Encounter. Downstairs, in the basement, was a
very small photographic essay by Cathrine Wagner.

We spent a little over an hour at the exhibit, then adjourned into the museum garden to take photos (which I hope will be posted by somebody w/ a scanner).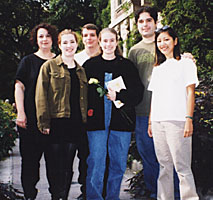 I had to leave early to go to work, so I wasn't there for the other festivities. Patricia will fill you all in on what happened after the
museum. Just a little note to those interested, the museum gift shop was selling these little miniature collectible figures representing different Disney park attractions. My boyfriend purchased a cute Haunted Mansion for about $20 bucks or so. They were also selling the book on the exhibit that everybody was talking about in both hard and soft cover. Another book was available, presumably put together by the Canadian Centre for Architecture Montreal (it was in both French and English), who sponsored the exhibit.

Thanks Jim, Teddy, Patricia (and family), and Shannon for coming! I'm glad we got to meet each other : ) I hope to meet everybody who could not make it, maybe at the November NYC meet.

Li'l Bell (Stacy) — Well, after the museum and pictures, Teddie, Jim my family and I decided to head down to Planet Hollywood for lunch. We took a bus across the street and got off near PH. Since Planet Hollywood had a 45 minute wait, Jim and my Husband ran up the block to The Hard Rock Cafe to see how their wait was. They took us right away. Our waiter was wonderful and we had a nice lunch together. We talked about past trips to the parks and future ones too. Teddie is going to WDW in a few weeks and she
was showing us her itinerary:)

After lunch Jim left to meet friends and we all took the train downtown with Teddie. She headed home and my sister, husband and I went to Madison Scare Garden. The Garden was alot of fun if anyone was thinking of going. My sister and I even got a picture with Chris Angel the Magician who does the show at the end.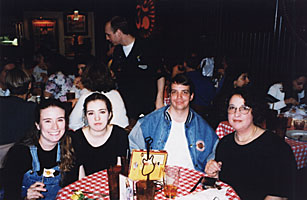 It was a fun meet even though it was small. Thanks Stacy and to everyone who came.

Patricia