Magic Kingdom Meet – June 5, 1999

Magic Kingdom Meet
June 5, 1999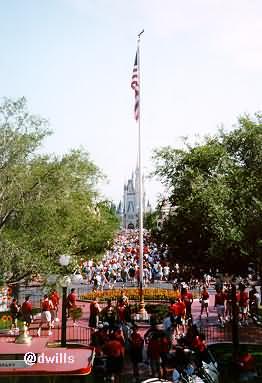 June 5th was unofficially designated as Gay Day at the Magic Kingdom. A number of RADP folks (Disney Internet fans) were going to be there that day and so the photo taking commenced long before the Meet began.

Here is the shot from the Train Station on Main Street about 9:30 Saturday morning. Folks were asked to wear red shirts as a sign of solidarity and soon the Magic Kingdom became a sea of red. . Some folks wore matching outfits, others were themed, some had their hometowns and states printed on their shirts.

I have received an email from Curtis Cole a few weeks earlier telling me that he would be having breakfast on Main Street about 10am that morning. Into Tony's I went and methodically made my way around the entire restaurant, table by table, asking total strangers if anyone at the table was named Curtis. I had one table to go and lucky for all of us, Curtis was indeed at the table.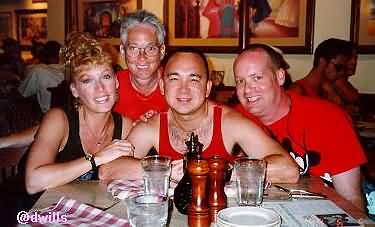 Here I am with Curtis and 2 his traveling companions.

While walking around Tony's I saw a table full of women that I had ridden a bus from Port Orleans with earlier in the week. We all looked at each other and smiled. They were having such a good time I wanted to take their photo and they were more than happy to have it up on the net. Here are the ladies from New York.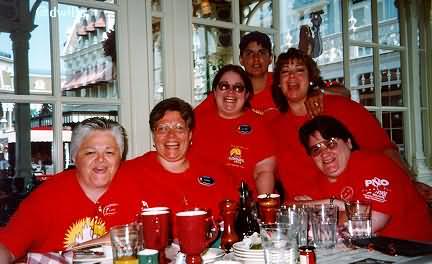 The RADP meet was scheduled for 11am in Liberty Square, away from some of the crowds. Here is the meet photo which doesn't include everyone, but most folks.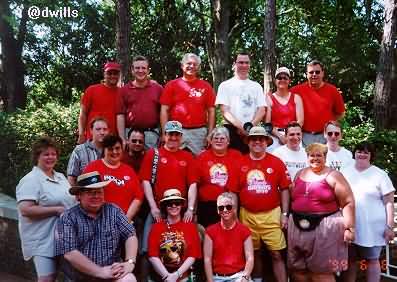 Row 1 kneeing: Andy, Tracy, and Deb

Row 2 standing: Jenny, Maryan, (2 gentlemen who I didn't meet) Steve, Mike, Kelly, Bill, Barb gardenia, Gil and Diance

Row 3 standing up: Dan, Eric, Bruce, Bill, Sarah, and Dan.

Andy and his wife were great to meet. They are DVC members who live in California. Andy has a neat web site which compares the WDW and DL theme parks by photos. He also was very kind and brought me a souvenier from Studio 33 in Disneyland! Thank you Andy!
This started out as a photo of Rob (Sorcerer's Apprentice) and Barb gardenia, but then several of us jumped into camera range.
Left to Right: Steve, Bruce, Deb, Kelly, Barb, Rob, and Andy.

There were many a rumblings in the tummies for lunch, so after about an hour, folks went their separate ways.

Barb is entertaining Maryan, Tracy, Steve, Kelly and Mike.

Rob writes:
Thea and I took off for Liberty Square.

We found the other rapders in a shady, out of the way spot that was just beautiful. We saw Maryan right off, and gave her a big hug. She introduced us to Deb and gardenia, both of whom I partially recognized from past meet photos on the web, and Bruce (Zazu). I got big hugs from Deb and gardenia, and a warm handshake from Bruce. It was so nice to finally meet folks whom you've talked to in the group for so long!
I really enjoyed this part of the day, and regretted not making it here on time, as I was told that several people had already come and gone. I asked for Tony (Panflight2000), since we'd agreed to "meet at the meet" for the first time, but no one had seen him.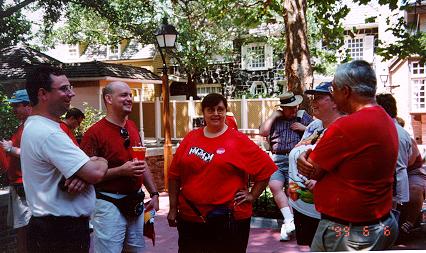 Here are Bill Abrams, Rob, Maryan, Thea and Bruce.

I ended up talking for almost an hour with Bruce and Deb and gardenia (who showed us her tattoos!), and could have gone on all afternoon. It was like meeting people you've known forever. All too soon, we had to leave for our lunch date. It was at this point that I decided I'd be back, finances permitting, for the December meet, even if I had to make the trip solo.