"Happiest Celebration on Earth" Press Event Coverage
A Happiest Passholder Event Firsthand Report:
From a Spy Among Us
by Amy
To help kick off the Happiest Celebration on Earth, Walt Disney World announced a contest to determine the "Happiest Passholder on Earth." It was an essay contest open to (almost) all Annual Passholders in which each entrant could submit a 400 word essay explaining why they believed that they were the happiest passholder on Earth. Disney would be choosing 50 winners and the prize for each was an invitation to the press event that WDW would be holding on May 4th to officially open the Lights, Motors, Action! Extreme Stunt Show as part of Happiest Celebration on Earth kickoff. I thought back through all the magical moments that I've experienced over the years at Disney and I knew that I couldn't pass up the opportunity to put them into words, and possibly add one more magical moment and special memory in the process.
The winners were to be notified by mail on April 4th, but the contest never crossed my mind as I began to open a FedEx package I found waiting for me that day. That is until I glanced at the return address: "Walt Disney World Special Events." In that instant I knew what was in that package, I knew I was a winner, and I knew I couldn't get that drat package opened fast enough! The condition of the box after I finished mauling, er uh, opening it is proof of how sure I was of what lay inside. Well, either that or proof that I allowed a pack of wild dogs to collect my mail for me that day.
Fast forward one month: May 4, 2005 The Happiest Celebration on Earth was almost in full swing. In every park I entered I saw press tents, temporary stages, and many other indications that this was to be a very special week at Walt Disney World. And I was grateful to be a part of it. Just a week before I had some health problems that I feared were going to keep me from attending the event. I had been beside myself with excitement when I found out I was a contest winner, and the notion of missing out on my "prize" seemed unthinkable. But some wonderful friends who I met through a Disney on-line community came to my rescue and made it possible for me to continue my trip and make it to the event. A reminder that not all of our Disney magical moments are created by cast members. Sometimes our fellow Disney fans have some magic up their own sleeves, as well.
My friend Susan was my guest for the evening's festivities. We would also be meeting up with Mike Scopa (who was also a contest winner) and his son. Mike had played an integral part in getting me to the event, and would be "my shadow" for the entire evening. Susan and I ran into Mike right away. He surprised us by snapping our picture as we went through security. I felt bad for the family in line ahead of us. They didn't realize that the Studios had closed at 4 pm for the press event. They were being turned away as we walked up. OK, confession time. Not ALL of me felt bad. Part of me was doing a little dance on the inside as we passed by them through security to be admitted to my very first invitation-only press event! Yippee! We're here! Oh, the guilty pleasure.
We checked in and got our "credentials." They were laminated badges that gave us the first indication of the strange fun that Disney was going to have with us that night. And it was our introduction to their theme for the evening: "Espionnage Soiree. Lights, Camera, Intrigue!"
All the winners were called together and we posed for a group picture to be included in the next Mickey Monitor. A cast member, Kerry, then asked if we had any questions. The burning question on everyone's mind seemed to be "How many entries did you receive?" She declined to answer the question. What?! Mike and I gave each other a "how curious" look. We're not sure why Disney didn't want to share that information. Our assumption was that maybe the response to the contest wasn't as good as they had hoped. We got a good laugh out of it, though. Mike and I had joked from the get-go that for both of us to have won then there must have been only 50 entries total! Turns out that wasn't quite true since Kerry did share that they had to disqualify two entries: one because the entrant was only 9 years old (entrants had to be 21 years old because of the open bar at the event) and the other because it was only open to US residents. A few minutes later a group of winners approached Kerry and asked if it would be possible to read the other winning essays. She said she would look into posting them on the annual passholder website. I'd love to read them all. I'm sure there were some very interesting, heart-warming, and amusing stories shared in the essays. So I'm keeping my fingers crossed that they find a way to make that happen.
Finally! It was time to enter the park. We gathered at the front gate and as we were led in a rousing rendition of the Mickey Mouse Club theme song (complete with some tom-foolery by a jovial security guard as we sang), we each filed through the gate. The photographer had found a prime spot just inside the gate and clicked away as we all entered single file.
Since the press buses were unloading right outside the entrance to the stunt show, we seemed to be the only guests coming in the front. It was almost surreal to see Hollywood Blvd. with virtually no guests. We then noticed that we were also getting to see some of the last minute transformations taking place throughout the park. We caught them in the act of covering the tip board with the same map that was depicted on our credential badge, and they had also begun changing all the marquees from the usual Tinseltown fare, to some phrases more in keeping with the evening's spy theme.
We walked past a few celebrities as we made our way through the park to the stunt show. We saw Ty from Extreme Makeover flashing that great smile and posing for pictures with fans. We also saw Boyz to Men who appeared to be giving a television interview. I know there were others that I've since forgotten. Shame on me. I hope their publicists don't find out!
As we neared the entrance to the stunt show we found ourselves in "bumper to bumper" people traffic. We were moving at a steady pace, but there were a lot of people converging on the area at once, and one step at a time was the name of the game as we made our way across the red carpet (ooh la la).
By now, it was obvious that the tux was the official outfit of the night for most of the cast members. There were tuxes everywhere! But as we made our way down the carpet we had our first encounter with the "other set" of cast members that would make our evening a memorable one. I honestly didn't think too much about the men I saw dressed in their suits and sunglasses, looking very bodyguard-like, until I realized that one of them was taking snacks out of guests' hands and offering to taste them just in case they had been poisoned! I had no idea that was just the beginning of the silliness that would be provided by an impressive cast of Streetmosphere-type performers.
We made our way through the newly constructed stadium and settled in on the far left-hand side. The place seemed absolutely huge. I was reminded of the first time I walked into Fantasmic's Hollywood Hills Amphitheater and saw the enormous amount of seating available there. A "small" reminder of how many people Disney moves through their parks each and every day.
Action! The show begins: Since this was the official "christening" of the new Lights, Motors, Action! Extreme Stunt Show, Disney added some extra touches for their "VIP" audience, starting with an unexpected blast of pyrotechnics and 10 or so men dressed all in black that rappelled off the roof of the stadium directly in front of the audience. I have to admit, not only did that get my adrenaline pumping, but it also was another unmistakable clue that I should be ready for anything as the evening unfolded. After a special welcome by Robbie Knievel and some more flashy and smoke-filled special effects, the "regular" show began.
The first sequence of car stunts was breathtaking, in more ways then one, as I soon realized that I was literally holding my breath as the drivers maneuvered their cars in, out, around, and OVER each other with the grace of a ballet and the timing of the Thunderbirds. I found the stunts to be impressive, entertaining, and I was riveted by many of them. The show, as a whole, however, seemed to plod along in places. The segues they used as they prepared the stage between sequences were a little too contrived, at times too predictable, and other times just took too long for my taste. Perhaps a victim of my natural impatience heightened by the adrenaline-charged stunts, the pacing of the segues is my only significant "thumbs down" for the attraction.
The segues in the show did answer one question, though. We had been puzzled by the "Espionnage Soiree" theme for the evening. But after seeing the stunt show that was all made clear. Since the new attraction is based on the premise that we had been invited to the "2nd unit" filming for a movie, they showed us clips from the movie and explained how they would add the 2nd unit work into the final edit. The "movie" portrayed was a spy thriller. Mystery solved.
After the fiery conclusion of the show, we made our way out of the stadium and back into the park via the Streets of America. We noticed a towering mural that none of us had seen before. I had just been in the park a week before and hadn't noticed this massive art work at the end of one of the streets. It looked as if it were still a work in progress and that maybe they were trying to achieve a 3D effect.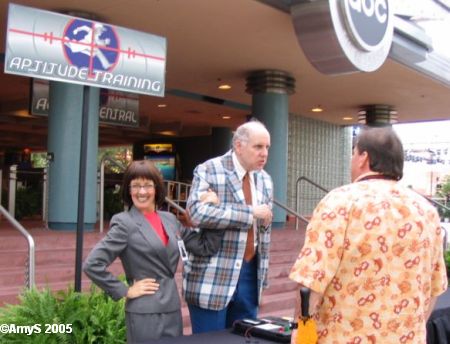 We found ourselves rounding the bend at Star Tours. On our way we had noticed a few people dressed all in black darting in and out of the crowd, hiding behind benches or lightposts, and then taking off again at full speed as if they were being chased. It was our introduction to what I would later call "Streetmosphere on Acid" players. We soon encountered the first actors that were poised for one on one interaction with the guests. These funny, clever, and quick-witted actors were absolutely the highlight of the event for me. We found ourselves waiting (a lot) for each portion of the evening to begin. These characters (and I do mean characters) were a wonderful diversion during the waits. I recognized two of the actors from my visits to The Comedy Warehouse and The Adventurer's Club. If you're familiar with the hilarity of what goes on at those clubs, then you have some idea why I was so entertained by their unexpected antics and dead-on, quality character work.
Our favorite moment had to have been while Mike was talking to a friend, Will, on his cellphone. In the middle of the conversation, a very attractive, leggy spy walked up to Mike and "demanded" to know who he was talking to. Mike, wisely, just turned the phone over to her. In her best Baltic accent she ad libbed a cryptic conversation with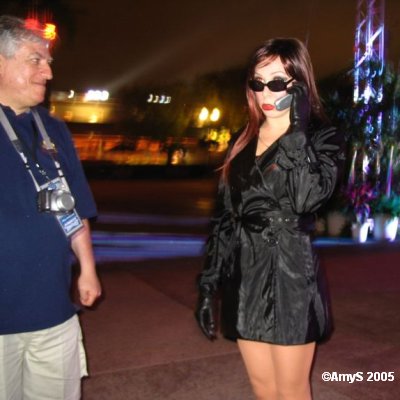 Will, who by the end was laughing so hard he could hardly talk. In fact, by the time Mike got his phone back we were all laughing too hard to carry on any meaningful conversation. We all got pictures of "Agent 99.9" and couldn't wait to share them with Will. Oh, if he'd only had the visual during his conversation!
By now there were announcements being made overhead (all with a surveillance, stake out, spy theme of course) that let us know that we needed to stay close to "The Hat" for the next portion of the evening. The area was literally swarming with all the actors that had entertained us so well. We were still enjoying the last of their antics when the finale of the evening began. Had I realized that it was already time for the fireworks I would have found a spot farther away from the stage, since it obstructed the view. But while the obstruction made it impossible for me to get any good pictures of the display it didn't diminish the effect of the music and pyrotechnics. I could feel every beat of the music and every kaboom of each shell straight through my chest! I admit, the sheer number of shells kept me from noticing any special theming or timing with the music. But it was impressive, nonetheless. I may not have had the best seat in the house, but I'm sure I had the most intense! Wow!
As the last crackle and sizzle of the fireworks echoed, I knew that was the cue that my much-awaiting evening had come to an end. The evening had been in the making from the moment I took an inventory of my memories of Walt Disney World, decided to put them into writing, and take a chance by entering the contest. And just as I had hoped, those memories had been my ticket to some brand new unforgettable Disney moments, made even more magical by getting to share them with some dear friends. So who's the Happiest Passholder on Earth? Well, as I feel the corners of my mouth upturn and I have to blink away a "little something" in my eye as I type this last paragraph I know who I think it is. But I should probably just keep that to myself. After all, as I learned during the Espionnage Soiree, you never know who might be listening!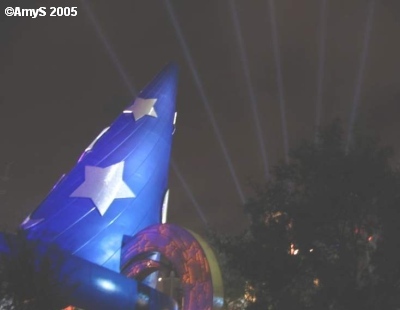 ---
As a winner of the Disney's Happiest Passholder on Earth Contest we attended the party at MGM Studios.

After the park was closed to the public at 4 PM, We attended the Grand Opening Ceremony for "Lights, Motors, Action Extreme Stunt Show" which was amazing.

Then we were treated to great live entertainment an unlimited supply of food and drink and they had two rides open for us (the Tower of Terror and Rock n' Roller coaster) We ate inside the Great Movie Ride, where they had set up bars and food buffets within the actual attraction. During the evening street performers kept the attendees entertained and Happy. The night ended with an unbelievable fireworks and music display. We got to meet some wonderful ABC television personalities and a great time was had by all.

From two of the Happiest Passholders, Richard and Nancy Brown