Disney Springs Town Center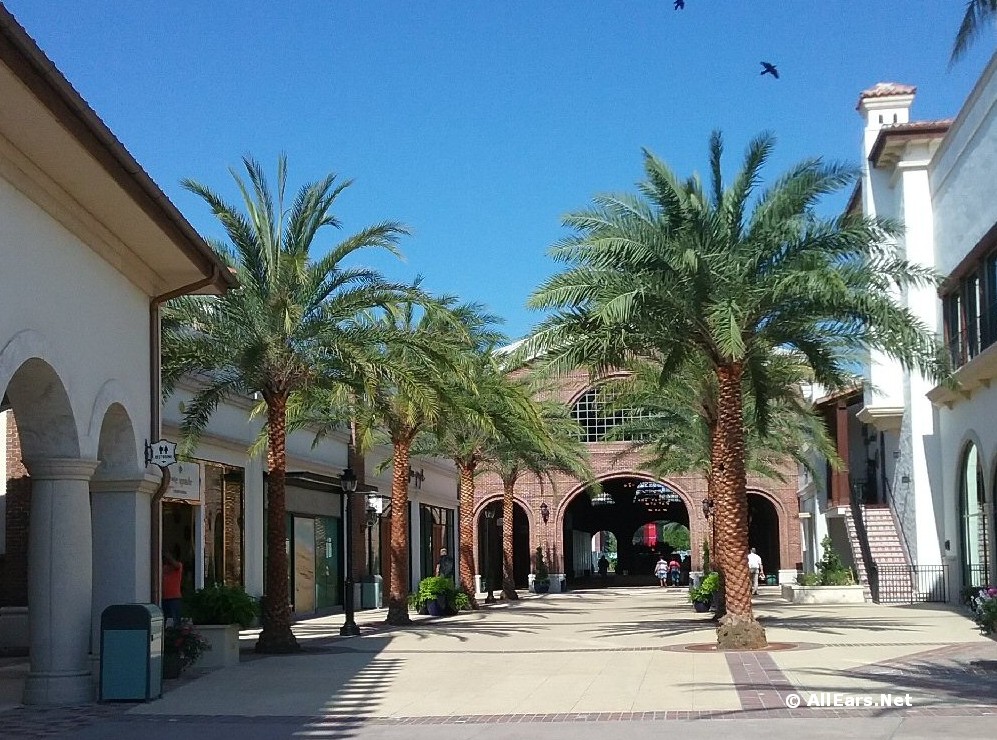 TOWN CENTER at Disney Springs offers one-of-a-kind shopping and dining experiences along a promenade. You can enter the Town Center from the bus depot, or from the Lime or Orange Parking Garage.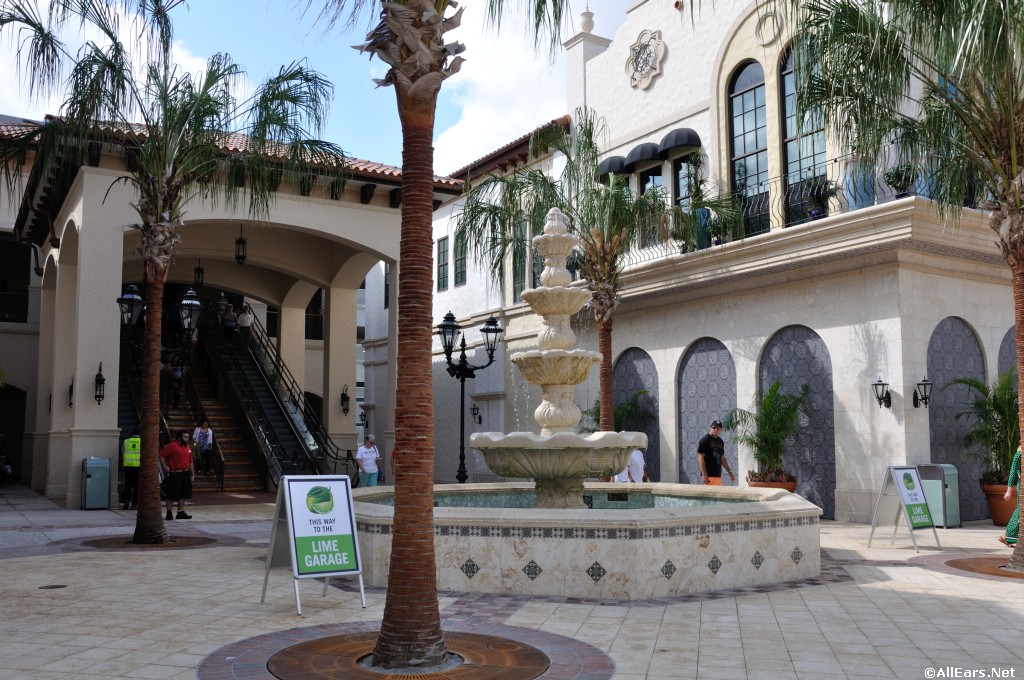 TOWN CENTER WELCOME CENTER

As guests enter Town Center around The Spring area, they are warmly greeted at the Welcome Center, a place where guests can relax and take in the beauty of the clear water with lush landscape along the water's edge.

Themed to early Florida settlements, the architecture around The Spring is based on timber frame structures that were once used in the citrus and ranching industries.

There are rocking chairs scattered around the building and inside is a full Guest Relations office, the only one at Disney Springs.
TOWN CENTER RETAIL
The Town Center neighborhood of Disney Springs features Spanish "Revival"-style architecture, drawing from a rich history of explorers that landed in Florida centuries ago.
Town Center shops opened in phases, beginning May 15, 2016. The following shops are open as of May 31, 2018.

Shopping
kate spade new york: From handbags and clothing to jewelry, fashion accessories, fragrance, eyewear, shoes, swimwear, home decor, desk accessories, stationery, tabletop and gifts, the brand's exuberant approach to the everyday encourages personal style with a dash of incandescent charm.
Opened May 15, 2016

ALEX AND ANI®: Meaningful, eco-conscious jewelry and accessories designed to connect people. ALEX AND ANI products are proudly MADE IN AMERICA WITH LOVE®.
Opened May 15, 2016
American Threads: Opening a flagship location at Disney Springs, American Threads offers women's clothing inspired by the free American spirit.
Opened May 15, 2016

Edward Beiner: A Miami-based eyewear retailer, designer and manufacturer of prescription glasses and sunglasses showcasing the latest innovation and fashion with brands like Mykita, Barton Perreira, Cartier, Chanel.
Opened May 15, 2016
Everything But Water: Known for providing the perfect getaway wardrobe for fashionable women, Everything But Water offers an extensive collection of designer swimwear, resortwear and accessories.
Opened May 15, 2016

francesca's: With new merchandise arriving daily and in limited quantities, guests will find unique, fashion-forward clothing, accessories, shoes, jewelry and gifts.
Opened May 15, 2016
Johnston & Murphy: Known for its heritage in designing high-quality, well-crafted footwear and apparel, Johnston & Murphy offers modern classics for the new traditional customer. Opened May 15, 2016

Kipling: An international accessories brand offering lightweight and ultra-functional handbags, backpacks, luggage and more to lighten one's day.
Opened May 15, 2016
L'OCCITANE en Provence: French natural beauty products and cosmetics directly inspired from the south of France, art de vivre and Provencal beauty secrets.
Opened May 15, 2016

Lucky Brand: Staying true to the rich heritage and authentic, all-American spirit of denim, Lucky Brand crafts comfortable vintage-inspired jeans and casual clothing with an irreverent rock and roll attitude.
Opened May 15, 2016
M·A·C Cosmetics: Collaborating with leading talents from fashion, art and popular culture, M·A·C is a leader in professional makeup and celebrates diversity and individuality.
Opened May 15, 2016

Na Hoku – Hawaii's Finest Jewelers Since 1924: A collection of fine jewelry that captures the essence of Hawaiian and Island Lifestyle. Opened May 15, 2016
Pandora: Charms, Rings, Bracelets, Earrings, Pendants. Find the perfect charm to represent life's special moments.
Opened May 15, 2016

Sephora: Thousands of products from classic and up-and-coming cosmetic and fragrance brands. Features the expanded Sephora Beauty Studio including Mini Makeovers, Sephora + Pantone Color IQ and complimentary Beauty Classes.
Opened May 15, 2016
Sperry: From the invention of the world's first boat shoe to a full collection of sea-tested lifestyle products, Sperry offers the tools for life's adventures. Opened May 15, 2016

Tommy Bahama: Men's and Women's clothing and swimwear.
Opened May 15, 2016
UGG: Ugg men's, women's and kid's boots from Australia.
Opened May 15, 2016

Under Armour: Covering two-stories of retail space with a large array of athletic apparel, footwear, and equipment for men, women, and youth, the Under Armour Brand House has an interactive experience geared toward young athletes who want to test their skills.
Opened May 15, 2016
| | |
| --- | --- |
| UNO de 50: Founded in Madrid, Spain, this jewelry retailer offers unique, highly hand-crafted designs that break away from the norm. Opened May 15, 2016 | Vera Bradley: Celebrating the unique signature style of Vera Bradley in an exciting and modern way, this store designed just for Disney Springs, brings to life the rich history and heritage of Vera Bradley, showcasing a wide range of distinctive signature collections and a myriad of specially created Disney-themed products. Opened May 15, 2016 |
Volcom: Quality apparel, outerwear, footwear and accessories. Opened May 15, 2016

Zara: Latest trends in clothing for women, men & kids.
Opened May 15, 2016
Melissa Shoes: As the pioneer in jelly shoes manufacturing, this Brazilian footwear company offers guests innovative and stylish plastic footwear.
Opened May 15, 2016
| | |
| --- | --- |
| Lilly Pulitzer: Colorful women's clothing, chic beachwear and resort wear. With apparel and accessories done in the signature "Lilly" style, every nook of the boutique pays homage to its Palm Beach roots. (Tip: Be sure to check out the dressing rooms, where hand-painted murals bring the brand to life.) Opened May 23, 2016 | Coach: a leading New York designer of modern luxury accessories and lifestyle collections for women and men. Product offerings include bags, small leather goods, footwear, ready-to-wear, outerwear, watches, weekend and travel accessories, scarves, sunwear, fragrance, jewelry, and related accessories. Opened December 10, 2017 in space formerly occupied by Vince Camuto. |
| | |
| --- | --- |
| LACOSTE: Since the very first polo shirt was created in 1933, LACOSTE relies on its authentic sportive roots to spring optimism and elegance on the world thanks to a unique and original lifestyle for women, men and children and offers a range of products: apparel, leather goods, fragrances, footwear, eyewear, homewear, watches and underwear. Opened June 2016. | Johnny Was: Beautifully crafted bohemian womenswear brand, with a curated selection of jewelry, books, and gifts and a signature line of colorful printed silk scarves, dresses, and tunics. Opened June 2016. |
| | |
| --- | --- |
| Free People: Free People offers a unique merchandise mix of casual women's apparel, intimates, shoes, accessories, activewear and gifts. Opened June 2016. | Coca-Cola Store: Building on its long-standing relationship with Disney, the new store, inspired by a 1920's-era Coca-Cola bottling plant design, will feature a wide selection of Coca-Cola merchandise, a Coca-Cola Polar Bear experience and refreshing rooftop beverage bar. Opened July 2, 2016 |
| | |
| --- | --- |
| Shore: A fashionable American lifestyle brand featuring swimwear, fitness wear, everyday comfort clothing, exclusive products and a new line of limited-edition Shore Brand apparel, only available at Disney Springs. Opened July 8, 2016. | Sugarboo & Co.: With products featuring creative and whimsical designs, this family-run business offers artful prints, home goods, paper products, accessories and more. Opened July 1, 2016 |
| | |
| --- | --- |
| Superdry: Focusing on clothing with designs that fuse vintage Americana and Japanese-inspired graphics with a British style, Superdry offers a variety of products ranging from outerwear and knitwear to leather goods and leisurewear. Opened July 1, 2016 | Columbia Sportswear: Creating innovative apparel, footwear, accessories and equipment for outdoor and fishing enthusiasts since 1938. The new store at Disney Springs will feature the Performance Fishing Gear (PFG) collection designed with fabrics and industry leading technologies that allow for comfortable wear and use for enjoying long days on the water or under the sun. Opened on July 1, 2016 |
| | |
| --- | --- |
| UNIQLO: Customers are introduced to the brand's full assortment of LifeWear: innovative, high-quality clothing that is universal in design and comfort and made for anyone, anywhere as well as products as Supima Cotton T-shirts, Dry Pique Polo Shirts, and Premium Linen Shirts, in a variety of colors and styles for any occasion. The second floor opens to a room dedicated to the athletic wear, men's and women's innerwear products such as AIRism, made with cooling technology, and socks piled high in 50 colors. A wall of UTs (UNIQLO T-shirts) highlighting designs by modern artists, and casual wear for men, women, kids, and babies make up the rest of the floor. Opened July 15, 2016. | Anthropologie: Anthropologie's unique and eclectic product assortment includes women's casual apparel and accessories, intimates, shoes, beauty, home furnishings and a diverse array of gifts and decorative items. Opened on July 22, 2016. |
| | |
| --- | --- |
| TUMI: A leading global brand of premium travel, business and lifestyle accessories. High quality luggage. Opened July 29, 2016. | Levi's: denim goods for the entire family and a special Tailor Shop that will allow you to have some items and accessories personalized by a team of Levi's craftsmen. Opened September 2, 2016. |
| | |
| --- | --- |
| Origins: A high-performance skincare retailer featuring products formulated with certified organic ingredients and 100 percent natural essential oils. The socially-conscious brand employs earth-friendly practices, including a Plant-A-Tree program. Opened August 8, 2016 | Luxury of Time by Diamonds International: An industry leader of fine timepieces and jewelry in the Caribbean, Alaska and Mexico, Luxury of Time by Diamonds International will feature some of the world's most prominent designer watch brands and a large collection of fine jewelry. Opened September 2016. |
| | |
| --- | --- |
| Ever After Jewelry Co. & Accessories: A Disney-owned store. Feel as though you're in a fairytale as you float through the ultimate destination for Disney-themed baubles, handbags and more. Opened November 9, 2017 | Stance: Stance is a specialty sock retailer, carrying all kinds of high end socks and underwear. Stance represents expression and embraces the spirit of individuality through a unique product offering featuring our artists series and performance socks. Opened December 19, 2016 |
| | |
| --- | --- |
| Kiehl's: Purveyors of the finest skin care products. We are confident you will see healthier revitalized skin in 28 days. Guaranteed or your money back. Opened March 3, 2017. | Orlando Harley-Davidson opened its newly expanded store at Disney Springs Town Center in January 2018, moving over from the West Side. The largest and most interactive Harley merchandise store of its kind, it draws guests in with a 40-foot tower and massive LCD/LED screens showing specially produced footage of motorcycles in action. Guests are also able to see and sit on some of the latest Harley-Davidson motorcycles and a brand new production studio lets guests be pictured in their favorite riding spot or transformed into real bikers. Guests can even design biker vests of their own. |
| Ron Jon Surf Shop – Drop in for all the beach essentials you need to have fun in the sun! This renowned store is coming to Disney Springs in 2019. | |
TOWN CENTER DINING
D-Luxe Burger: a Disney owned and operated concept, burger aficionados are in for a treat with gourmet burgers made from a signature blend of beef, unique toppings and freshly baked buns. All-natural chicken and vegetarian burgers round out the menu with hand-cut fries and house-made dipping sauces as the perfect complement. Artisanal gelato shakes (non-alcoholic and alcoholic) and floats are also featured, as well as hard sodas, draft beer and cider. Opened May 15, 2016

You can read our readers' reviews HERE.

Amorette's Patisserie: features elements of an artist's loft and art gallery side-by-side within the comforts of a small town patisserie. Amorette's means "little loves," which is evident in the care poured into creating the shop's sweet treats. Timeless classic and contemporary pastries are the stars in this unique high-end pastry shop owned and operated by Disney. Custom cakes are truly a work of art and are available for immediate purchase or for pre-order. Champagne selections by the glass and handcrafted hot chocolates only a pastry artist could create allow for a truly indulgent experience. Opened May 15, 2016

You can read our readers' reviews Here.
The Daily Poutine Gourmet Frites: features the Canadian favorite dish of poutine – french fries with gravy and various add-ins. Opened May 15, 2016

You can read our readers' reviews Here.

Sprinkles: The world's first cupcake bakery, as named by Food Network and others, serves up handcrafted cupcakes, slow churned ice cream and homemade cookies. Options include vegan, gluten free and sugar free, and seasonal flavors. Opened May 15, 2016

You can read our readers' reviews Here.
Frontera Cocina: Frontera Cocina will delight friends, family and food-lovers with exciting flavors and a contemporary Mexican experience. Warm colors, an open kitchen and a lively atmosphere frame an inviting exploration of the many delights from the kitchen of renowned chef Rick Bayless. The delicious, enticing presentation of grilled meats, seafood and vegetables served on planks (tablas) promote sharing and togetherness. Opened June 27, 2016

You can read our readers' reviews Here

Blaze Fast Fire'd Pizza: Visit this modern-day pizza joint to customize your own fast-fire'd 11′ artisanal pie by choosing from over 40 delicious toppings and sauces. Freshly made salads, s'mores dessert pies and blood orange lemonade are also popular picks. Opened August 5, 2016.
| | |
| --- | --- |
| The Polite Pig: The Polite Pig features a variety of wood-fired smoked and grilled items, as well as an innovative beverage program that serves all drinks on tap, including Cask & Larder beer, wine and cocktails. Opened April 10, 2017 | Wolfgang Puck Bar & Grill modernizes the traditional "bar and grill" concept in a setting inspired by traditional farmhouses with a touch of elegance. The restaurant captures the essence of laid-back California dining made popular by Puck at Spago, his flagship restaurant in Los Angeles. The menu highlights the best of Puck's signature dishes with Mediterranean influences, innovative takes on comfort food classics and handcrafted specialty cocktails, beer and wine. Opened November 19, 2018. |
ADDITIONAL ENHANCEMENTS AND INFORMATION
| | |
| --- | --- |
| | Disney Ticket Center Located next to Blaze Pizza behind D-Luxe Burger, the new store offers assistance with Disney theme park ticket purchases, upgrades, Annual Passes and dining reservations. Opened April 11, 2019. |
| Sundries is the location for wheelchair and stroller rentals at Disney Springs. The shop is located near the Orange garage. Opened May 26, 2016. | |
| | The Gateway is the bus stop for all of Disney Springs. This stop replaces the one at The Marketplace and is the only stop for all of Disney Springs. Opened May 26, 2016. |
| Valet parking is available at Town Center from 10 a.m. to 2 a.m. for $20. | |
| | The Lime Parking Garage is right next to The Town Center and exits directly into it. Opened May 15, 2016. |