Chester and Hester's Dinosaur Treasures Animal Kingdom Glo's Souven-EARS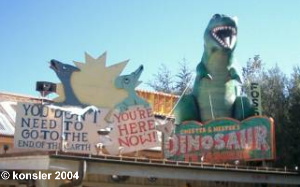 Anyone who's ever visited Walt Disney World knows that there's a gift shop everywhere you turn, and like the rest of The World, each has its own theme and its own personality. All shops have a merchandise mix that will appeal to guests of all ages, but perhaps the most "kid friendly" shop of all is Chester and Hester's Dinosaur Treasures in Dinoland at the Animal Kingdom. This shop is virtually "all kids," although some of the merchandise will definitely appeal to the adult kids too.
Set in an old, tin-roofed garage, this gift shop is anything but plush. The floors are concrete and there are bright red "water pipes" running up the walls and across the ceiling. The interior paint looks like it's been there since the age of the dinosaurs, emphasizing the fun theme of the shop.
With a name link Dinosaur Treasures, you would certainly expect to find dinosaurs and you will! Small plastic dinosaurs, medium and large "stuffed" dinosaurs (beginning at $12) and, for the connoisseurs of dinosaurs, a dinosaur hat ($22) that doubles as a puppet.
However, Chester & Hester's also sells things you wouldn't expect to find there: sparkly pink princess hats complete with wispy veil and Mickey ears ($18), sparkly purses and change purses, princess crowns and princess scepters.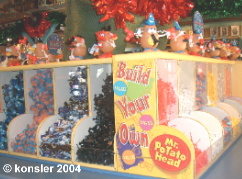 For creative children, you can find alphabet beads and lots of character beads for making necklaces and key chains. Boys and girls alike will love the huge display of Mr. Potato Head pieces available to "mix and match.
…and what kids' shop would be complete without something from the Goofy Candy Company! At Chester & Hester's, the specialty "candy" takes the form of "fill it yourself" 18-inch plastic tubes ($4) that you can fill with different flavors of sour, powdered candy.
Dinoland at the Animal Kingdom is the closest thing Disney has to the old-fashioned "kiddie land" at your local state fair or amusement park. There are lots of rides and activities designed for the younger guest, but as is typical at Walt Disney World, the adults who accompany the youngsters can also enjoy most all the activities.
Chester and Hester's will delight kids of all ages with its unique, interesting and downright "fun" merchandise. Don't miss it next time you visit the Animal Kingdom!