Walt Disney World Chronicles: Walt Disney World Parades
by
Jim Korkis
Disney Historian
This article appeared in the November 7, 2017 Issue #946 of AllEars®
(ISSN: 1533-0753)
Editor's Note: This story/information was accurate when it was published. Please be sure to confirm all current rates, information and other details before planning your trip.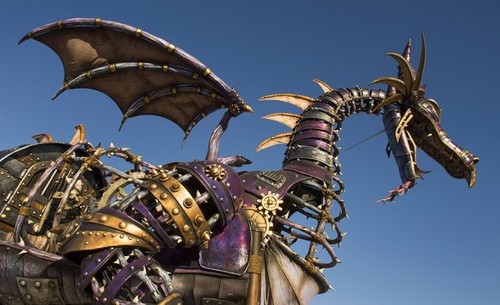 Parades have been a part of Disney theme parks since Disneyland opened in 1955. It seemed appropriate for a small-town Main Street to host a parade for special occasions. Of course, at a Disney theme park, every day is some type of special occasion.
Originally, the idea of a parade was to provide a free entertainment experience for a large number of guests without needing a stage facility. The first parades were simple, but they grew more elaborate by 1961 when Walt Disney himself became directly involved in the designing of the costumes and floats. Walt was influenced by parades like the Pasadena Tournament of Roses Parade (which sometimes had Disney floats) and the Macy's Thanksgiving Day Parade (which sometimes had Disney contributions).
The parades became so popular that multiple performances were scheduled during peak seasons and more money began to be dedicated to the parades. The parades were scheduled for times when there was peak attendance or as a way of leading guests out of the park.
The Magic Kingdom at Walt Disney World was the first Disney park that had a planned parade route. A dedicated facility for the floats and performers was built behind where the Splash Mountain attraction is today. A circular pathway was created so the vehicles could easily access the entrance gates by the Car Barn on Main Street to either start the parade or finish the parade and be able to return to the backstage facility with ease. Sophisticated sound systems are located behind some of the upper floor Main Street USA windows that open during the parade. Check out Disney Legend Tom Nabbe's window during the parade and you will easily see the speaker.
Both America on Parade and the Main Street Electrical Parade prompted breakthroughs in parade technology of using sound, float engineering, costuming, logistics and more that are still the foundation for today's Walt Disney World parades.
Magic Kingdom
The current parade at the Magic Kingdom is the Festival of Fantasy Parade, which started in 2014. A few other parades from this theme park stand out to me:
America on Parade (1975-1976) — This parade celebrated America's bicentennial at both Walt Disney World and Disneyland. At the time, this parade was Disney's largest, with more than 150 performers and about 50 unique floats representing key moments in America's history, as well as cultural aspects like picnics in the park. A few Disney characters made appearances towards the end representing American films and television. The Sherman Brothers wrote a special song for the parade.
Share A Dream Come True/Dreams Come True/Celebrate a Dream Come True Parade (2001 – 2014) — Originally in celebration of Walt Disney's 100th Birthday, this parade featured giant snow globe floats and included Walt Disney World's first interactive performance parade stop. However, it was quickly realized that the snow globes did not have proper ventilation for the performers so they had to be redesigned. A surrogate of Walt himself sketching Mickey Mouse began the parade. The floats featured the following themes: "It Was All Started By A Mouse" (Mickey Mouse), "Wish Upon A Star" (Pinocchio), "A Thousand Dreams To See" (Aladdin), "Face The Darkest Fears" (Disney Villains), "A Dream is a Wish Your Heart Makes" (Prince and Princess) and "As Long as There is Imagination Left in the World" (assorted characters). In 2006, the parade changed its name and some elements. It was renamed after additional elements were changed again in 2009.
Other Magic Kingdom Parades over the years:
Character Parade/Cavalcade of Characters (1971-1975, 1977-1978)
Mickey's 50th Birthday Parade (1978)
Dumbo's Circus Parade (1979)
Walt Disney World's Tencennial Parade (1981-1982)
Mickey Mouse Character Parade (1983)
Donald's 50th Birthday Parade (1984)
Mickey's Street Party (1985 -1986)
Walt Disney World's 15th Anniversary Parade (1986)
Spirit of America (1987-1988)
Mickey's All American Birthday Parade (1988 -1990)
Disney's Character Hit Parade/Zip Parade (1989 – 1991)
Walt Disney World's 20th Anniversary "Surprise" Celebration Parade (1991 – 1994)
Mickey Mania Parade (1994 – 1996)
Walt Disney World's 25th Anniversary "Remember the Magic" Parade (1996 – 1997)
Magical Moments Parade Parade (1998 – 2001)
Happy Easter Parade (Easter only 1972 – 1998)
Mickey's Very Merry Christmas Parade/ Mickey's Once Upon a Christmastime Parade (Christmas only 1978 – present)
Mickey's Not So Scary Halloween Parade/ Mickey's Boo to You Parade (1997- present)
Main Street Trolley Parade (February 2003 – present)
Main Street Electrical Parade (1977–1991, 1999–2001, 2010–2016)
SpectroMagic! (1991–1999, 2001–2010)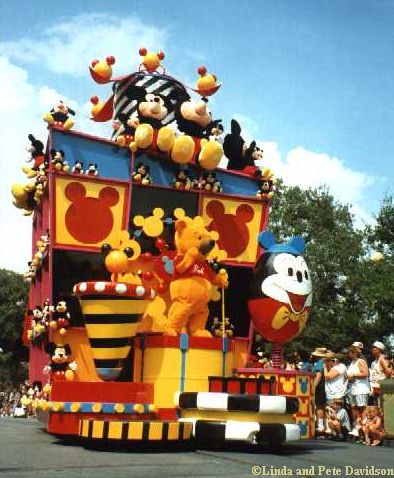 Disney-MGM Studios/Disney's Hollywood Studios
There is no parade at this theme park now, but a few parades that I recall well:
Dinosaurs Live! Parade (September 26, 1991, to August 29, 1992) — This was actually more of a mini-parade than a full-blown Disney parade, with a short stage show in front of the Great Movie Ride. Earl Sinclair and his dinosaur family from the ABC-TV sitcom Dinosaurs, with puppetry from Jim Henson Company using animatronics developed by Brian Henson, were the "surprise family of the day." This parade could be considered more of a moving street party. It consisted of two floats, one with a camera crane carrying a "director" and one that was a large, two-story float with the entire Sinclair family who are being filmed along with several female dancers attired in cave people jungle costumes and a marching band moving down Hollywood Boulevard after the show in front of the Chinese Theater. The parade featured the then-very popular song by Was (Not Was), "Walk the Dinosaur."
Aladdin's Royal Caravan (December 21, 1992 – August 27, 1995) — Inspired by a scene in the animated feature, the parade featured Prince Ali being presented to the people of Agrabah. The parade featured performers as harem dancers, lamp sellers, dancing female camels and more. Genie made several appearances in the parade. First, he led a marching band at the beginning. Then, he popped up as a 32-foot-tall inflatable figure over a float of treasure with dancers right behind twirling swords. Next, just his upper body appeared on two poles held by parade performers. His pants would walk along (with another performer inside) and split from the upper body. Later, Genie's head would stick out of a treasure chest, out of a snake charmer's basket, as well as bathing in a bathtub on the back of a camel. Speaking of camels, the parade featured two huge golden camels who turned their heads and spit water at the guests. These figures were so popular, they were later used elsewhere in the parks — first outside the Soundstage Restaurant and later at the Magic Carpets of Aladdin in the Magic Kingdom. In their new homes, they continued to spit to the delight of the guests. At the finale, Aladdin attired as Prince Ali rode with Jasmine on a magic carpet on the back of the Abu in his elephant form. The head even turned in time with the music. Following the elephant to close out the parade was a street sweeper… the villainous Jafar with his parrot Iago who was chattering away in the rolling wheeled refuse bucket. This parade featured Disney's first use of lightweight inflatable costumes for the acrobats. A version of this parade was also at Disneyland from April 1993 to June 1994.
Other Studios parades:
Toy Story Parade (1995 – 1997)
Hercules "Zero to Hero" Victory Parade (1997 – 1998)
Mulan Parade (1998 – 2001)
Disney's Stars & Motor Cars Parade (2001 – 2008)
Block Party Bash (2008 – 2011)
Disney's Animal Kingdom
There's no parade at Animal Kingdom these days, either, but when there was:
The March of The ARTanimals Parade (1998-1999) — The Animal Kingdom brochure described it as: "It's not a parade… it's not a procession… so what is it? Join us and find out as we present our fun, zany and fanciful one-of-a-kind 'moving celebration' of imagination and living art inspired by the world of animals." It was different than other Disney theme park parades and was more of a carnival/Mardi Gras approach of a bunch of artists getting together to create their impressions of animals. The parade was designed to maneuver around the narrow pathways yet still stand out from the surrounding lush landscaping.
Mickey's Jammin' Jungle Parade (2001- 2014) — The premise was that the Disney characters were on a jungle safari expedition (in a number of themed character jeeps) to provide a tribute to their animal friends in abstract images and figures as part of the 100 Years of Magic Celebration. The distinctive parade costumes were designed by Matt Davidson. The prototypes for the puppeteer costumes were crafted in Africa by native artisans. Parade costumes were created at Walt Disney World Creative Costuming, Parsons Mears in New York, Costume Armor in New York and Vegas Costumes in Las Vegas. Starting in 2004, it had an annual holiday overlay making it Mickey's Jingle Jungle Parade.
Epcot
Because of its layout, its difficult for Epcot to host a parade, but at one time, it did:
Tapestry of Nations Parade (1991-2001) — The Tapestry of Nations Parade took nearly three years to design under the supervision of Show Director Gary Paben. Several proposals were rejected, including Caravan of the Giants, Millennium 2000 and Earth 2000. The final name was selected to embrace an international audience and to reaffirm the World Showcase commitment.
"A tapestry has many threads and our tapestry symbolically represents the diversity of planet Earth, and our hope for a better world woven with compassion, love, kindness and joy," explained Paben. "When you weave all of these elements into it, you have a magnificent image, and that image represents the human spirit."
The huge puppet characters were designed by Michael Curry, who also designed the puppets for the Broadway stage version of The Lion King. In order to effectively control the time of the parade, three separate identical units were released simultaneously along the parade route.
Tapestry of Dreams Parade (2001 – 2003) — The Sage of Time from The Tapestry of Nations Parade was replaced by three Dream Seekers: Elfen (nature, magic, emotion), Cosmos (space, the universe, infinity) and Leonardo (discovery, invention and genius). The parade concept was re-themed to be a "visible dream" in which ideas, images, and emotions were evoked and the dreams of the guest, especially the children, were collected in the hope that they would spring to life.
How many of these Walt Disney World parades do you remember? Have I forgotten any? Even though I've commented on a few of the parades above, if you let me know your interest, I will try to cover the others in more detail in the future.
= = = = = = = = = = = = =
RELATED LINKS
= = = = = = = = = = = = =
From the Archives:
— Main Street Electrical Parade
— Mickey's Jammin' Jungle Parade
— Share a Dream Come True Parade
Other features from the Walt Disney World Chronicles series by Jim Korkis can be found in the AllEars® Archives.
= = = = = = = = = = = = =
ABOUT THE AUTHOR
= = = = = = = = = = = = =
Disney Historian and regular AllEars® Columnist Jim Korkis has written hundreds of articles about all things Disney for more than three decades. As a former Walt Disney World cast member, Korkis has used his skills and historical knowledge with Disney Entertainment, Imagineering, Disney Design Group, Yellow Shoes Marketing, Disney Cruise Line, Disney Feature Animation Florida, Disney Institute, WDW Travel Company, Disney Vacation Club and many other departments.
He is the author of several books, including his newest, Secret Stories of Disneyland, available in both paperback and Kindle versions.
-o-o-o-o-o-o-o-o-o-o-o-
Editor's Note: This story/information was accurate when it was published. Please be sure to confirm all current rates, information and other details before planning your trip.