Step Back (July/August 2021): Donald's Star on the Walk of Fame
by
Joan Feder
Feature Article
This article appeared in the July 29, 2021 (#1147) edition of ALL EARS®
Editor's Note: This story/information was accurate when it was published. Please be sure to confirm all current rates, information and other details before planning your trip.
---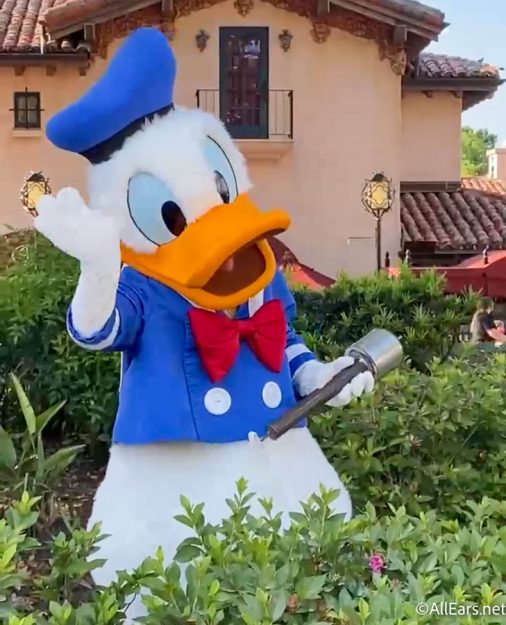 Join us on our monthly journey into the past as we explore the history of Walt Disney World and the Walt Disney Company. This time we look back to August 9, 2004, when Donald Duck received his star on the Hollywood Walk of Fame.
In the 1950s, the Hollywood Chamber of Commerce created the Walk of Fame as a permanent tribute to the entertainment industry. Four committees were chosen to select the nominees in each of the original categories: radio, television, music, and motion pictures (live theater was added as a category in 1984).
Committee meetings were held at the Brown Derby restaurant. Members were a who's who of show business, including Cecil B. DeMille, Samuel Goldwyn and, of course, Walt Disney.
The Walk's groundbreaking took place on February 8, 1960. The 1,558 original stars were installed over the next several years without any formalities. The first induction ceremony took place in 1968.
Currently there are 2,696 stars on the Walk of Fame; that makes it sound like it must be easy to get one. It isn't. Every year, the selection committee receives an average of 200 nominations. Of those, about 20 to 24 stars are awarded.
The first cartoon character to get a star was none other than Mickey Mouse. He was honored on November 13, 1978, as part of his 50th birthday celebration. Mickey received the Walk's 1700th star.
More than 25 years later, on August 9, 2004, Donald Duck was given the 2,257th star on the Walk. This honor was a highlight of the year-long party for his 70th birthday.
Mickey, Pluto, and Daisy attended the ceremony, along with Disney CEO Michael Eisner.
Donald was honored for his contributions to film, and it was well deserved. As Mr. Eisner said, "He has brought tremendous joy and laughter to people around the world, with his charm and explosive temper tantrums."
Donald's star is located at 6840 Hollywood Boulevard. It is just outside the El Capitan Theatre which is owned by Disney.
It is no coincidence that there are several other stars honoring Disney characters just outside the theater. In addition to Donald, you will find tributes to Minnie Mouse, the Muppets, Winnie the Pooh and Tinker Bell. They have all been honored for their work in movies. There is also a star commemorating the 50th anniversary of Disneyland.
Fun Facts:
Walt Disney actually has two stars on the Walk of Fame—one for movies and one for television. His brother Roy O. Disney was also honored for his contributions to film.
Like Walt, Kermit the Frog is one of the few double honorees. He received an individual star for his work in television almost 10 years before the Muppets got one for their work in film.
The only Disney princess to appear on the Walk is the original — Snow White.
The most recent Disney honoree was Minnie. She got her star on January 22, 2018. That's right, she had to wait 40 years after Mickey got his!