October 2013 Walt Disney World Bits and Bites
Feature Article
This article appeared in the September 24, 2013 Issue #731 of ALL EARS® (ISSN: 1533-0753)
Editor's Note: This story/information was accurate when it was published. Please be sure to confirm all current rates, information and other details before planning your trip.
= = = = = = = = = = = = = = = = =


STEP BACK IN TIME
= = = = = = = = = = = = = = = = =
Each month, we rummage around in the archives for this featurette, which indulges in a bit of nostalgia, taking you back in history for a glimpse of Walt Disney World and The Walt Disney Company through the ages. This month, we take a look at The ExtraTERRORestrial Alien Encounter, which closed 10 years ago this October.
An Alien Tale
by Keith Gluck
AllEars.Net Guest Blogger
October 11, 2013, marks 10 years since the closure of the Magic Kingdom's ExtraTERRORestrial Alien Encounter. While we all know the story told during the ride, which featured a diverse cast of big-screen veterans, I wanted to delve into the story behind the infamous attraction. So I sat down recently with Jerry Rees — creative genius, storyteller in all media, and the man who was involved in almost every aspect of the project's creation.
In August 1993, work began on a $100 million makeover of the Magic Kingdom's Tomorrowland. The land's appearance had become somewhat dated, thanks in part to "one designer back in the '70s predicting the future of architecture," according to Imagineer Eric Jacobson. In charge of design for the entire park, Jacobson set out to give the land a fresh look (the new theme was "yesterday's future"), as well as update or replace many attractions. Mission to Mars was on the chopping block, and Disney decided to replace it with an attraction called The ExtraTERRORestrial Alien Encounter.
Alien Encounter would be like no attraction Disney had ever done. There was a time when the Haunted Mansion in Disneyland was thought of as legitimately scary, but it was toned down and infused with more gags. The Phantom Manor in Disneyland Paris opened in 1992, and scored slightly higher on the scare scale than its American cousins. However, none of Disney's mansions could ever produce the same reactions as the centerpiece of the Magic Kingdom's 1995 "New Tomorrowland" did.
The official line on Alien Encounter tagged it as, "A sensory thriller from Disney and George Lucas." It featured performances from Tyra Banks, Jeffrey Jones, Kathy Najimy, Kevin Pollak and, initially, Phil Hartman.
The show was designed to utilize a variety of mediums in which to tell guests its story, including audio-animatronics, video screens, and advanced audio effects. Enter Jerry Rees, the man who orchestrated the multi-faceted show "Cranium Command" for Disney just a few years earlier.
"Since Imagineering had gotten used to me as a 'film plus' director, meaning that I was comfortable merging film aspects with in-theater animatronics, effects, lighting, etc.," Jerry remarked, "they cast me with the 'everything plus the kitchen sink' Alien Encounter attraction."
At first, Jerry was only asked to direct the attraction's main media aspects, such as the pre-show promo for XS-Tech, the voice performance of the XS-Tech spokesbot S.I.R. (Simulated Intelligence Robotics), and the main theater "live" broadcast footage…
To read the rest of Keith Gluck's piece on Alien Encounter, visit the AllEars.Net Guest Blog at
http://land.allears.net/blogs/guestblog/2013/09/an_alien_tale_1.html
RELATED LINK:
Alien Encounter archived attractions page:
http://allears.net/tp/mk/mk_alien.htm
= = = = = = = = = = = = = = = = =


FUN FOOD & WINE FACTS
= = = = = = = = = = = = = = = = =
Walt Disney World guests can sip new wines, beers and cocktails, taste flavors from around the globe and eat to the beat of live entertainment at the 18th annual Epcot International Food & Wine Festival presented by Chase from September 27 to November 11, 2013. Here are some facts about the 46-day festival:
More than 300 wine and beer seminars take place during the 46-day festival
The festival's Ocean Spray Cranberry Bog is refilled three times during the course of the 46-day event, using a total of 910,000 cranberries or more than 3,000 pounds of the sweet-tart fruit
1.5 million sumptuous samplings throughout the festival
If laid end-to-end the number of wine glasses used during the festival would reach from Walt Disney World Resort in Lake Buena Vista to the Disney Cruise Line terminal at Port Canaveral, Fla.
360,000 beer servings, enough to fill the aquariums five times over at Rainforest Café at Disney's Animal Kingdom
More than 500 pounds of watermelon is expected to be tasted at the "3D" Disney's Dessert Discovery parties
More than 80,000 servings dished up of the most popular savory item at the 2012 international marketplaces: the "Le Cellier" Wild Mushroom Beef Filet Mignon with Truffle Butter Sauce from Canada
= = = = = = = = = = = = = = = = =

HIDDEN MICKEYS ALERT
= = = = = = = = = = = = = = = = =
Steve Barrett, author of the Hidden Mickeys books and webmaster of www.HiddenMickeyGuy.com, introduces you to a few fun Hidden Mickeys (and a Hidden Minnie!) at Disney's California Adventure.
1. Along the queue of Mater's Junkyard Jamboree in Cars Land, three barrels inside the ride area are positioned and proportioned to form a classic Mickey standing upright. A red barrel serves as the "head." (Thanks to Amanda Mitton, LMD Hidden Mickey Finders, Andrew Bardsley, and Martin Lee.)
http://allears.net/btp/images/hidden-mickey-411.jpg
2. As you enter the "Under the Sea" room on The Little Mermaid ride in Paradise Pier, three holes or indentations at the left side of the top coral in a group of five round purple corals form a classic Hidden Mickey, upside-down. You'll spot this group of corals on the rock wall in front of your vehicle first and then on your left as your vehicle turns into the room. (Thanks to Miranda Michelle Felice, and Tamera.)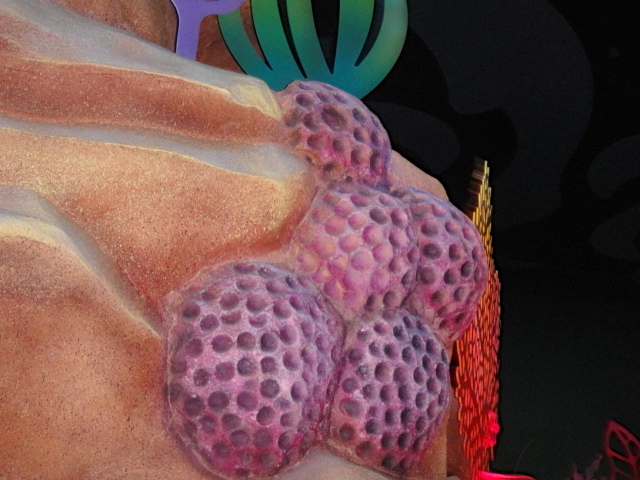 http://allears.net/btp/images/hidden-mickey-412.jpg
3. On the wall directly behind the front smoothie order windows at Schmoozie's shop in Hollywood Land, a Hidden Minnie Mouse decked out as the Statue of Liberty is in the middle and near the top of the wall mosaic. (Thanks to Sherrie Cotton.)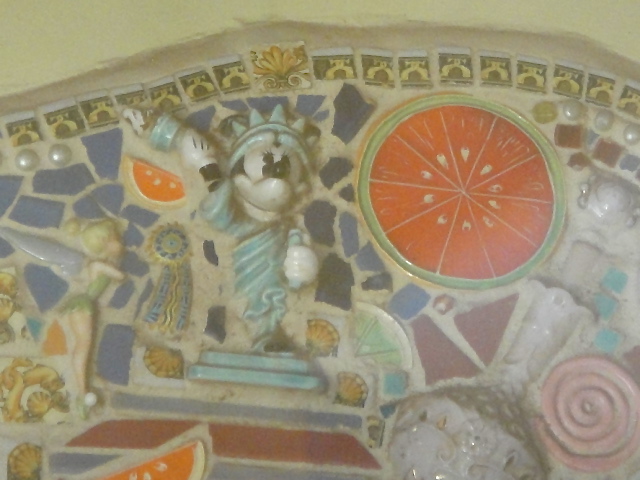 http://allears.net/btp/images/hidden-mickey-413.jpg
=-=-=-=-=-=-=-=-=-=-=-=-=-=-=-=
You can find a selection of past Hidden Mickey Alerts here:
http://allears.net/btp/hiddenm2.htm
And check out our Searching Disney with Steve blog:
http://land.allears.net/blogs/stevebarrett/
= = = = = = = = = = = = = = = = = =

RATE & REVIEW SPOTLIGHT
= = = = = = = = = = = = = = = = = =
Compiled by AllEars® Team Member Cathy Bock
In this monthly featurette, we take a look at recent comments made in the AllEars.Net Rate & Review section about a particular restaurant, resort, event, etc. This month, we examine what AllEars® readers are saying about Animal Kingdom Lodge Kidani Village, a Disney Vacation Club property
Kidani Village has an average rating of 8.4 and is recommended by 95% of reviewers.
From recent reviews:
Rooms: "room was quiet, and plenty large enough"; "size of the room was nice"; "decor is perfect"; "rooms seemed larger than other DVC units"; "room was clean and stocked with everything we needed".
Resort staff: "staff was friendly and very accommodating"; "always staff at the front door to welcome you 'home' and the service is always top-notch from everyone at the resort"; "staff was, of course, extremely friendly and welcoming"; "cast members are terrific"; "you are greeted and treated like family"; "helpful cast members".
Resort amenities: "had a savanna view so we were able to walk out on a balcony and watch the animals"; "pool was awesome"; "animals roaming around right outside your room is an experience like no other"; "mentioned arcade as a negative just because we think it's too small"; "do have community hall with free games, movies, and lots of activities"; " fabulous community hall which has a ton of activities".
Resort Layout: "room was such a long walk especially at the end of the day"; "only thing I did not like about this resort is its size"; "quite a hike for us to walk the length of the building to the lobby, and then out through the parking lot to the pool".
Transportation: "no problem with the buses or the bus rides"; "never had an issue with the buses"; "bus service was terrific"; "shuttle van that took us to Jambo House for a quick service meal"; "bus rides are long for everywhere except Animal Kingdom"; "there were several times where we waited over 30 minutes for a bus".
Food: "no quick service dining on property"; "only real problem I have with the resort is the lack of quick service restaurant"; "only thing that I wish Kidani had was a quick service type place to grab a salad or flatbread"; "No quick service dining".
Other Comments: "Loved it"; "great place to stay!"; "would happily return"; "would not hesitate to stay at Kidani again"; "Overall a good stay".
If you have recently stayed at Kidani Village, or any Disney resort, we'd love to have your reviews, too!
You can find Rate & Review here: http://land.allears.net/reviewpost/
= = = = = = = = = = = = = = = = =

MONTHLY REMIND-EARS
= = = = = = = = = = = = = = = = =
EVENTS
Magic Kingdom
Mickey's Not So Scary Halloween Party allows guests to trick-or-treat while immersed in the fantasy of the Magic Kingdom. The evening includes Mickey's "Boo-to-You" Halloween Parade; trick-or-treating throughout the Magic Kingdom at numerous locations; and the special Happy HalloWishes fireworks. Lots of characters are out in the park, wearing their favorite costumes — you're encouraged to wear yours too. The party runs from 7 p.m. to midnight; Mickey's "Boo-to-You" Halloween Parade is at 8:15 and 10:30 p.m. with the Happy HalloWishes fireworks at 9:30 p.m. October 2013 Dates: October 3, 4, 6, 10, 11, 14, 17, 18, 20, 22, 24, 25, 27, 29, 31. Find more details about the parties in the "NEWS" section below.
Epcot
The 2013 Epcot International Food and Wine Festival takes place September 27 to November 10, 2013. Several new events have been added, including a Hibachi experience, a Parisian breakfast and one featuring the food and beverages of Scotland.
Eat to the Beat Concerts! Popular acts past and present perform nightly at America Gardens Theatre. The concerts, which are included with Epcot admission, are held at 5:30, 6:45 and 8 p.m. Here's October's schedule (subject to change):
September 30-October 1 – Go-Go's
October 2-4 – Air Supply
October 5-6 – Sister Hazel
October 7-9 – Sugar Ray
October 10-11 – Edwin McCain
October 12-13 – Manhattan Transfer
October 14-15 – Wilson Phillips
October 16-17 – The Pointer Sisters
October 18-20 – Night Ranger
October 21-23 – Boyz II Men
October 24-25 – Survivor
October 26-27 – 38 Special
October 28-30 – Smash Mouth
October 31-November 1 – Spin Doctors
Animal Kingdom
runDisney
The Twilight Zone Tower of Terror 10-Miler Weekend will be held October 4-5, 2013. The 10-Miler course will take you through ESPN Wide World of Sports Complex and Disney's Hollywood Studios before finishing in the shadow of The Twilight Zone Tower of Terror, where you can then enjoy the Disney Villains Hollywood Bash. Favorite Disney villains will be on hand and participants will have exclusive access to favorite Disney's Hollywood Studios attractions, including Rock 'n' Roller Coaster Starring Aerosmith, The Twilight Zone Tower of Terror, and Toy Story Mania! To register, visit:
http://www.rundisney.com/tower-of-terror-10-miler/registration/#runners
The 4th Annual Swan and Dolphin Food & Wine Classic will be held Friday and Saturday, October 18 and 19, 2013 from 5:30 to 9 p.m. Food and wine lovers can stroll along Crescent Lake and immerse themselves in a culinary festival featuring tastings from award-winning restaurants and from wine vineyards around the world. Celebrity chef Todd English will be on hand to serve up award-winning fare and the resort's sommeliers will offer educational beverage seminars from beer to bubbly. For more information:
http://www.swandolphinfoodandwineclassic.com/
DisneyQuest at Downtown Disney West Side will host a special Halloween event on October 31, 2013 from 6 to 11 p.m. Guests can enjoy unlimited access to DisneyQuest games and attractions, family fun, food and two DJ dance parties. There will be Trick or Treat locations, costume contests, games, characters and photo backdrops commemorating Halloween 2013. PRICE: Advance (ages 3+) $45 + tax; Day of Event (ages 3+) $54 + tax. Tickets are on sale now through October 31, 2013 at all Vacation Planning and Guest Relations Locations; Disney Planning Center; Disney Reservation Center at 407-W-DISNEY; DisneyQuest Box Office; ESPN Wide World of Sports; Walt Disney World Resorts; Walt Disney World Swan & Dolphin Hotels.
-=-=-=-=-=-=-=-=-=-
Don't forget to check our Events page for current updates: http://allears.net/pl/events.htm
-=-=-=-=-=-=-=-=-=-=-=-=-=-=-=-=-=-=-
REHABS AND CLOSINGS
Magic Kingdom
Fantasyland Expansion: The ongoingFantasyland expansion project continues with the debut of a new Disney "mountain" in the form of the Seven Dwarfs Mine Train in 2014.
http://allears.net/tp/mk/new-fantasyland.htm
Peter Pan's Flight in Fantasyland in the Magic Kingdom will be closed September 30 through November 13 for refurbishment.
Walt Disney World Railroad will be closed September 30 through October 20 for refurbishment.
Epcot
Spice Road Table, a new waterfront eatery, will be open by year-end at the Morocco Pavilion in Epcot's World Showcase. The new restaurant will have indoor and outdoor seating, and will feature small plates and refreshments inspired by the cuisine of the Mediterranean. More enhancements to the pavilion and news on Spice Road Table will be released as menus are finalized.
Disney's Hollywood Studios
The Honey, I Shrunk the Kids Playground is closed for refurbishment through November 19.
All-Star Sports Resort
The End Zone Food Court at Disney's All-Star Sports Resort is closed for refurbishment until December 20, 2013. During this time, made-to-order food will not be available. Grab-and-go food items (cold sandwiches, cereal, etc.) will be available in a temporary location — the Game Point Arcade. (Arcade games will not be available during this refurbishment.) Motor coach transportation to the other All-Star Resorts will be available throughout the day during this period, and two motor coaches will run during mealtimes. You will be able to board motor coaches from the porte-cochere outside the All-Star Sports lobby. Coaches will travel to the porte-cocheres at both All-Star Music and All-Star Movies. This transportation will also be available if you'd like to enjoy the Note'able Games and Reel Fun arcades at the other All-Star resorts.
Downtown Disney
Walt Disney World Resort announced the multi-year transformation of Downtown Disney into Disney Springs, which will treat guests to more shopping, dining and entertainment amid open-air promenades, springs and waterfront charm. Disney Springs will feature an eclectic and contemporary mix from Disney and other noteworthy brands, from boutique shops to unique flagship anchor stores. Disney Springs will double the number of shops, restaurants and other venues for guests to explore, resulting in more than 150 establishments. Drawing inspiration from Florida's waterfront towns and natural beauty, Disney Springs will include four outdoor neighborhoods interconnected by a flowing spring and vibrant lakefront. Read more about Disney Springs here:
http://allears.net/btp/disney-springs.htm
As part of the Disney Springs expansion, Downtown Disney parking lots H-K (near West Side locations such as AMC Theatres and House of Blues) closed July 22 to make room for a parking garage expected to open in late 2014. To compensate for the closed areas, "overflow" parking areas have been designated and will be open most Fridays, Saturdays and Sundays, as well as holidays, special events and other busy days throughout the next few years of the expansion project. Overflow lots include those at Team Disney, Casting and SunTrust. Signage along Buena Vista Drive will direct guests to parking areas. Shuttles will operate from 5 p.m. to 3 a.m. on days that overflow parking is open to transport guests between Team Disney and Downtown Disney West Side near Cirque du Soleil. If you have reservations at a Downtown Disney location, be sure to allow ample time for parking under these new conditions.
Osprey Ridge golf course, its pro shop and the Sand Trap restaurant are now closed. When Osprey Ridge reopens next year, it will be under Four Seasons ownership. To date, there is no indication whether play will be limited to Four Seasons Orlando guests and Golden Oak residents, or if Walt Disney World guests and/or the general public will have access. This closure leaves Walt Disney World with three 18-hole courses, Palm, Magnolia and Lake Buena Vista, as well as the Oak Trail 9-hole course. (Thanks to wdwgolf.com for the update.)
The Palm golf course is closed for a major rehab until November 16. The work will include a redesign by Arnold Palmer Course Design. For more details visit:
http://www.wdwgolf.com/2013/05/23/palm-course-to-close-june-10-2013-for-renovations-by-arnold-palmer-course-design/
Typhoon Lagoon will close October 27 through December 22 for its annual refurbishment.
-=-=-=-=-=-=-=-=-=-
A complete list of rehabs can be found here: http://allears.net/tp/rehabs.htm
= = = = = = = = = = = = = = = = =

MAGICAL MOMENTS
= = = = = = = = = = = = = = = = =
Michelle Banic: My oldest daughter, who turned 18 on the day of our arrival at Walt Disney World, is usually in a wheelchair. She has arthritis and we use it so she can enjoy her day without any pain. We stopped at the funnel cake hut by the American pavilion in Epcot. After taking our order, the cast member asked my daughter what was wrong with her legs. He immediately apologized, saying he probably shouldn't have asked. My daughter cheerfully told him she's glad he asked because she'd rather people ask than shoot her dirty looks and assume she's just being lazy. She explained why she was in the chair and he told her he thought she was quite smart! He also gave us a generous helping of ice cream on top of our double chocolate funnel cake for free! So grateful for a cast member taking a minute to ask a question and not judging by appearances!
Denise Lewis: In 1996, my entire family traveled to Disney World. My parents had never been, as well as my brother, and my cousins. There were 14 of us. My dad was disabled, so we rented one of the electric carts for him. He was like a little kid. He loved every bit of it. He was able to get around without depending on anyone else. When the younger kids wanted to go back to the resort to swim in the afternoon, my mom and dad stayed at the parks to see everything they could. He even got a proposal from Miss Piggy! One of our last days there, we were all at MGM Studios (now Hollywood Studios). Every one of us was picked at one of the attractions to be a part of the show. All but two of us were in the soundtrack show, my brother and brother-in-law were picked for the Backstage Tour water show, my sister was in the Indiana Jones show, I was in the movie 101 Dalmatians on a bike in front of a green screen and my 6 and 7 year old nieces were picked to be cheerleaders in the Hercules parade. It was awesome! My seven year old niece walked around all day saying, "It's a volunteer kind of day!" My dad passed away a few years later, but always said it was the best vacation he ever had. Thank you, Disney World, for such great memories!
Pam Smith: We took our two daughters on a graduation trip in June (as one graduated from college and one graduated from high school). On our first day at Magic Kingdom, one of the cast members in a store asked if we were celebrating anything special and my daughter mentioned that she and her sister were celebrating their graduations and that her parents (us) were celebrating our 26th Anniversary. When we were seated for dinner at the Brown Derby later that week, we were given a circular booth – so all of us piled in and put our various packs on the shelf behind our heads in the booth. Our waiter stopped by to tell us he would be right back to take our order. The next thing we knew he was walking out with two mini glasses of champagne with a strawberry in each and wishing us a happy anniversary. We never even mentioned it – but he apparently saw the celebration pins on our packs and took it upon himself to bring us champagne for an anniversary toast. We felt very special indeed.
-=-=-=-=-=-=-=-=-=-=-=-=-=-=-=-=-=-=-=-=-
We just bet you have a story to tell about an unforgettable moment during your Disney vacation! Please send your favorite memory for inclusion in a future AllEars® to: [email protected]
This month we also have a collection of magical nighttime moments captured in photographs by AllEars.Net friend Marc Schwartz! See them in our photo feature, "Wandering the World":
http://allears.net/tp/wander/wander.htm
Thank you all for sharing!
-o-o-o-o-o-o-o-o-o-o-o-
Editor's Note: This story/information was accurate when it was published. Please be sure to confirm all current rates, information and other details before planning your trip.