January 2019 Walt Disney World Bits and Bites
Feature Article
This article appeared in the January 1, 2019 Issue #1006 of ALL EARS® (ISSN: 1533-0753)
Editor's Note: This story/information was accurate when it was published. Please be sure to confirm all current rates, information and other details before planning your trip.
= = = = = = = = = = = = = = = = =



HIDDEN MICKEYS ALERT
= = = = = = = = = = = = = = = = =
Steve Barrett, author of the Hidden Mickeys Field Guide books and webmaster of HiddenMickeyGuy.com, shares a few Hidden Mickeys around Walt Disney World with you. Enjoy!
1. Seven Dwarfs Mine Train. Recently, I nailed down exactly where this next Hidden Mickey is located. As you walk into the Standby entrance queue, check out the third lantern pole on your left. A classic Mickey with eyes and a smile is impressed into the left side of a wooden crossbar. Look above you at the part of the crossbar that holds a lantern above your walkway.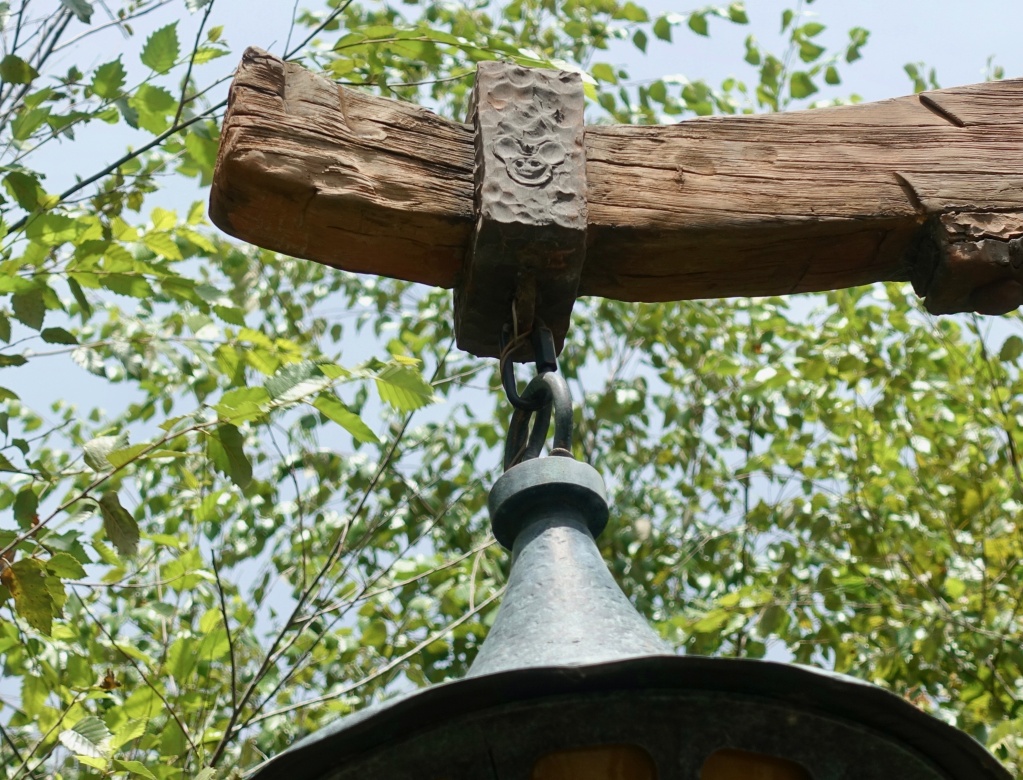 2. The Seas with Nemo & Friends. Near the end of the ride, Peach the starfish is stuck on the glass wall of the aquarium. Over the years, I've wondered if any of her circles might form classic Mickeys. I finally snapped a somewhat decent photo, and I think the three circles at the tip of her upper arm come together as an upside-down Hidden Mickey.
3. Contemporary Resort. I did a double take when I walked over this guy on the sidewalk connecting the Magic Kingdom and the Contemporary Resort. I hope this elaborate Mickey face doesn't wash away in the rain! (Thanks to Martha Tischler.)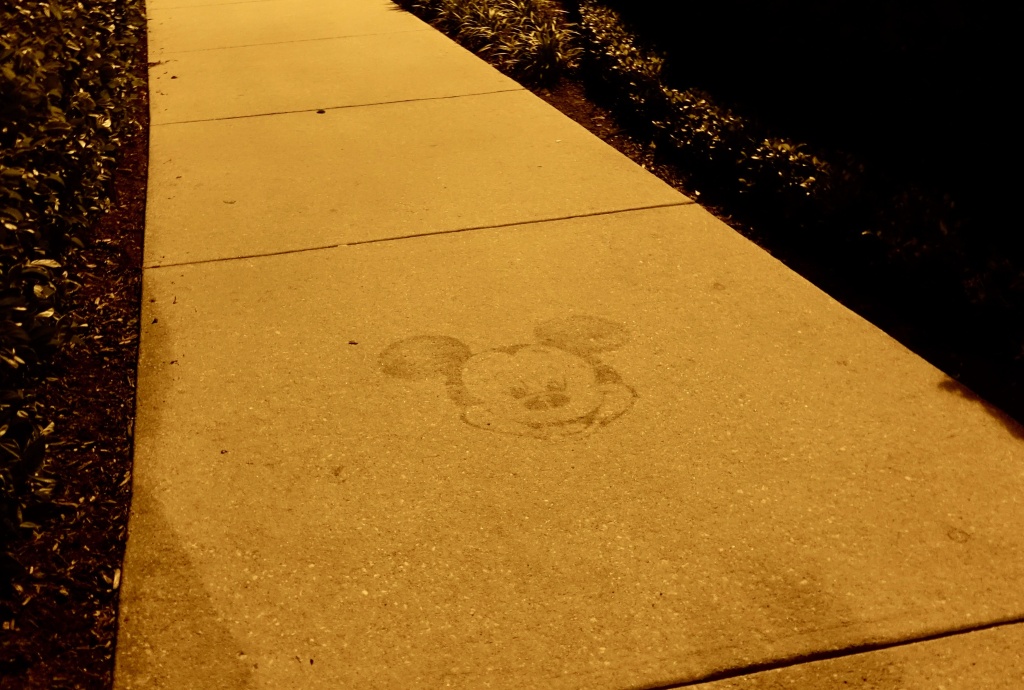 =-=-=-=-=-=-=-=-=-=-=-=-=-=-=-=
You can find an archive of past Hidden Mickey Alerts HERE.

And check out our latest Searching Disney with Steve blog.
= = = = = = = = = = = = = = = = =



MONTHLY REMIND-EARS
= = = = = = = = = = = = = = = = =
Through Jan. 6: Flurry of Fun at Disney's Hollywood Studios, including Jingle Bell Jingle BAM! and Sunset Seasons Greetings.
Through Jan. 29: Disney Springs hosts the first-ever Kingdom Hearts Pop-Up Experience, in advance of the release of Kingdom Hearts III. You can play and preview the game before its release.
Jan. 9 – 13: Walt Disney World Marathon Weekend — With race distances for all skill levels, including Kids Races, a 5K, 10K, Half Marathon and Marathon, participants will enjoy special Disney entertainment on course and earn one-of-a-kind Disney finisher medals.
Jan. 18: 90 Years of Mickey Mouse — "The World's Biggest Mouse Party" will be a celebration at Disney parks and resorts around the world, with new attractions and shows, commemorative merchandise, photo locations and more.
Jan. 18 – Feb. 25: Epcot International Festival of the Arts 2019 — Returns for the third year! Guests will once again be able to experience the arts in three ways: through beautifully prepared cuisine, visual art and a lineup of Broadway-caliber live entertainment.
Check our Events page for a full schedule of upcoming events.
-=-=-=-=-=-=-=-=-=-=-=-=-=-=-=-=-=-=-
Resort-Wide
Disney Skyliner construction:
Walt Disney World is in the process of creating a new transportation system, Disney Skyliner, which will give you a bird's-eye view of the resort while traveling via gondolas. During this time, construction noise will be seen or heard throughout the resort, but noise should not be heard from Disney hotel rooms between dusk and 9 a.m. It was recently announced that the Skyliner will open in Fall 2019.

The Walt Disney World Monorail system is undergoing ongoing refurbishment. As a result, normal service and/or routes may be modified. Alternative transportation options will be available during this time.
Kali River Rapids will close for refurbishment on January 7. It's scheduled to reopen on March 22.

Rafiki's Planet Watch temporarily closed on October 20. No reopening date has yet been announced.
Star Wars: Galaxy's Edge —
Work is underway on the 14-acre Star Wars-themed land at Disney's Hollywood Studios that was announced during the 2015 D23 EXPO. Galaxy's Edge will open at Walt Disney World in Late Fall 2019.
Walt Disney World Railroad closed December 3, to make way for construction of the new TRON attraction.
Rooms are undergoing refurbishment through early 2019.
Animal Kingdom Lodge – Jambo House
Rooms are undergoing refurbishment through Fall 2019.
Art of Animation Resort is currently undergoing some general refurbishment projects. During this time, the resort will be in full operation with all amenities available, including dining, merchandise and recreation locations. It is possible that construction may be seen or heard, but noise should not be heard from guest rooms between dusk and 9 a.m. No end date for these projects has been announced as yet.
The resort room "hard goods refurbishment" at Coronado Springs has been extended to continue throughout summer 2019.

The previously announced new 15-story Gran Destino tower will open at Disney's Coronado Springs resort on July 9, 2019. The rooftop restaurant, Toledo, will also open on that date.
Disney's Old Key West Resort is undergoing a wholesale refurbishment, which is expected to be completed in 2019. You can see some photos of refurbished rooms HERE.
The rooms at Port Orleans Riverside are being refurbished now through early 2019.
The Yacht and Beach Club Convention Center is undergoing expansion and renovation. No end date has been specified.
The Walt Disney World Swan and Dolphin
Ground was broken recently on a new tower to be called The Cove. It will be located on the site of the Swan's tennis courts, adjacent to Fantasia Mini-Golf.
Water Parks
Blizzard Beach closed Oct. 28 for its annual refurbishment. It is scheduled to reopen Jan. 5, 2019.

Typhoon Lagoon will close for its refurbishment. Typhoon Lagoon will reopen on March 16.
NBA Experience at Walt Disney World Resort will be a one-of-a-kind basketball-themed experience featuring hands-on activities that put guests of all ages right in the middle of NBA game action. There will be immersive NBA video productions and numerous interactive experiences and an exciting retail store that will offer something for all NBA fans worldwide. The NBA Experience opens in Summer 2019.

City Works Eatery and Pour House, a restaurant and bar known for craft beers from local breweries and around the world, plans to open its eighth location in Disney Springs West Side in Summer 2019.

Jaleo, a new Spanish restaurant coming from acclaimed Chef Jose Andres, is due to open in early 2019.
-=-=-=-=-=-=-=-=-=-
A complete list of known rehabs can be found HERE.
= = = = = = = = = = = = = = = = =



MAGICAL MOMENTS
= = = = = = = = = = = = = = = = =
Each month, we like to share a few heart-warming Magical Moments brought to us by the amazing Disney cast members!
Michaelene: Those Magical Moments really make a difference! Cast member Keith has sprinkled the pixie dust on us twice: first as manager at All Stars he provided a veritable plethora of lotions when I could find none. Soon after as manager at Fort Wilderness when we went to thank him, he popped out FastPasses x6. They're SUCH a help in those constant crowds.
Beth: My dog Oscar passed away in February 2018; he was 16.5. I always got him Pluto souvenirs whenever I would visit Walt Disney World. So in planning for a recent trip with my friend Rachel, I shared that I was afraid to see Pluto because I just knew I would get emotional. I knew it was inevitable that I'd see Pluto, but I didn't expect that he would be the very first character I'd encounter just inside the Magic Kingdom on the first day of our trip. It felt like a sign, like it was meant to happen, so off I went to visit with Pluto. When it was my turn, I just couldn't hold back anymore. I know Pluto saw the tears as I approached him. He wrapped me up in the biggest hug as I whispered to him why I was crying, explaining how I'd lost my Oscar. He squeezed me tighter and just let me cry. Apparently, Rachel told the cast member what was up and between Rachel, the cast member, and those folks in line who overheard, there wasn't a dry eye to be had. Once I got myself together, Pluto and I took some really great pictures, he kissed my hand, and bent down so I could kiss his nose. He hugged me again nice and tight and I thanked him profusely. I needed that! I got the Pluto/Oscar tears out of my system and it set the tone for the rest of the trip. I was sad about Oscar, but Pluto understood and showed me lots of magical Disney love and understanding.
David: Our family has been to Disney many times over the years and we have many happy family memories. We just returned from our first trip with our soon to be 4-year-old granddaughter and witnessed a Magical Moment that did not include her. While waiting to meet Elsa and Anna in Norway the whole room was in awe of a little girl and her interaction with Elsa. She had Elsa locked in a hug and would not let go, and there was true love in her eyes. Elsa was awesome. she did not try to hurry the little girl, but let the story play out. Words are hard to describe the feeling in the room, her parents were crying, the other children waiting seemed to sense something special was happening. The little girl did let go and when the pictures were taken she was beaming and smiling ear to ear. A truly magical moment. Thank you, Elsa. You showed a room full of people what true Disney magic is.
-=-=-=-=-=–=-=-=-=-=-=-=-=-=-=
EDITOR'S NOTE: Did you know that you can turn the tables and create a Magical Moment for your favorite cast member on Twitter? Simply send a tweet to @WDWToday or @DisneylandToday with the hashtag #castcompliment and they'll make sure your cast member gets some special recognition for making your day Magical!
We just bet you have a story to tell about an unforgettable moment during your Disney vacation! Please send your favorite memory for inclusion in a future AllEars® via our Contact Us page. Thank you all for sharing!