Princess Fantasy Faire Fantasyland Disneyland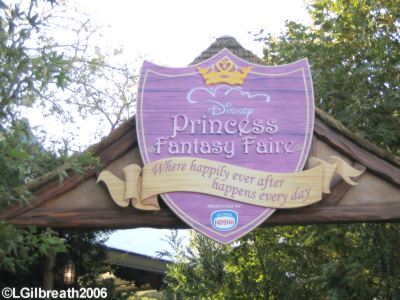 Introduction | Attraction | Touring Tips | Kids/Characters | Dining | Shopping | Interesting Facts
INTRODUCTION
In the "Land of Happily Ever After", kids can meet their favorite princesses, decorate their own royal crown, listen in as a princess tells her story, and participate in a coronation ceremony.
ATTRACTION
Princess Fantasy Faire is located in the Fantasyland Theater, next to the Toontown Train Station. It is open from 11:00-6:00 Monday-Thursday, and 10:00-6:00 on Friday-Sunday.
This is a large space, and there are multiple activities available in different areas:
Princess Royal Walk – The princess meet-and-greet area is located at the back of the theater. The line forms outside, once inside, guests have the opportunity to pose for photos and visit with three different princesses (the princesses rotate every 20 minutes or so).
Royal Crafts – Two areas, located on each side of the Princess Royal Walk at the back of the theater. There are tables to sit at while participating in a craft activity such as decorating a paper crown with stickers or coloring a scene featuring Disney characters. There is no charge for any of the materials.
Princess & Knighthood Training – Several times a day there is a stage show where a lord and lady provide instruction to potential lords and ladies on the niceties of royal behavior. They then introduce three princesses who make their grand entrance and then go down onto the floor with the audience to participate in a maypole-like dance. At the end confetti falls from above and the new lords and ladies of the "Land of Happily Ever After" are proclaimed.
Princess Storytelling – Located on the floor of the theater to the left of the stage under a large crown. Several times a day a Disney princess will come out and tell her story. Small floor mats are available for seating.
Face Painting and Hair Braiding – Located at the back of the theater near the Toontown Train Station. Kids can have their faces painted or hair braided and ribbons/flowers put into it. There is a fee for this, and the price varies depending on on the services selected.
Princess Merchandise – Located next to the Face Painting area. Princess costumes, crowns, hats, toys, and other princess paraphenalia is available for purchase.
TOURING TIPS
There are various activities throughout the day but no schedule is posted – ask one of the pages or ladies-in-waiting when events will be occurring.
Lines to see the princesses can get quite long, so to minimize wait time, try to arrive when Princess Fantasy Faire first opens in the morning.
Strollers are not allowed, and must be left in the stroller area outside — Cast Members will direct those with strollers appropriately.
All areas are accessible to wheelchair/ECV users.
The closest restrooms are alongside the entrance, next to the Enchanted Cottage snack bar.
KIDS AND CHARACTERS
Kids, especially little girls, love the opportunity to have special one-on-one time with the princesses. Many come to Princess Fantasy Faire already dressed in a princess costume.
The coloring and crown activities provide some entertainment for kids who aren't quite so interested in the princesses.
DINING
Enchanted Cottage, Sweet and Treats is located in the Princess Fantasy Faire area, and offers snack foods such as popcorn, pretzels, ice cream bars, and beverages.
SHOPPING
Princess merchandise is available in Princess Fantasy Faire.
"it's a small world" — Toy Shop is located across from the theater's exit. It offers Mattel toys including Disney dolls and park attraction playsets.
Fantasy Faire Gifts – Disneyland souvenirs and plush characters
INTERESTING FACTS
Snow White – An Enchanting Musical which closed in September 2006, preceded Princess Fantasy Faire. Much of the stage set from Snow White is still being used in the staging of the Coronation Ceremony.
Princess Fantasy Faire opened on October 6, 2006.
The area occupied by the Fantasyland Theatre was previously called Videopolis.
Previous shows presented in the Fantasyland Theatre include Spirit of Pocahontas, Animazement, and Mickey's Detective School.
If you have comments or tips to share with others about touring Disneyland, please email us. Thank you.