Mickey's Trick-or-Treat Party Disney's California Adventure
2009 Dates
October 2, 8, 9, 15, 16, 21, 22, 23, 28, 29, 30, 31
Mickey's Trick-or-Treat Party takes place at Disney's California Adventure. This not-so-scary Halloween party is a fun-filled evening for the whole family and includes trick-or-treating and other spook-tacular activities. The party requires a special event ticket, but regular park admission is not required.
2009 Dates:
October 2, 8, 15, 21, 22, 28, 29 – 6:30-10:30 p.m.
October 9, 15, 23, 30, 31 – 7:30-11:30 p.m.
PRICES for Mickey's Trick-or-Treat Party (includes parking):
Advance purchase by Annual Passholders, DVC Members and Disney Visa card holders for selected dates: $26.00
Advance purchase by General Public: $32.00
Day of Event Purchase for selected dates: $39.00
Day of Event Purchase for October 30 and 31: $42
Passholder/DVC discount is available for the following dates: October 2, 8, 15, 21, 22, 28
There is no discount available for the October 30 and 31 events. All tickets for that date are $42.
Tickets available on-line at http://www.disneyland.com/tickets
Or by calling 714-781-4400.
$5.00 shipping charge.
Discounted tickets available for selected dates to Annual Passholders on Disneyland's Annual Passholder web site: http://www.disneyland.com/ap
No charge for kids ages two and under.
Limit of 8 tickets per event.
Costume Guidelines
Guests of all ages may wear costumes only to the Mickey's Trick-or-Treat Party event for which their ticket is valid. Otherwise, costumes are only permitted at either theme park for Guests ages 9 and under. All costumes must adhere to any guidelines as determined solely by Disney. Please choose costumes that are not obstructive, offensive, or violent. Guests may wear masks, but masks must not obstruct vision and the eyes must be visible at all times. Guests dressed as Disney characters may not pose for photos or sign autographs for other guests. Costumes should not drag on the ground, and should not contain sharp or pointed objects that could strike other guests. Costumes should not contain weapons or objects which could be mistaken for weapons.
2009 Photo Gallery:
General Photos
Parade, Characters and Activities
2009 Schedule of Events | Special Guide Tips
Read the most recent reviews or submit your own experiences to our Rate and Review area
2009 Schedule of Events
Party Hours: 6:30 p.m. – 10:30 p.m. October 8, 15, 21, 22, 28, 29
7:30 p.m. – 11:30 p.m. October 2, 9, 17, 23, 30, 31
Trick or Treat Stops – Treat stations throughout the park offer a variety of different candy and snacks.
Character Greetings – Many of your favorite characters are also dressed up for Halloween, and the villains enjoy a night out, too.
Halloween Crafts – craft tables set up at Pirate Wharf.
Live Entertainment – Boogie with the characters at multiple locations throughout the park.
Nightly Character Cavalcade – Festive Halloween celebration with 2 performance stops along the parade route.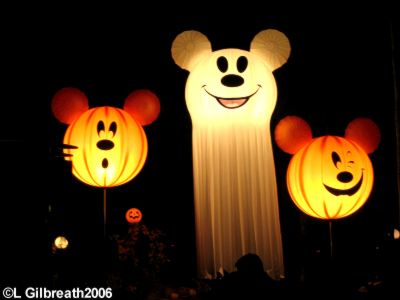 Special Touring Tips — Some Spoilers
Information Based on 2009 Party
Everyone, kids and adults alike, is welcome to dress in costume. Costumes must be "kid-friendly". Masks are ok as long as vision is not obscured. Dressing as a Disney character is permitted, but guests may not pose for photos or sign autographs as that character. Remember that adults in costume are not permitted at Disneyland, so if you're planning to go over to Disneyland after Mickey's Trick-or-Treat Party ends, you'll need to bring a change of clothes.
Upon entering the park all guests receive a plastic treat bag and a special "Mickey's Trick-or-Treat Party" guide map. There is plenty of candy at the Treat Stops, which includes things like miniature Twix bars, Tootsie Pops, Laffy Taffy, M&Ms, Skittles, and SweeTarts. Ghirardelli chocolate squares are also available. Some treat stations offer an alternative to candy, such as small bags of apple slices, baby carrots, craisins. The treat stops (particularly the Treat Trails) have fairly long lines early, but after about two hours they are shorter. There are even more treat carts along the Mickey's Hide and Go Treat Trails, located near Grizzly Peak, in the Redwood Creek area, and in the Animation Building. All of the treat stations should have CMs on both sides dispensing candy, so get in line on whatever side is shortest.
All of the park is accessible, with most attractions operating, including Toy Story Mania and Soarin' Over California, though none of the shows are running. The available dining options are Baker's Field Bakery, Taste Pilot's Grill, Award Wieners, Fairfax Fruit Market, Cocina Cucamonga, Pacific Wharf Cafe, Lucky Fortune Cookery, Bountiful Valley Farmer's Market, Don Toma's, and the Hot Dog Hut. A number of popcorn, cotton candy, and drink carts are also open.
There are several formal character greeting areas throughout the park, with a backdrop and a Disney PhotoPass photographer. In addition there are a lot of characters, many dressed in their own Halloween costumes, just walking around. PhotoPass photographers are also available in several areas throughout the park to photograph guests.
Mickey and Minnie – Hyperion Theater
Disney Pirate Pals – Pirate Wharf
Villains – a bug's land
Princesses – Paradise Pier outside Ariel's Grotto
Playhouse Disney – Hollywood Blvd.
Snow White – in front of Disney Animation Building
Pixar Characters – near Toy Story Midway Mania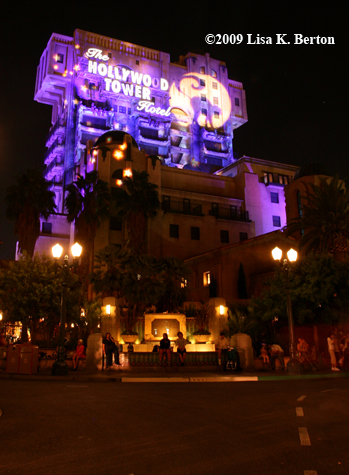 There are Halloween decorations all over the park – starting with the ghost lamps and large pumpkins at the Golden Gate bridge. Living scarecrows "hang around" and interact with guests near "a bug's land". Watch the sidewalks – images of pumpkins, bats, and ghosts are projected and revolve around. A black cat is projected on the Hollywood Tower Hotel, and there are spooky eyes or a skull and crossbones on the sides of other buildings.
The pirates have returned to the Pacific Wharf area, transforming it into Pirate Wharf. The area has been elaborately decorated with pirate treasure and the skeletal pirates who are guarding it. There are pirate-themed games with special prizes available, as well as a craft area where Peter and Wendy could be interacting with the kids.
DJs play a variety of Halloween and Top 40 hits from artists such as Backstreet Boys, Bon Jovi, and Ricky Martin at the stages at Candy Corn Acres, the Hollywood "Bat-lot" Bash, and Pirate Wharf. There are usually several characters at each location dancing with guests. Get down and boogie with The Incredibles. Throughout the rest of the park a soundtrack of spooky-but-fun music is playing, with selections like Grim Grinning Ghosts, Heffalumps and Woozles, Pink Elephants on Parade, This is Halloween, and Monster Mash.
The Mickey's Trick or Treat on the Street character cavalcade starts in Sunshine Plaza and makes two stops en route to the Golden State. The first stop is at Candy Corn Acres and the second is between "a bug's land" and Blue Sky Cellar. Kids and characters dance in the street during these breaks along with dancers who hand out special event pins to participants. The floats at the beginning and the end are accompanied by walkalong characters and costumed dancers. There are two large moving jack-o-lanterns in addition to the central float with Mickey, Minnie, Goofy, Donald, and Pluto in their Halloween costumes.
For parties on Monday-Thursday nights the character cavalcades takes place at 7:30 and 9:30 p.m., and for Friday or Saturday night parties it's scheduled at 8:30 and 10:30 p.m.
If you have comments or tips to share with others about touring Disney's California Adventure, please email us. Thank you.