Halloween Screams – A Villainous Surprise In the Skies Disneyland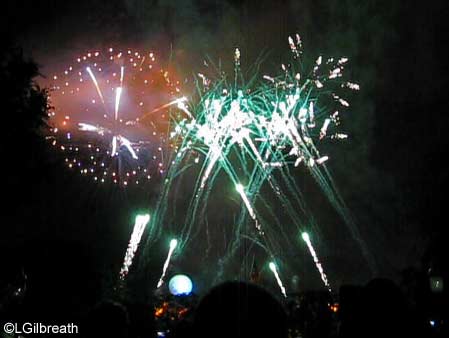 "Happy Halloween!
It's time to celebrate the season of tricks and treats.
The sights…the sounds…
Oooh…and what's this, you ask?
Well, let me show you!
We'll call out the spirits to socialize!
After all, my friends, this is Halloween!"
INTRODUCTION
New in 2009, Halloween Screams – A Villainous Surprise in the Skies, is a fireworks "spooktacular" that is presented nightly during the Halloween season. Master of "Scare-monies" Jack Skellington is joined by a host of Disney villains, in a frightfully fun show featuring the flight of ghost dog Zero and impressive pyrotechnics choreographed to a festive soundtrack of Halloween and villainous themes. There's even a Halloween "scream-along".
TOURING TIPS
The faces of Jack Skellington and the villains are displayed throughout the show on a projection "ball" that rises into place above the left side of the castle. Though the fireworks are visible from areas throughout the park, including Main Street, Small World Mall, and New Orleans Square, to experience the entire show guests must be able to see the projections on the ball and the castle. Guests secure prime viewing spots on Main Street well over an hour in advance on weekends. Most of the projections are also visible on the facade of "it's a small world", so that is an alternate viewing location for those who don't want to wait that long, though the angle for viewing the fireworks isn't optimal from there.
The show is about 12 minutes long.
For safety reasons, Toontown and Fantasyland close before the show starts and re-open afterwards.
INTERESTING FACTS
Those making special guest villain appearances in the projection ball are Ursula, Kaa, the Big Bad Wolf, Oogie Boogie, and Maleficent.
Musical selections include:
* Grim Grinning Ghosts
* This is Halloween
* Poor Unfortunate Souls
* Cruella DeVil
* The Crocodile Song
* Trust in Me
* Heffalumps and Woozles
* Pink Elephants on Parade
* Who's Afraid of the Big Bad Wolf
* I'm the Boogie Man
* Night on Bald Mountain
* Hellfire
* Grim Grinning Ghosts (reprise)
Flame spouts and and spinning Catherine wheels are just two of the pyrotechnic effects.
Halloween Screams premiered on September 25, 2009.
If you have comments or tips to share with others about touring Disneyland, please email us. Thank you.