Golden Vine Winery Disney's California Adventure
Introduction | Attractions | Dining | Shopping | Interesting Facts
INTRODUCTION
Rows of grapevines line the lower slopes of Grizzly Peak in the Golden Vine Winery area. A walkway winds its way under the grape arbor past the beautifully landscaped vineyard and up into the courtyard. The winery buildings in this picturesque area appear to be built of stone, just like those in California's Napa Valley. Do some wine-tasting, visit the Preview Center to look at future plans for the park, do some wine-tasting, or just sit and enjoy the ambience.
ATTRACTIONS AND ENTERTAINMENT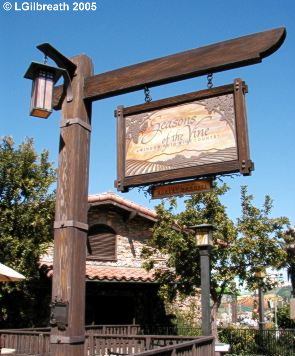 Blue Sky Cellar – Located in the wine cellar, this area contains exhibits, artwork, models, and even short video presentations describing plans for Disney's expansion of Disney's California Adventure over the next several years.
Wine Tasting – A variety of wines are available for tasting. Additional charge.
Disney's California Food and Wine Festival – During the annual festival, the Golden Vine Winery host multiple events, including wine-tasting sessions, special dinners, and a wine a tapas bar.
PLACES TO DINE
Wine Country Trattoria – Casual table-service dining, either inside or on the patio. Italian-style selections including pasta, soups, salads, and sandwiches.
Restaurants At A Glance
Menus From the Disneyland Resort
PLACES TO SHOP
There are no shops in this area.
INTERESTING FACTS
Before the citrus trees moved in, Anaheim was actually a grape-growing area with a number of vineyards. But in the 1880s a virus called "Anaheim Disease" destroyed the grapevines, and the growers eventually turned to citrus instead.
This virus still persists, and the vines at the Golden Vine Winery have to be re-planted as they fall prey to it.
If you have comments or tips to share with others about touring Disney's California Adventure, please email us. Thank you.