Aladdin & Jasmine's StoryTale Adventures Adventureland Disneyland
Introduction | Attraction | Touring Tips | Kids/Characters | Dining | Shopping | Interesting Facts
INTRODUCTION
In this live show Aladdin, Jasmine and a storyteller tell the tale of Aladdin and the magic lamp – with a little help from members of the audience.
ATTRACTION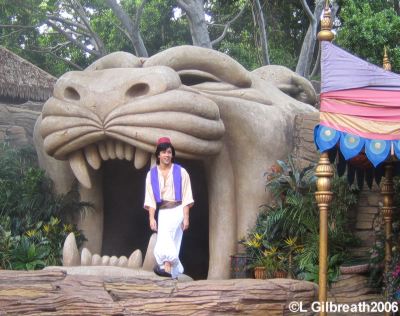 This 20-minute show takes place in Aladdin's Oasis, located in Adventureland next to the Tiki Room. It is presented several times a day on weekends (daily during busier times of the year) — check the Disneyland Times Guide for more details.
The show begins with Apprentice Storyteller Kazeem introducing Master Storyteller Kazoom, who emerges from the Cave of Wonders in a cloud of smoke. As Kazoom begins to tell his story, Aladdin and Jasmine also appear on stage to play their parts. Kazoom plays multiple roles – like narrator, Genie, and squeaky gate. Several kids are selected from the audience to play the parts of Jafar and palace guards. The audience is called upon to provide some sound effects, also.
TOURING TIPS
Seating is first come, first served. Children are encouraged to sit on the floor in front of the stage. There are several rows of padded metal chairs for adults, and on the "terraced" level in the back are tables with chairs. The theater is opened about 10 minutes before show time, but guests sometimes line up prior to that. The theater only holds about 200 people, and shows later in the day often are at capacity, while there are usually empty seats at the first two shows.
Strollers are not allowed in the theater, and must be left in the stroller area outside — Cast Members will direct those with strollers appropriately.
Special seating areas are available for wheelchair/ECV users and their parties.
The closest restrooms are outside of the theater near the entrance to Adventureland.
KIDS AND CHARACTERS
Several kids are selected from the floor area in front of the stage to participate in the show – the two that are chosen to be palace guards and the one that plays Jafar are invited up on the stage. There's also a child in the audience that is selected to make a funny noise – the "wish noise". All of the kids receive a button for participating.
After the show, Aladdin and Jasmine are available for autographs and photos.
DINING
The Tiki Bar is located in front of the Tiki Room, and offers Dole Whip and fresh pineapple juice and spears. ice cream bars, and beverages. Food and drink are not permitted in the theater's seating area.
Bengal Barbecue – Serves grilled chicken, beef, and vegetable kabobs as well as snacks and beverages.
SHOPPING
Adventureland Bazaar – Safari-themed plush as well as unique gift items such as African animal carvings.
Indiana Jones Adventure Outpost – Official Indiana Jones merchandise such as t-shirts and toys, as well as jackets, hats, and jewelry.
South Seas Traders – Offers hats, Hawaiian shirts, and grass skirts.
Tropical Imports – The finest in shrunken heads, rubber snakes and other creepy-crawlies.
INTERESTING FACTS
Aladdin's Oasis opened in January 1997.
The Tahitian Terrace, a lunch/dinner show featuring Polynesian dancers and entertainers, operated in the area now occupied by Aladdin's Oasis for over 30 years.
If you have comments or tips to share with others about touring Disneyland, please email us. Thank you.