Disney and the Big Easy
by
Joan Feder
Feature Article
This article appeared in the January 11, 2021 (#1119) edition of ALL EARS®
Editor's Note: This story/information was accurate when it was published. Please be sure to confirm all current rates, information and other details before planning your trip.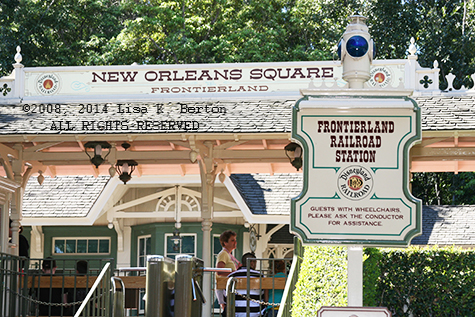 Disney's most recent animated film, Soul, focuses on the story of middle school music teacher and jazz enthusiast, Joe Gardner. The film and music were developed with input from Jon Batiste, a New Orleans musician who is also the bandleader for the Late Show with Stephen Colbert. This is just the latest in a long line of Disney's connections to the city of New Orleans.
Here is a list of several more:
The Invention of Audio-animatronics
In the late 1950s, Walt and Lillian Disney took a trip to New Orleans. While shopping there, he came upon an antique mechanical toy. The little bird in a gilded cage could sing, flap its tail and wings, and turn its head. Walt was fascinated. How did it work?
Walt brought this treasure back to California. He turned the bird over to the Imagineers and asked them to figure it out. He wanted them to make the bird moved and sing on cue. This challenge led them to create a new form of three-dimensional animation that they named audio-animatronics.
It wasn't long before these mechanical wonders were popping up in all sorts of Disney productions. In 1963, Disneyland's The Enchanted Tiki Room opened. It featured not only automated birds, but also singing flowers and chanting tiki idols.
The 1964 New York World's Fair also featured many Disney audio-animatronic figures. The Ford Motor Company showcased them in its Magic Skyway. Mr. Lincoln appeared at the State of Illinois Pavilion. And, there were all of the singing dolls at "it's a small world" presented by Pepsi/UNICEF.
That same year, another audio-animatronic was the first to appear in a Disney feature film. In Mary Poppins, a robin joins Julie Andrews in warbling A Spoonful of Sugar.
Since then, audio-animatronics have become a Disney staple. The technology has continued to evolve and will no doubt remain an essential part of the theme park experience.
Disneyland's New Orleans Square
Walt always intended that Disneyland include an area that had a New Orleans theme. When the park opened, the buildings on the edge of Frontierland were designed with that end in mind.
On August 9, 1955, a couple of weeks after Disneyland's grand opening, its "New Orleans Street" was christened. It was a big press event that included a Mardi Gras party with jazz music and a pancake eating contest.
Nearby, Lafitte's Anchor was on display. It was said to be a "relic" from the pirate ship commanded by Jean Lafitte in the battle of New Orleans on January 8, 1815 (the plaque also warned, "… don't believe everything you read").
Actress Dorothy Lamour, a native of the Big Easy, was there for the dedication. She broke a bottle of water from her hometown on Lafitte's anchor saying, "It looks exactly like the wonderful city in which I was born."
Disneyland promotional material from 1956 refers to the "finest barbecue this side of the Mississippi" being served "down on New Orleans Street over in Frontierland." And, a 1958 souvenir map gave guests a glimpse of Walt's plans.
In 1961-1962, construction began on New Orleans Square. It would be the first land added to Disneyland since its opening. When completed, the project cost $18 million, more than the Louisiana Purchase!
New Orleans Square was dedicated on July 24, 1966. There was a parade and jazz music; it was a party worthy of the Crescent City. The guest of honor, New Orleans Mayor Victor Shiro, arrived on the Mark Twain steamboat. He made Walt an honorary citizen of New Orleans. The celebration included food, of course, with many Cajun and Creole specialties, like shrimp remoulade and chicken gumbo.
Located between Adventureland and what is now Critter Country, New Orleans Square looks and feels like its namesake. There are small shops along narrow side streets. Wrought iron railings decorate faded townhouses. Mardi gras beads and hanging flower baskets add to the immersive atmosphere.
The area expanded in March 1967 when the Pirates of the Caribbean attraction opened along with the Blue Bayou Restaurant. The Haunted Mansion was added in August of 1969.
Unfortunately, Disney World's Magic Kingdom doesn't have a New Orleans Square. Tokyo Disneyland is the only other park to have anything similar. It is not, however, a separate land, but a smaller sub-area of Adventureland.
Disney World might have been built in New Orleans
There was a rumor that persisted for decades that Walt first considered building Disney World near New Orleans. In 1991, the Big Easy's newspaper, The Times-Picayune, apparently confirmed this folktale was more than a myth.
There is an area in New Orleans called Bayou Sauvage. The newspaper article reported that in the 1960s, it almost became one of the most famous tourist attractions in the world.
The article cites Sam Caruso, one time Mayor of Slidell, Louisiana, as its source. Caruso got his information from one of Walt's aides who had accompanied him on his exploratory visit. The aide told Caruso that Walt Disney was scouting in the New Orleans area on November 22, 1963 (the day that President Kennedy was assassinated).
According to the aide, everything at Disney World was going to be built in New Orleans. Supposedly Walt had already started buying land.
Disney soon realized, however, that Orlando was a better choice. The reason the deal fell through? Shakedowns. Louisiana wanted handouts while Orlando was offering Disney major incentives. Walt decided that in this case it was better to receive than continually give. He packed up his theme park and took it to Florida.
The area that might have been the Magic Kingdom did eventually become a tourist attraction. Bayou Sauvage is now a National Wildlife Refuge. Located in New Orleans, it offers city dwellers a chance to connect with nature and experience wildlife.
Disney World Resorts Celebrate New Orleans
Disney World executives were planning a New Orleans themed resort as early as 1982. It was going to be built near the Empress Lilly steamboat, located in the Lake Buena Vista Shopping Village (now Disney Springs). It was going to include affordable guest rooms, shops and restaurants. Unfortunately, the plans fell through.
This idea was resurrected almost a decade later. On May 17, 1991, Disney's Port Orleans Resort opened. Initially there were 432 guest rooms in three buildings. Later, four more structures were added bringing the total to 1,008 rooms.
Disney's Port Orleans Resort was built on the Sassagoula River, a 2.5 mile long man-made waterway. It links Port Orleans and the Old Key West Resort to Disney Springs.
On February 2, 1992, Disney's Dixie Landings Resort opened a little further down the Sassagoula. The Alligator Bayou Lodge buildings debuted first. Later, the more sophisticated Magnolia Bend buildings were added. The resort had 2,048 rooms in total.
Dixie Landings and Port Orleans merged to form one large moderate level resort on April 1, 2001. Dixie Landings was effectively erased, with all vestiges of its name and backstory removed. Even some of the road names were changed.
The original Port Orleans was rechristened Disney's Port Orleans—French Quarter. It has the feel of Disneyland's New Orleans Square. This resort features cobblestone streets, gas lamps and wrought iron balconies.
Dixie Landings was renamed Disney's Port Orleans Resort—Riverside. It evokes the romance of rural Louisiana. There are white-column mansions and backwoods cottages.
The Princess and the Frog
This 2009 animated feature is set in 1920's New Orleans. It tells the story of Tiana, a hardworking waitress who wants to open her own restaurant. Along the way, she kisses a cursed prince who has been turned into a frog. She becomes a frog herself, and heads into the bayou to find a way to reverse the spell.
Tiana was based, in part on Leah Chase, a famous New Orleans restaurateur. Ms. Chase started out as a waitress and went on to open her own eatery. She shared her story with film directors John Musker and Ron Clements when they were researching the movie. According to Clements, "we met with her and we talked with her and she went to kind of into her story, her philosophy about food, which is a big element of the movie."
On June 25, 2020, Disney announced that the Splash Mountain rides, located at Disneyland and Disney World, were going to be rethemed. Currently they are based on 1946's Song of the South.
The attractions will be reimagined to pick up Tiana's story where The Princess and the Frog left off. Guests will join Tiana and Louis on a musical adventure as they prepare for their first ever Mardi Gras performance.
Whether it's a movie, an attraction or a resort, Disney lovers everywhere have enjoyed the company's links to New Orleans. Here's a toast to those connections bringing us even more joy in the future. As they say in the Crescent City: "Laissez les bons temps rouler" or Let the good times roll!