April 2019 Walt Disney World Bits and Bites
Feature Article
This article appeared in the March 26, 2019 Issue #1018 of ALL EARS® (ISSN: 1533-0753)
Editor's Note: This story/information was accurate when it was published. Please be sure to confirm all current rates, information and other details before planning your trip.
= = = = = = = = = = = = = = = = =



STEP BACK IN TIME
= = = = = = = = = = = = = = = = =
by Joan L. Feder
AllEars® Staff Writer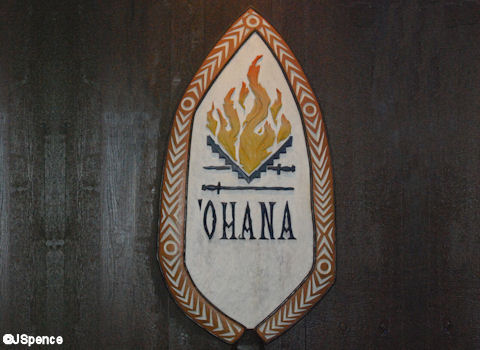 Join us on our monthly journey into the past as we step back in time and explore the history of Walt Disney World and the Walt Disney Company. This time we take a look back at the evolution of the Polynesian Village Resort's popular restaurant, 'Ohana, which opened in April 1995.
Walt Disney's fascination with Polynesia started with his first trip to Hawaii in 1934. He also frequented the Tiki restaurants and bars that were all the rage in the late '30s and '40s. Walt loved their food and atmosphere, and soon decided to open one of his own. But the Disney version would have something extra: the decor would come to life and entertain the guests. Over time, this idea evolved, coming to fruition as Walt Disney's Enchanted Tiki Room, and Disney World's Polynesian Village Resort.
When the Polynesian Village Resort opened on October 1, 1971, one of its restaurants was the Papeete Bay Verandah. It was located in the Grand Ceremonial House on the second floor. Themed as a French Colonial restaurant, the space had a beautiful view of the Seven Seas Lagoon and the Magic Kingdom. Breakfast and lunch buffets offered American and Polynesian entrees. Dinner also featured exotic specialties and a nightly Polynesian Review (not to be confused with the show at Luau Cove). In 1985, Papeete Bay Verandah became one of the first character breakfasts at Disney World. Hawaiian garbed Minnie, Mickey, Goofy, Pluto and Chip 'n' Dale all appeared at Minnie's Menehune Breakfast. Papeete Bay Verandah closed in September 1994. When the space reopened on April 12, 1995, it had been transformed into 'Ohana.
In Hawaiian, 'Ohana means family, and that is exactly the way they serve the meals at this restaurant. In the morning, it is a family style character breakfast that now features Lilo and Stitch. Dinner is an "all-you-care-to-enjoy" feast including three foot long skewers of meat that are grilled over an oak fire. 'Ohana saves the best for last. Their renowned bread pudding is served warm, with a side of banana caramel sauce, and topped with vanilla ice cream.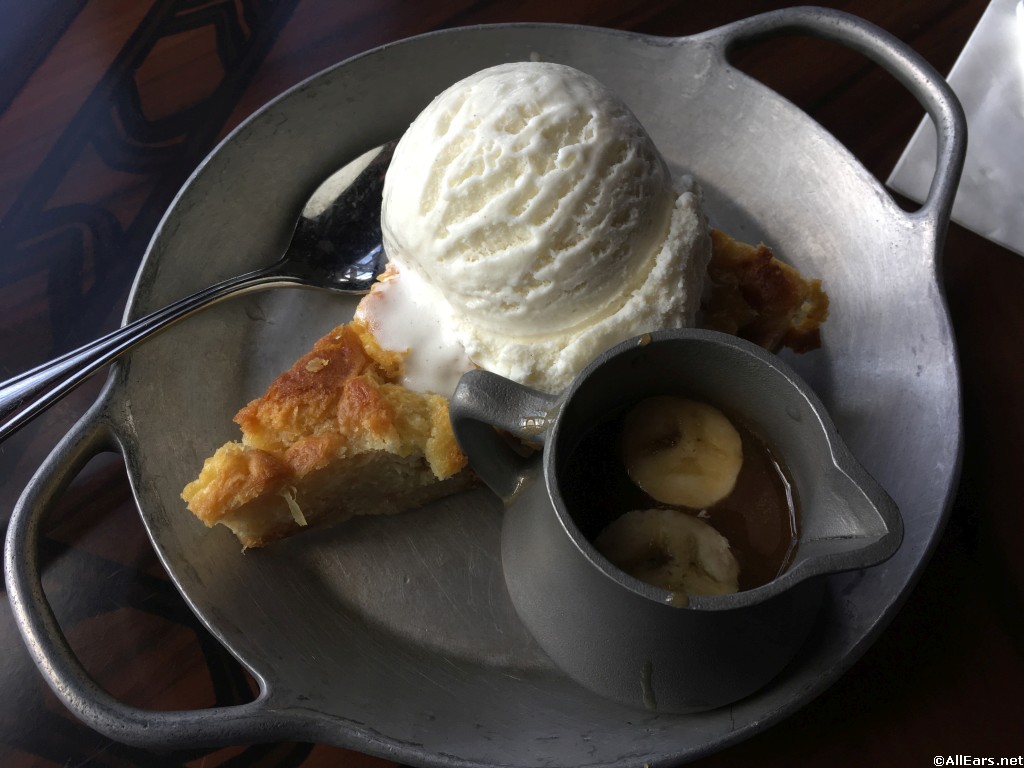 A variety of entertainment is offered. As before, many of the tables have views of the Magic Kingdom and its fireworks. Every night the lights are dimmed and the music is piped into the restaurant so that diners can enjoy the show. There is also a featured performer, and relaxing island music. But this is not necessarily the spot for a quiet romantic evening. This is one eatery that buzzes with activity. For example, kids race using brooms to sweep coconuts across the restaurant's hardwood floors, and everyone is invited to dance the Hula.
'Ohana is one table service credit per person on the Disney Dining Plan. Advanced Dining Reservations are a must, especially if you want to watch the fireworks. But don't despair if you can't get a reservation, you can still enjoy a taste of 'Ohana. Head to the nearby Tambu Lounge where they'll be happy to get you a slice of that magical bread pudding.
RELATED LINKS
Polynesian Village Resort Fact Sheet
= = = = = = = = = = = = = = = = =



HIDDEN MICKEYS ALERT
= = = = = = = = = = = = = = = = =
Steve Barrett, author of the Hidden Mickeys Field Guide books and webmaster of HiddenMickeyGuy.com, recently studied three Hidden Mickey images from around Walt Disney World. The first image from Spaceship Earth at Epcot looks pretty close as a Hidden Mickey, but please let me know if you disagree. The next two Hidden Mickeys in this article seem to be changing over time, with the effects of nature and cleaning and surface wear taking their toll on the images.
1. Spaceship Earth. Just past the scene with the family watching TV, a cityscape in the dark appears on the left of your vehicle. At the middle bottom of the row of buildings, three tiny lights close to the lakeshore simulate a decent classic Hidden Mickey. (Thanks to Kyle Lighting, Maha Kaissi, Roberta Stafira, and Alena White.)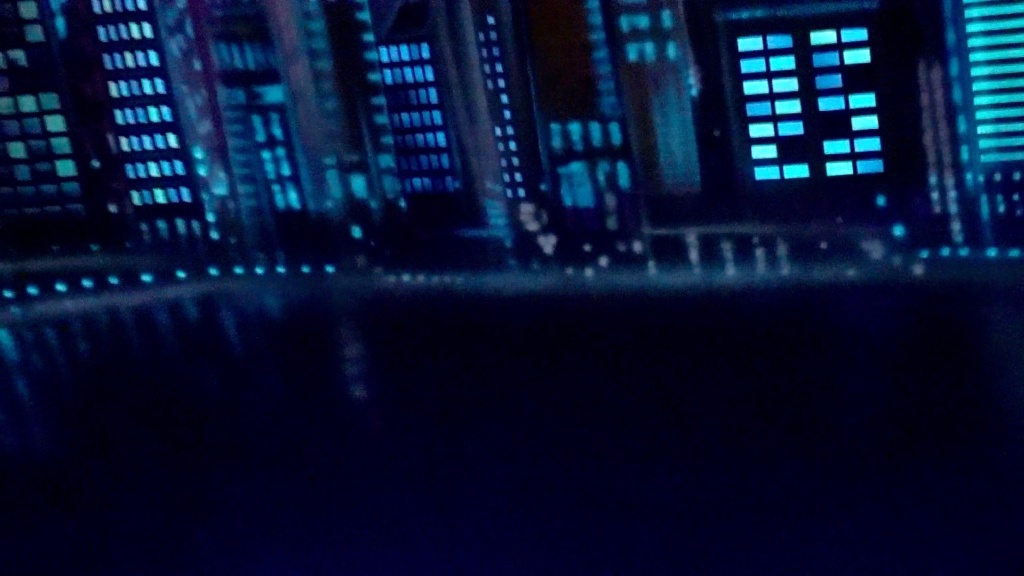 2. Pandora – The World of Avatar. Outside, walk away from Pongu Pongu refreshment stand and locate a small seating area by a lightpost. On the cement walkway by the lightpost are rust circles left by barrels that have been moved. Three of these circles come together as a classic Mickey. First spot the smaller "ears" and then the larger "head" under them. One side of the "head" has a ragged appearance. One "ear," to the left of my hand in the photo, seems to be fading.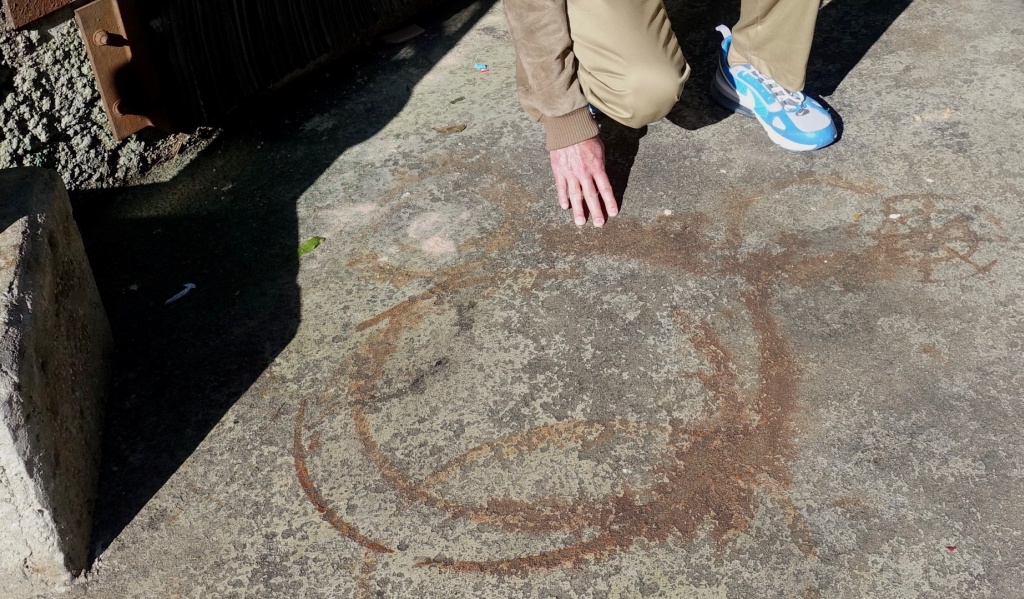 3. Disney Springs, West Side. A classic Mickey is etched in a sidewalk at the far end of Disney Springs West Side near the parking lot. It's on the second slab back from the end of the sidewalk, just past a manhole cover and near the grass. The "ear" farthest away from my hand appears to be wearing away.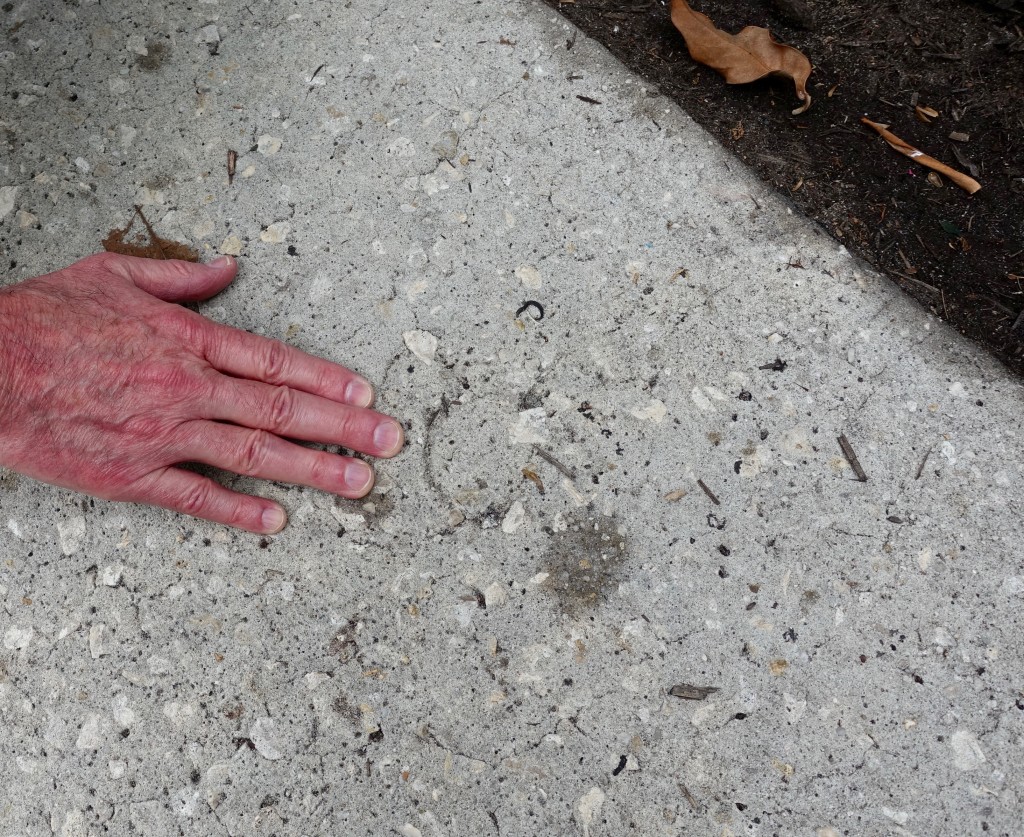 =-=-=-=-=-=-=-=-=-=-=-=-=-=-=-=
You can find an archive of past Hidden Mickey Alerts HERE.
And check out our latest Searching Disney with Steve blog.
= = = = = = = = = = = = = = = = =



MONTHLY REMIND-EARS
= = = = = = = = = = = = = = = = =
April 4-7: Star Wars Rival Run Weekend 2019 at ESPN Wide World of Sports.
April 21: Easter. There will be special Easter meals at Disney World restaurants, as well as special activities, to be announced soon.
April 22: Earth Day. Disney's Animal Kingdom usually celebrates this date with a "Party for the Planet" festivities.
Through Sept. 30: 90 Years of Mickey Mouse — "The World's Biggest Mouse Party" is a celebration at Disney parks and resorts around the world, with commemorative merchandise, photo locations and more.
Through June 3: The 2019 Epcot International Flower and Garden Festival. In conjunction with this festival, the Garden Rocks Concert Series will take place nightly at the America Gardens Theatre in Epcot's World Showcase.
Check our Events page for a full schedule of upcoming events.
-=-=-=-=-=-=-=-=-=-=-=-=-=-=-=-=-=-=-
Resort-Wide
Disney Skyliner:
Walt Disney World is in the process of creating a new transportation system, Disney Skyliner, which will give you a bird's-eye view of the resort while traveling via gondolas. During this time, testing and construction noise will be seen and heard throughout the resort, but noise should not be heard from Disney hotel rooms between dusk and 9 a.m. Skyliner will open in Fall 2019.

The Walt Disney World Monorail system is undergoing ongoing refurbishment. As a result, normal service and/or routes may be modified. Alternative transportation options will be available during this time.
Rafiki's Planet Watch temporarily closed on October 20, 2018. It will reopen in Summer 2019.
Star Wars: Galaxy's Edge —
Work is underway on the 14-acre Star Wars-themed land at Disney's Hollywood Studios that was announced during the 2015 D23 EXPO. Galaxy's Edge will open at Walt Disney World on August 29, 2019.
Walt Disney World Railroad closed December 3, to make way for construction of the new TRON attraction.

Tomorrowland Speedway closed in January 2019, also as part of the TRON construction. It will reopen later this year.
Rooms are undergoing refurbishment through early 2019.
Animal Kingdom Lodge – Jambo House
Rooms are undergoing refurbishment through Fall 2019.
Art of Animation Resort is currently undergoing some general refurbishment projects. During this time, the resort will be in full operation with all amenities available, including dining, merchandise and recreation locations. It is possible that construction may be seen or heard, but noise should not be heard from guest rooms between dusk and 9 a.m. No end date for these projects has been announced as yet.
The previously announced new 15-story Gran Destino tower will open at Disney's Coronado Springs resort on July 9, 2019. The rooftop restaurant, Toledo, will also open on that date.
Disney's Old Key West Resort is undergoing a wholesale refurbishment, which is expected to be completed in 2019. You can see some photos of refurbished rooms HERE.
The rooms at Port Orleans Riverside are being refurbished now through early 2019.
The Walt Disney World Swan and Dolphin
A new tower to be called The Cove is under construction. It will be located on the site of the Swan's tennis courts, adjacent to Fantasia Mini-Golf.
NBA Experience at Walt Disney World Resort will be a one-of-a-kind basketball-themed experience featuring hands-on activities that put guests of all ages right in the middle of NBA game action. There will be immersive NBA video productions and numerous interactive experiences and an exciting retail store that will offer something for all NBA fans worldwide. The NBA Experience opens August 12, 2019.

City Works Eatery and Pour House, a restaurant and bar known for craft beers from local breweries and around the world, plans to open its eighth location in Disney Springs West Side in Summer 2019.
-=-=-=-=-=-=-=-=-=-
A complete list of known rehabs can be found HERE.
= = = = = = = = = = = = = = = = =



MAGICAL MOMENTS
= = = = = = = = = = = = = = = = =
Each month, we like to share a few heart-warming Magical Moments brought to us by the amazing Disney cast members.
Jenna: My young daughters and I were browsing in MouseGear in Epcot. My older daughter, 6 years old, was particularly enchanted by a Christmas ornament and was oohing and ahhing over it, then pretended to give it a kiss. Unbeknownst to us, a couple of cast members were standing behind us watching her and came up to us. They told her that it was the sweetest thing they'd seen in a long time and told her that Mickey would like her to have the ornament and wrapped it up for her. Her little heart was so happy — and so was mine!
Mark: On our recent trip to Magic Kingdom over February vacation my daughter was just tall enough to make her first ride on Space Mountain. When she got up to the launch spot they checked her height again and I pointed out to the cast member that she had a pin on because she rode Everest for the first time that day. The cast member quickly sprung into action realizing this was her first Space Mountain ride and started to make a big deal about it for her. After we rode the ride he met us at the bottom and took her through the back to the launch spot again for a re-ride! Then when we finished she was given a certificate for free ice cream for our family of four. This was such a special moment for her and was truly a wonderful display of Disney Magic!
Tracey: We travel often to Walt Disney World with our friends. On our last trip we were looking forward to eating our Mickey waffles on our last morning just before boarding the Magical Express to the airport. The sign outside the Beach Club Marketplace said breakfast was served 6 to 11a.m. It specifically listed Mickey waffles. We waited outside the marketplace for over a half-hour before it opened and were finally told hot breakfast didn't start until 7 a.m. Ten minutes after our Magical Express was to leave. After a few conversations I finally spoke to a supervisor named Sally explaining we had waited for the waffles because the sign said 6 a.m. She promptly had them fire up the waffle-maker and made us all fresh waffles free of charge! We loved the magical moment. And our waffles.
-=-=-=-=-=–=-=-=-=-=-=-=-=-=-=
EDITOR'S NOTE: We just bet you have a story to tell about an unforgettable moment during your Disney vacation! Please send your favorite memory for inclusion in a future AllEars® via our Contact Us page. Thank you all for sharing!