Another World: Disney's Hilton Head Island Resort
by Joan L. Feder
AllEars® Staff Writer
Feature Article
This article appeared in the March 13, 2018 Issue #964 of ALL EARS® (ISSN: 1533-0753)
Editor's Note: This story/information was accurate when it was published. Please be sure to confirm all current rates, information and other details before planning your trip.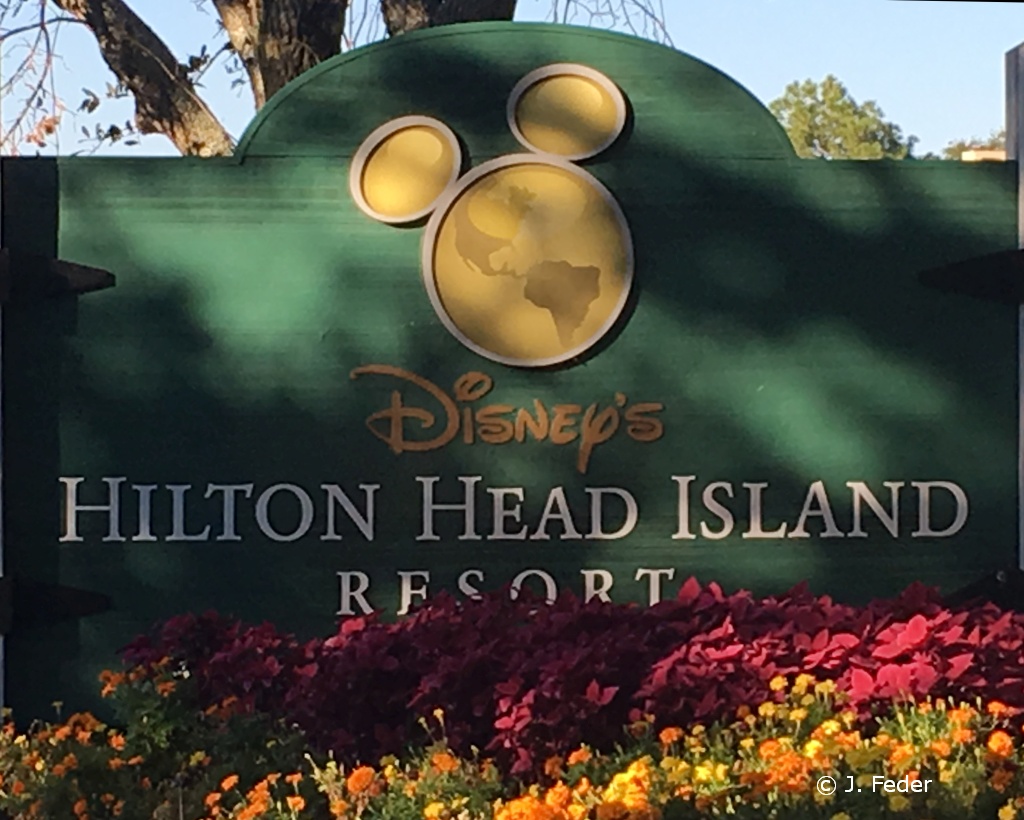 One of our favorite places to enjoy the beach, or stop between home and Walt Disney World, is Hilton Head Island. Located off the coast of South Carolina, Hilton Head Island is about eight miles north of the Georgia border. The area is famed for its natural beauty and wildlife, including 12 miles of pristine beaches. Disney's Hilton Head Island Resort is where we stay to enjoy all of the activities that keep us coming back year after year.
Disney's Hilton Head Island Resort opened on March 6, 1996. It is a Vacation Club property brimming with the Disney touch. The theming as a 1940s hunting and fishing lodge is right on point, just like any of the theme park hotels. The signs leading to the resort sport a not-so-hidden Mickey. A character topiary greets guests as they pull up to check in. Once inside, a wooden Mickey stands near the front desk waiting to shake hands. The gift shop sells Disney merchandise, including some that is exclusive to Hilton Head. Mickey Ice Cream Bars and Dole Whips are popular snack choices. Instead of characters to visit with, this resort has its own special Disney celebrity: Shadow, a real live Golden Retriever! She appears with her friend, storyteller B'lou Crabbe, at various times and places throughout the resort. Last time we were there, we were lucky enough to have her greet us as we checked in!
The layout of the resort is a bit unconventional in that it is composed of two separate areas. The larger part of the resort is located on 15-acre Longview Island, which is surrounded by Broad Creek. This is the heart of the resort, home to the Front Desk at the Live Oak Lodge, and all of the Villas. The Beach House is on the Atlantic shoreline, a little more than a mile away. A free shuttle runs regularly between the two sides.
The Villa side of the resort has a host of amenities. This is where you will find the Big Dipper Pool, a 72,000-gallon heated swimming hole with a nifty water slide. There is a whirlpool spa, and the Little Dipper pool/splash area for tots. Nearby are the Community Center, gift shop (it also sells limited groceries and sundries), and the 24-hour exercise room. Tide Me Over, a quick serve walk-up window, is open for light breakfasts and lunches. Horseshoe courts, charcoal grills and hammocks dot the grounds. There is a playground area, and equipment for basketball, table tennis, shuffleboard and pool are there for the asking. The resort also rents out beach chairs, and bikes (you can borrow helmets, locks, baskets and child seats) as well as fishing and crabbing gear. Refillable mugs are available, which can be filled at both sides of the resort.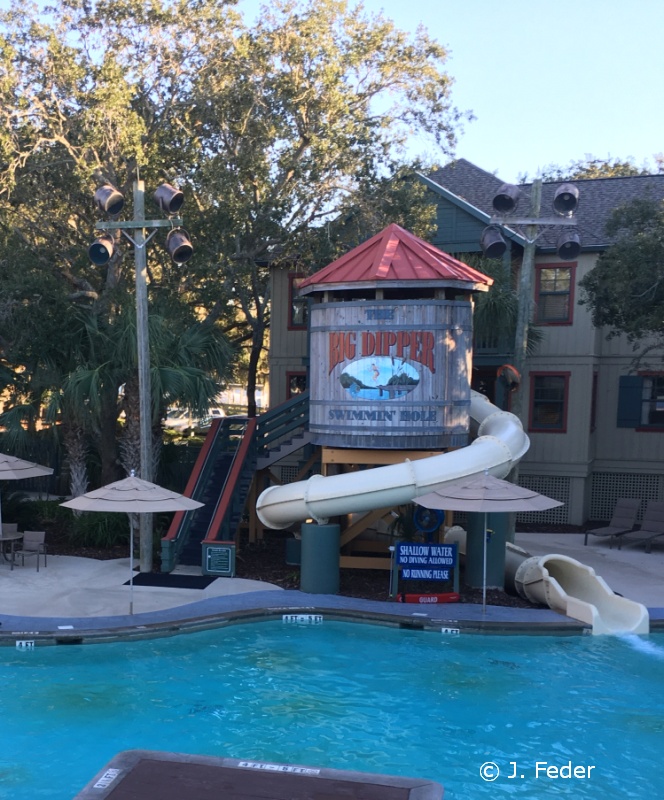 The lodging is set up somewhat like the Polynesian. The central lobby and check-in are located in the Live Oak Lodge. It houses several villas and Big Murggie's Den, where there is a large-screen television and a pool table. The lodge is surrounded by a series of "cabins" that contain the rest of the vacation homes. Rooms are very similar in size and furnishings to other Disney Vacation Club properties. They range from deluxe studios to three-bedroom Grand Villas. Most of the units are two-bedroom villas that sleep nine adults. The studios have a kitchenette, but all the larger units have a full-size kitchen, as well as washers and dryers. All rooms have balconies with rocking chairs, which are a lovely place to start or end a relaxing day.
To get to Disney's Beach House, guests can take the complimentary shuttle service, or a 1.25 mile bike path. Guests also can drive over, as parking is available for private cars at no charge, but it is limited. The Beach House sits on 3.5 acres of beachfront property, and has many amenities of its own. There is a heated pool and a kiddie splash area, but no whirlpool. Restrooms, showers and changing areas are at hand for men and women. There is an air-conditioned lounge with a large screen television, fireplace and indoor game tables. Signals quick-serve is open for lunch and ice cream treats seasonally from April to October, as is the Surfmen's Sand Bar, which serves drinks Monday through Saturday.
A stay at Disney's Hilton Head Island Resort offers several cast member-led activities, like campfires with storytelling and marshmallow-roasting, family games like Goofy Bingo, and Disney Movies under the Oaks. Some things cost extra, like the Activity Programs available for kids and teens. Kids over 8 can make a tie-dye T-shirt with Mickey in the middle. There is a special kayak adventure just for teens that includes lunch. And for the parents, there is Kids' Night In, three hours of supervised child care for ages 5 to 12. All ages can enjoy the seasonal Backyard BBQs and the Edmunds Family Low-Country Boils, which are offered once a week.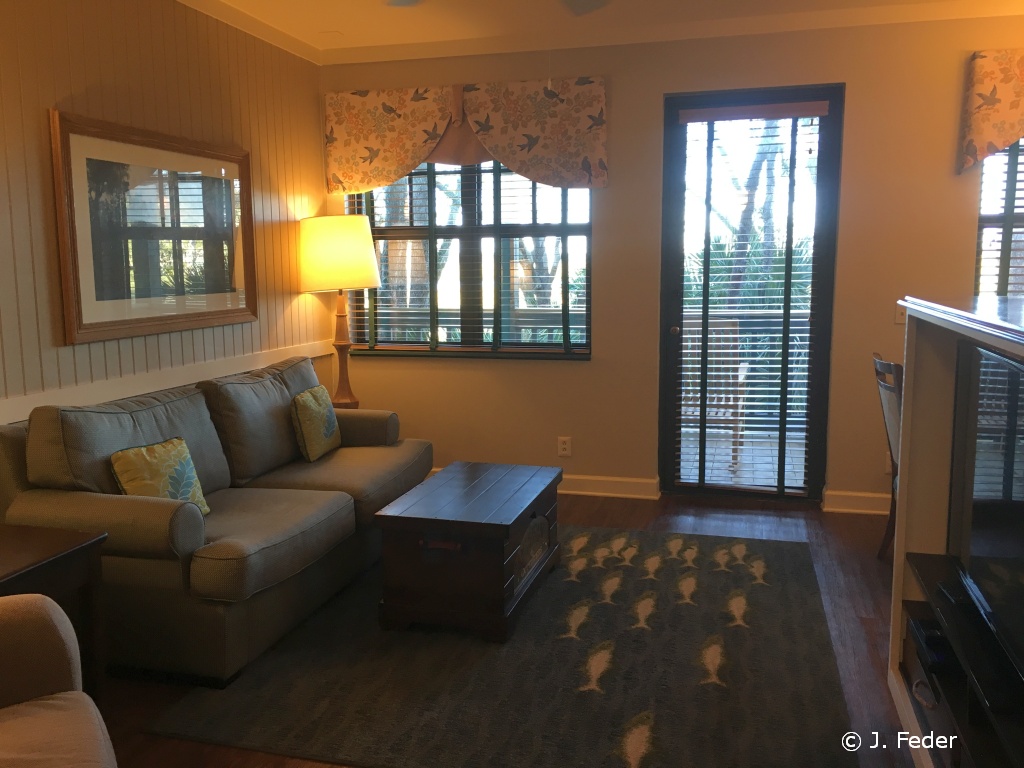 A beach resort that is not on the beach may be a drawback for some, but there are benefits to the resort's location as well. Shelter Cove Harbour and Marina has a variety of shops and restaurants that are just a short walk away. Several locations offer discounts to Disney resort guests. Many of the restaurants have waterfront seating and live seasonal music. During the summer, there are free nightly concerts for the whole family. Shannon Tanner has been performing at Shelter Cove Harbour for 30 years, and watching him perform is one of our family traditions.
There are plenty of other things to do in the Hilton Head area. There are 24 world-class golf courses, and hundreds of tennis courts. There are lots of trails for horseback riding or cycling. Fishing, canoeing and kayaking abound. For shoppers, there are more than 200 stores, including nearby outlet malls. Sightseers will enjoy dolphin-watching cruises, touring the lighthouses and visiting Daufuskie Island. More adventurous explorers can try out helicopter tours and ziplines, or pilot a Segway. Foodies will enjoy more than 250 restaurants, including many that specialize in the area's famous Lowcountry cuisine. If you are looking for a grownup night spot, my husband and I love The Jazz Corner. It is a terrific place to get dinner and see a show.
Disney's Hilton Head Island Resort is easy to get to; it is about five hours from Disney World by car, and an hour from the Savannah/Hilton Head International Airport if you fly. Check-in is after 4 p.m., and check-out is at 11 a.m. Online check-in is available 10 days in advance. There are no magic bands, however, so all guests must stop at the Front Desk to pick up their key cards on the way in. Bell services are NOT available; guests can borrow luggage carts, but note that many of the villas are up a flight of stairs. The resort is nonsmoking with designated smoking areas. Pets are not allowed (except Shadow). Twenty-four-hour self-service laundry is available, as are dry cleaning and valet laundry services for a fee. All rooms include free wireless internet and self-parking.
As you can probably guess, I would definitely recommend a stay at Disney's Hilton Head Island Resort. It is more relaxed than other coastal beach communities, yet there are more than enough things to do. Summer is high season, but we enjoy it year-round. In fact, we just returned from a stay in February, and we cannot wait to go back.
= = = = = = = = = = = = =
RELATED LINKS
= = = = = = = = = = = = =
Disney's Hilton Head Island Fact Sheet
Meet Shadow the Golden Retriever at Hilton Head
Other AllEars® features by Joan Feder:
— I've Heard That Voice Before: June Foray
— Taking a Spa Break
— Anyone CAN COOK: Cheddar Cheese Soup!
= = = = = = = = = = = = =
ABOUT THE AUTHOR
= = = = = = = = = = = = =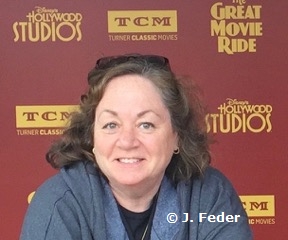 Joan Feder is a lifelong Disney lover and aficionado. She is a writer who loves to cook, read and travel. Her favorite spot to visit is Walt Disney World, where you can find her several times a year drinking a Dorma Nesmond at the Hollywood Brown Derby.
-o-o-o-o-o-o-o-o-o-o-o-
Editor's Note: This story/information was accurate when it was published. Please be sure to confirm all current rates, information and other details before planning your trip.