Sometimes you find a brand you love and you stick with it no matter what.
Precious Moments is that company for a lot of people. They make adorable figures, but did you know they have a whole Disney collection? They do, and we don't know about you, but we think it's time to shop!
DISCLOSURE: This post may contain affiliate links, which means when you click a link and make a purchase, we receive a commission.
Counting down to your next Disney trip? Pick up the Precious Moments Calendar right now!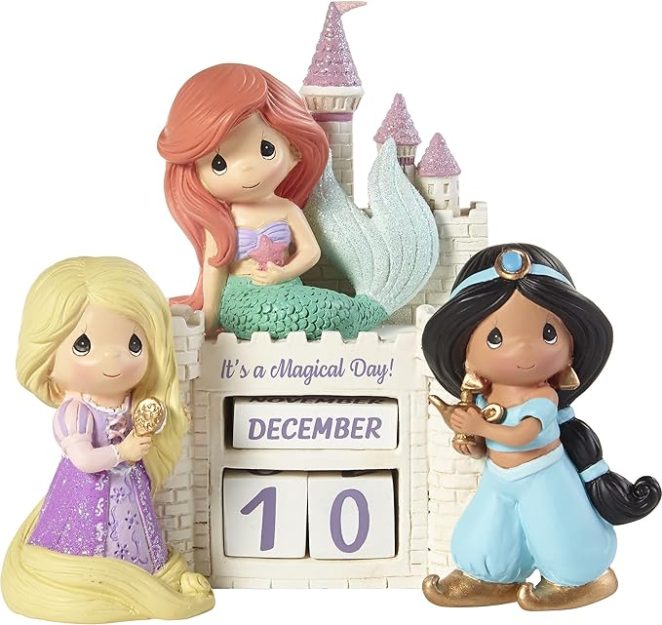 The calendar features three of our favorite Princesses — Ariel, Rapunzel, and Jasmine.
You can also grab the Hail To The Princess from the Disney Showcase Collection at a discounted price right now too.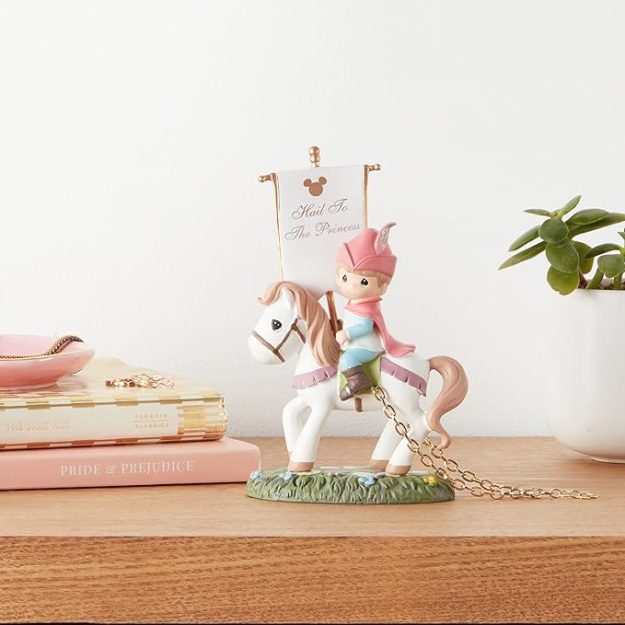 This can be a great gift for a baby shower, a welcome home gift, or just to gift to your favorite princess in your life!
If you know of a child turning 1 soon, grab them the May Your Birthday Be The Fairest Of Them All Precious Moments Figurine!
The figurine features Snow White in a carriage along with some of her woodland friends.
Love Frozen? The Building A Snowman is Better with You Precious Moments Figurine is perfect!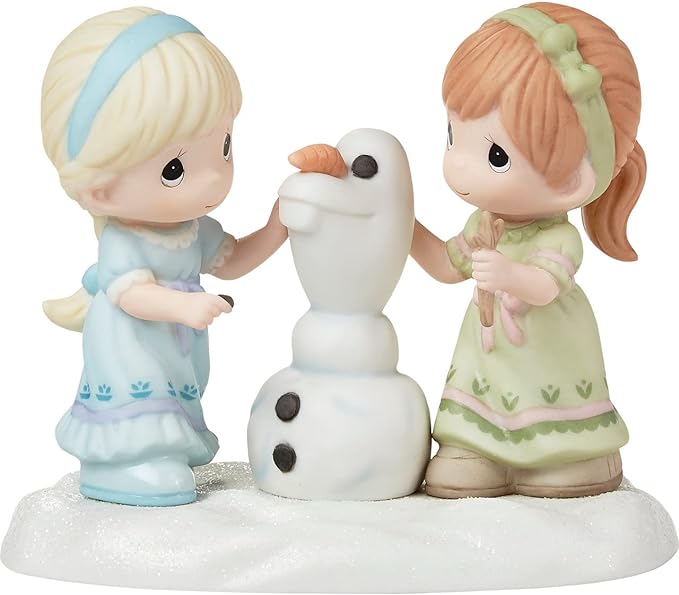 It's fantastic for a home that loves the movie, or has a set of sisters who see themselves in Anna and Elsa.
If you're looking to preserve a precious memory, grab yourself the Explore This Wonderful World Precious Moments Photo Frame.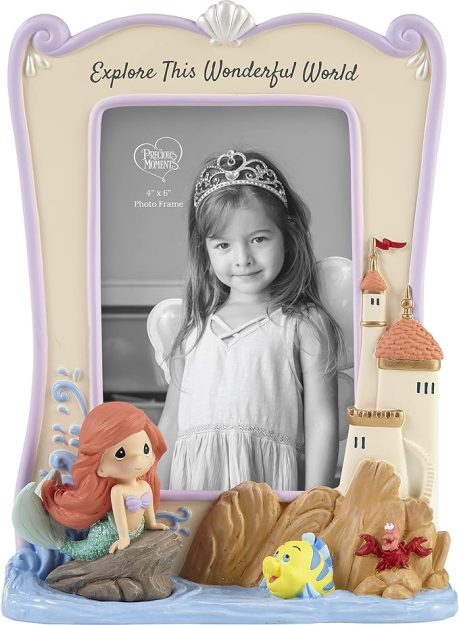 The bottom of the frame features Ariel, Sebastian, and Flounder in the water as the castle rises overhead.
A music box is also an option — grab yourself or someone you love the Sleeping Beauty Musical Precious Moments Figurine.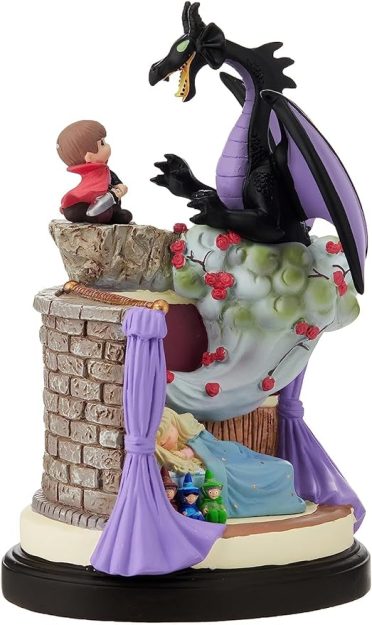 At the bottom of the figurine, Aurora sleeps with figurines of the three fairies beside her as she dreams of Prince Philip battling Maleficent.
Love Toy Story? The You've Got A Friend in Me Toy Story Precious Moments Snow Globe is a fantastic gift.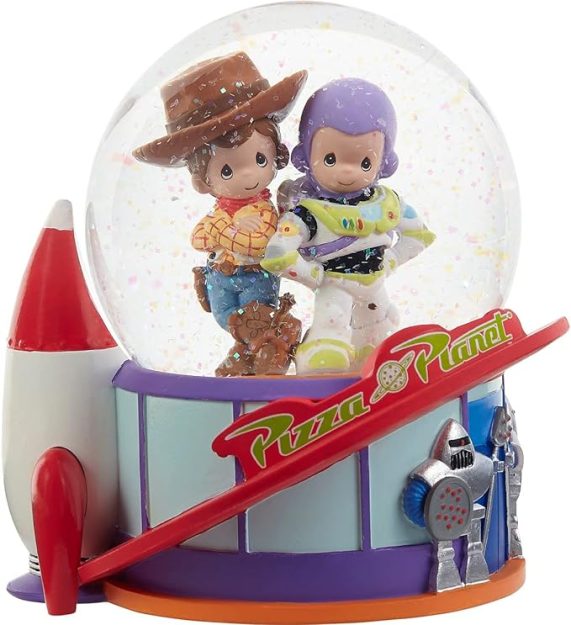 The bottom of the snow globe is decorated to look like Pizza Planet from the first film while Buzz and Woody stand inside the globe.
And we can't forget about Tinker Bell! The Faith, Trust, and Pixie Dust Precious Moments Figurine can also make a great gift.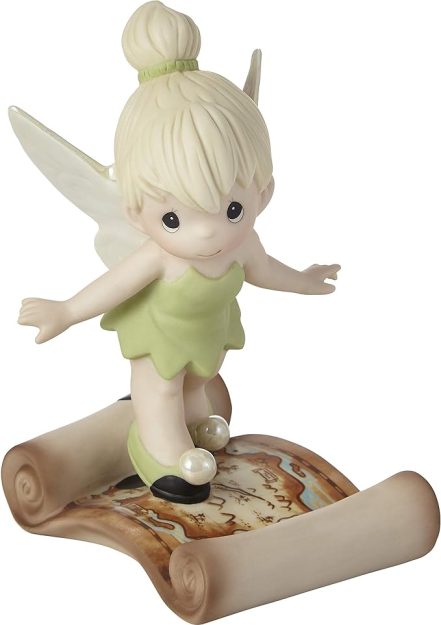 In this figurine, Tinker Bell is stepping on the partially unrolled map of Neverland.
If the first calendar wasn't your speed, throw it back to Steamboat Willie with the Precious Moments Mickey Mouse Perpetual Calendar.
The best part? You can use it at any time of the year!
For those who love classic fairytales, grab the Cinderella Sculpted Photo Frame to remember one of those precious moments!
The bottom of the picture frame features Cinderella losing her shoe on the staircase as she runs away from the ball.
We're always bringing you the latest Disney merchandise news, so stay tuned to AllEars!
Which of these items is your favorite? Tell us below!