Who doesn't want to save money whenever possible?
We know we're always trying to take advantage of deals and discounts, that's for sure! It's our mission to keep you updated on the best and latest ways to save money when it comes to Disney trips and merchandise, and we've got another hot tip that many of you may not know about!
DISCLOSURE: This post may contain affiliate links, which means when you click a link and make a purchase, we receive a commission.
Did you know you can score CHEAPER Disney gift cards depending on where you shop? That's right — we're here to spill the tea on where you can snag these. Let's go!
Costco
Three of the four locations on this list are wholesale clubs that require you to pay a membership fee to enter. However, if you already have one of these memberships, it can be a great way to save — this includes Costco!
Costco's Disney gift card deals come and go, and at the time of writing, they are not available online. Check your local Costco to see if they are on sale!
Sam's Club
The next spot where you can grab discounted Disney gift cards is Sam's Club! We recently spotted the deals for these online.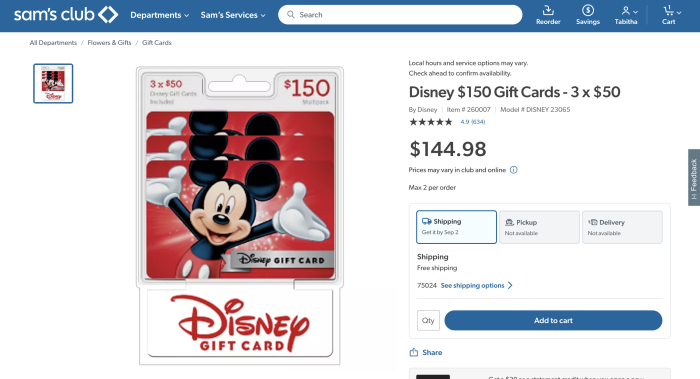 There are many variations that you can buy including $150 split into three gift cards (discounted to $144.98), a $50 gift card (discounted to $47.98), and a $500 gift card (discounted to $484.98).
Shop the Disney gift cards online here!
BJ's Wholesale Club
BJ's Wholesale Club is another spot with discounted Disney gift cards. We got a look at the prices in store and there are some significant savings here.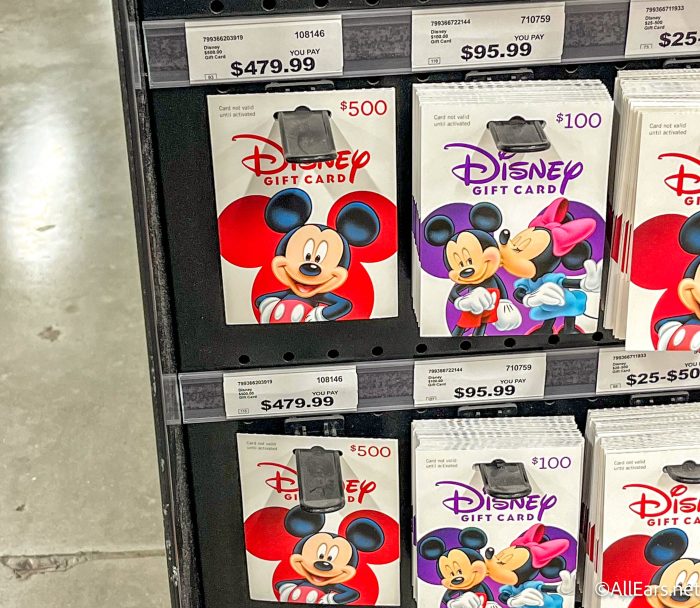 The $500 gift card is priced at $479.99 and the $100 gift card is priced at $95.99.
Target
Target is a little bit different than the other three locations. Instead of an upfront discounted price, you'll need the Target RedCard for these savings.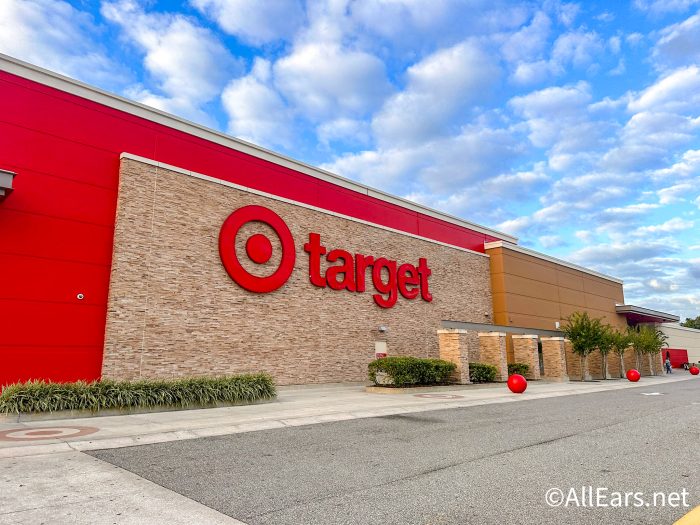 The reason we like buying Disney gift cards at Target is that if you use your RedCard to buy them, you can score 5% off. That might not seem like a lot, but if you're looking to use those gift cards for a Disney World trip, 5% might save you quite a bit.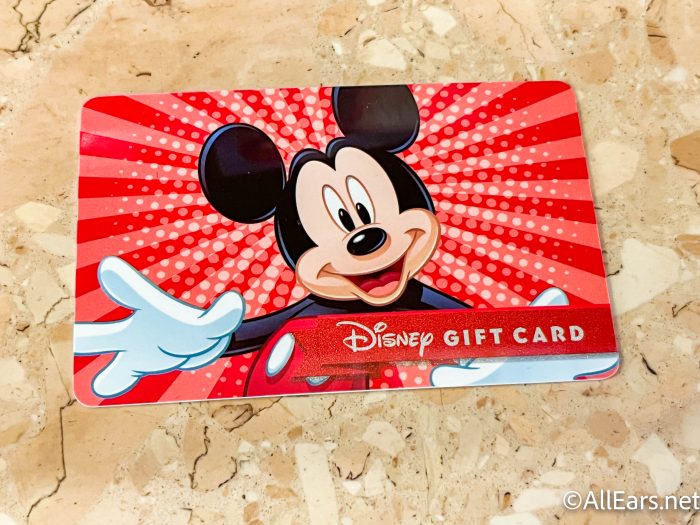 Target has varying amounts available online from $50 to $500. You can also buy them in-store!
Shop Disney gift cards at Target!
Disney gift cards can be used for just about everything, including food, merchandise, and even theme park tickets and hotel reservations. So while you may not think that you need a $500 Disney gift card, you should consider paying for your trip with them!
We'll continue to keep you updated with the latest Disney deals and discounts, so stay tuned to AllEars.