The Disneyland Hotel is a fan-favorite lodging option for many Disney fans out on the west coast.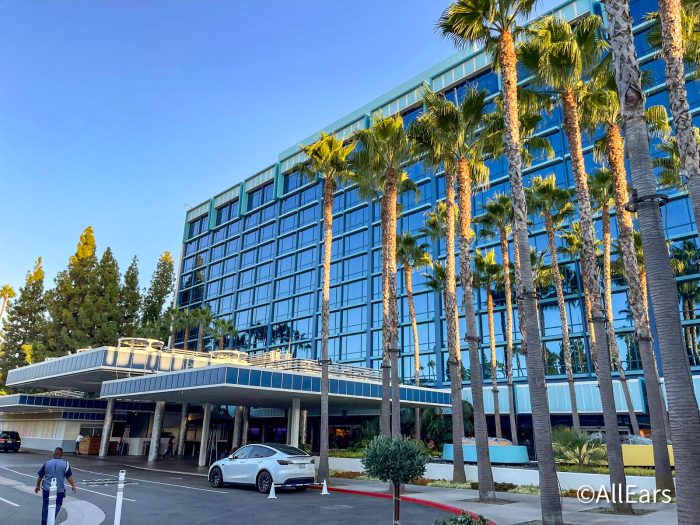 It's also undergone a LOT of change recently, with brand new Disney Vacation Club villas, a new rooftop pool, and some refurbishments here and there throughout the hotel as a whole. One new thing we're especially excited about is the addition of an all-new lounge that replaced the former Steakhouse 55 Lounge at the top of Fantasy Tower. It's simply called "The Lounge" and we're taking you with us to check it out, and even grab a few items to review. Let's go!
Background
The Lounge opened as a bit of a surprise to many Disneyland Hotel visitors, as it opened along with the new Disney Vacation Club additions and enhancements.  Of course, visitors were still excited to swing by and try some of the new offerings.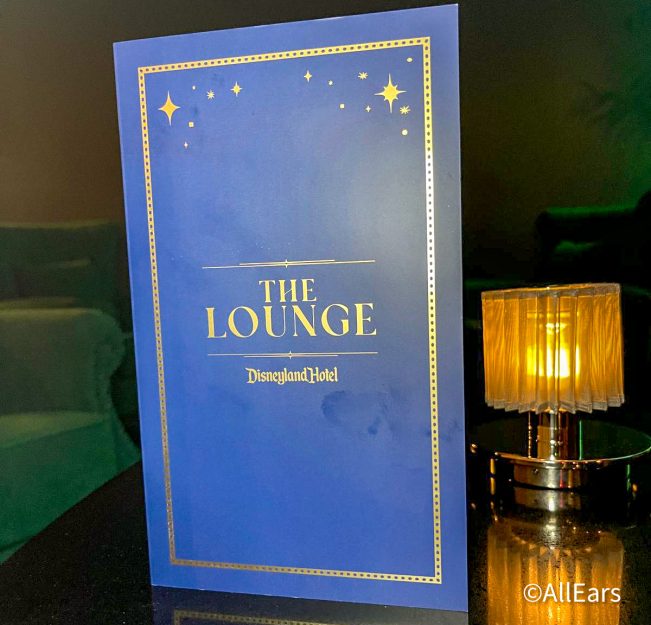 As we mentioned before, this area replaced the former Steakhouse 55 Lounge, so this means that The Lounge is right next to Goofy's Kitchen. We laughed to ourselves when looking at the stark difference between the two restaurants' entrances.
Atmosphere
Immediately when we walked in, we took notice of the deep blues and emeralds that make up the space. It's a very classy area, and we found that the color scheme had a very calming effect. We could see this being a great place to unwind. Throughout the lounge, there are quite a few seating options.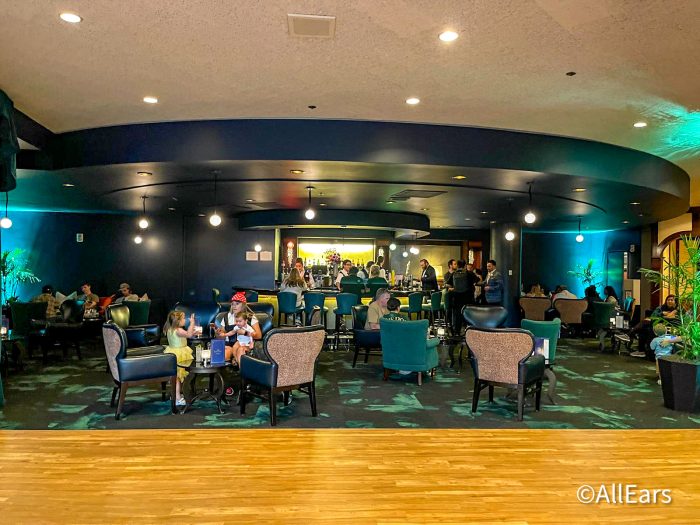 The space is primarily made up of plush chairs and lowered tables, which create an atmosphere that promote intimate conversation — exactly what you're looking for in a lounge.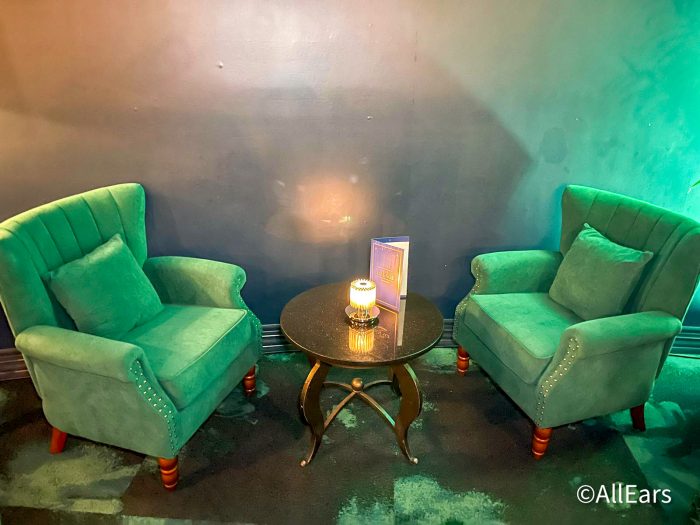 There are also some seating options that allow you to grab a spot on a couch instead of a chair. This could be ideal for a larger group!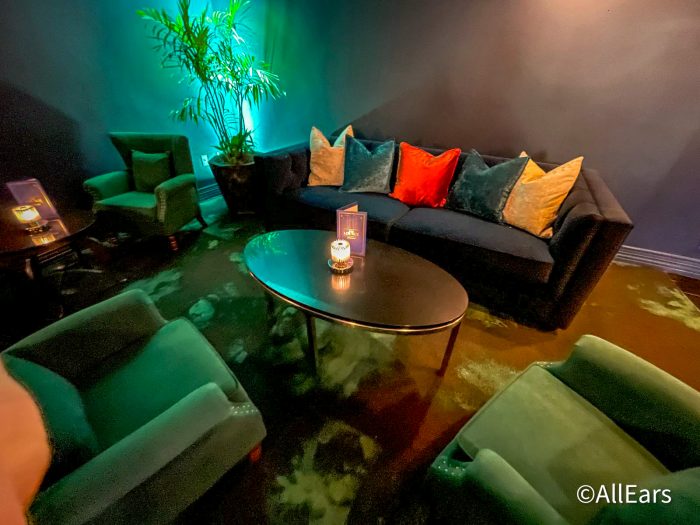 There's also a bar that provided minimal seating.
On each table, you'll have a menu and a candle.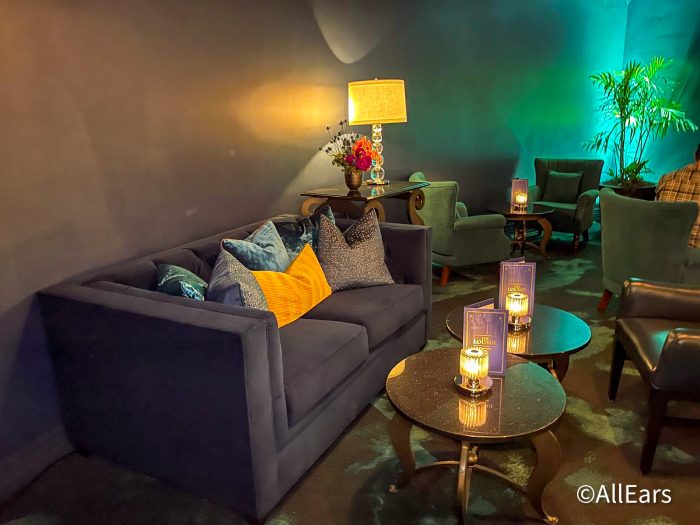 Alright, shall we move on to the yummy things?
Food and Drinks
Since this is a brand new space, we were pretty excited to check out what the menu has to offer. There are a few specialty cocktails available…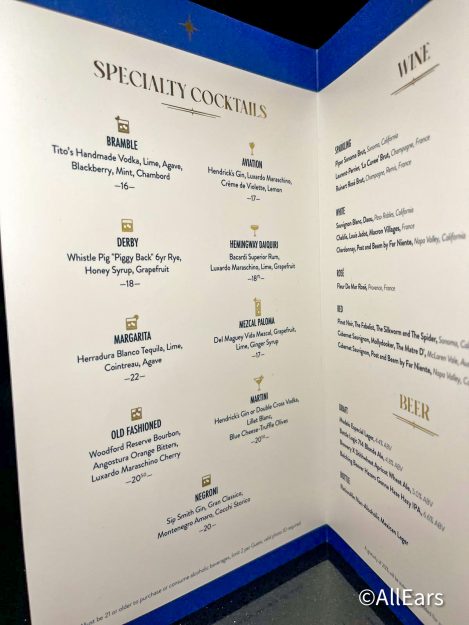 … as well as some wines.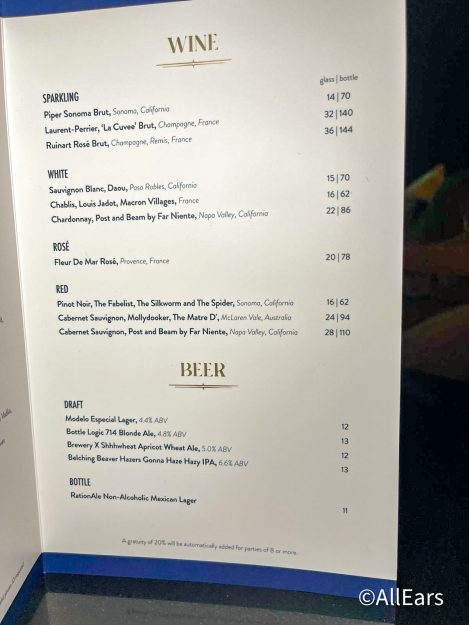 There are also quite a few food options that you can grab.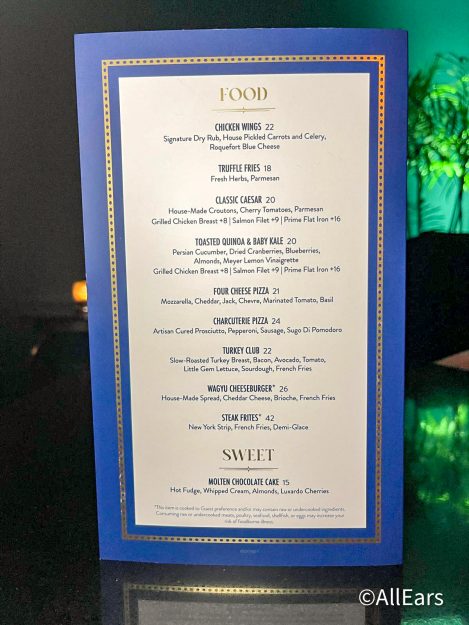 We were so excited to try out some food. We ordered the Bramble Cocktail, the Chicken Wings, the Turkey Club, the Waygu Cheeseburger, the Steak Frites, and the Molten Chocolate Cake. Let's dive in!
The Bramble is a $16 cocktail that features Tito's Vodka, lime, agave, blackberry, mint, and Chambord.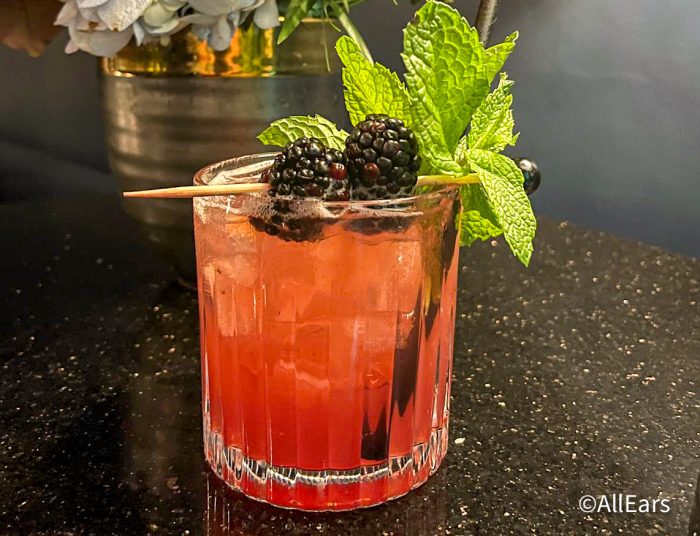 This drink is GREAT. It's really fruity, and the blackberry flavor is super prominent, which we love. The mint is reminiscent of a Mojito and offers a very refreshing aspect to the drink. The fresh berries are a great garnish. Now, let's dive into some WINGS.
The Chicken Wings are $22 and feature a signature dry rub and come with house-pickled carrots and celery as well as some Roquefort blue cheese for dipping.
These wings were AMAZING. They're super crispy and nicely seasoned on the outside, but the inside is perfectly juicy. The blue cheese IS very strong, so if you aren't a fan of that flavor you can ask for ranch.
Next up, we tried the Steak Frites. This dish is $42 and consists of New York Strip, french fries, and Demi-Glace.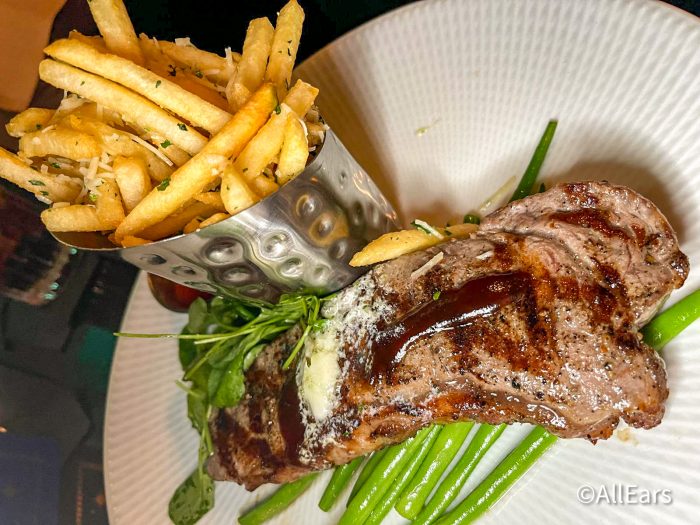 The steak is nice, but that's not what stood out about this dish. The star of this dish was the FRIES. They'e a regular french fry, but tossed in parmesan and other seasoning. They're nice and crispy, and so delicious. The green beans are fresh and had a proper crunch, but it wasn't like eating a raw green bean.
Now, let's try a sammie! The Turkey Club features a slow-roasted turkey breast, bacon, avocado, tomato, little gem lettuce, sourdough bread, and french fries. It's $22!
The turkey club was ver generously filled. It had a LOT of turkey. The produce was super fresh and crispy, and the bacon was FAN.TAS.TIC. The avocado and tomato added a nice touch of flavor and freshness. However…. the cheese was a little weird. We got Kraft singles vibes. It's just a little too soft. Back to the positives, though, the sourdough was excellent and enhanced the dish further. Oh, and those fries? SO CRISPY. So yummy. Great flavor!
Now, it's time to try the Waygu Cheeseburger. It's $26 and features a portion of Waygu beef, a house-made spread, cheddar cheese, bricohe, and french fries.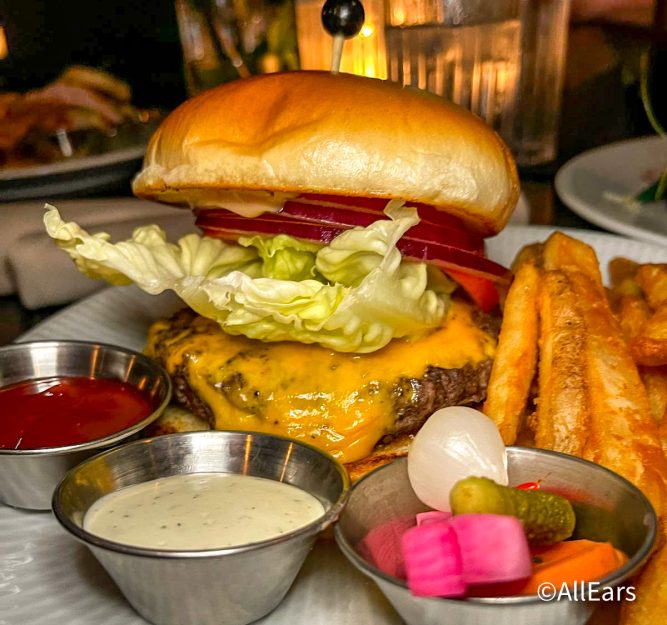 We DEMOLISHED this burger. The brioche was nicely toasted, the cheese was melty, and the sauce was a sweet and tangy Thousand Island situation that we LOVED. The burger also features very high-quality fresh produce. The Waygu is juicy and melts in your mouth. The fries were great, but the star here was the RANCH. It's GOOD RANCH. It's house-made and the perfect accompaniment to both the fries and the burger.
Last but not least, it's time for dessert. We ordered the Molten Chocolate Cake for $15. It's a chocolate cake that's topped with hot fudge, whipped cream, almonds, and Luxardo cherries. (AKA the fancy cherries that taste amazingly sweet.)
This dessert is RICH. Like, almost too much. It's definitely more of a ganache than a hot fudge, and the cake was DRENCHED in it. It was basically chocolate soup. It's good, but not amazing. We loved the presentation of this dish, though, and appreciated the Hidden Mickey in the whipped cream!
Should You Go?
So… Should you swing by The Lounge during your trip to Disneyland? Absolutely. For the cost of each dish, we got a LOT of food, and most of the dishes we tried were incredible. There isn't a whole lot of theming, and it's very different from your typical theme park vibe, but that just makes this a great place to unwind after a long day in the parks.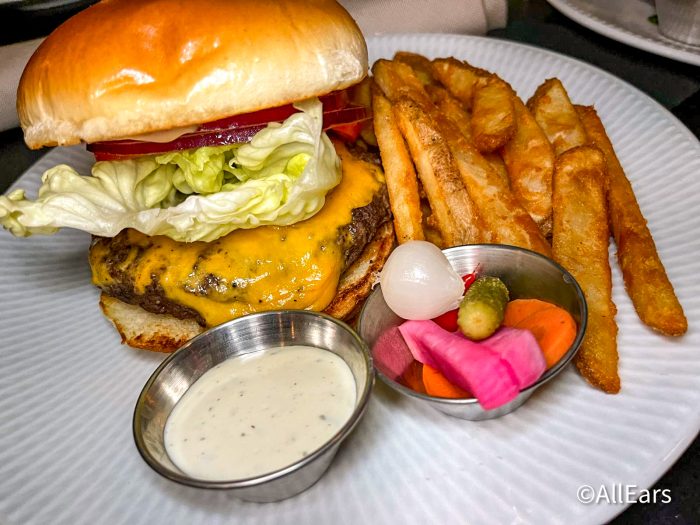 We definitely recommend the Bramble cocktail, the wings, and the Waygu Cheeseburger. We also can't wait to come back so that we can try the Truffle Fries, since we didn't grab those this time as we already had three different fries on our table!
We'll continue to keep you updated with more Disney news and restaurant reviews, so make sure to follow along so that you never miss a thing.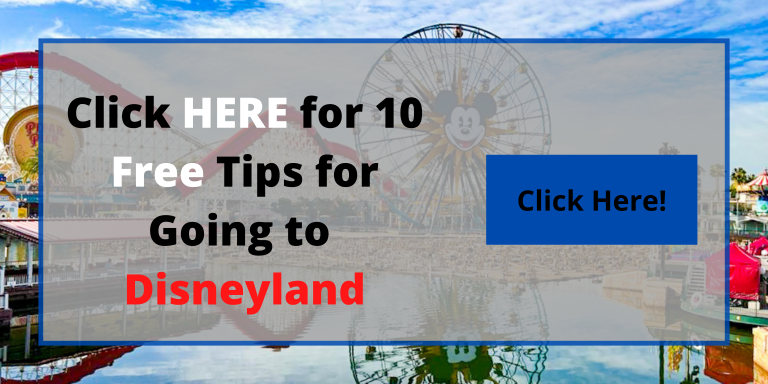 Would you try this new lounge at Disneyland? Let us know in the comments!