DISCLOSURE: This post may contain affiliate links, which means when you click a link and make a purchase, we receive a commission.
Get ready to have a strong wave of nostalgia rush over you (don't say we didn't warn ya!).
Disney has been releasing all kinds of unique merchandise in honor of the 100th Anniversary of the Walt Disney Company. We've seen everything from popcorn buckets that have caused chaos to unique shirts online and adorable items at Hallmark. But now Disney has released some MORE items and they're made for fans of all things colorful and retro.
Introducing the NEW Walt Disney's Wonderful World of Color collection! For those who may not be familiar with it, Walt Disney's Wonderful World of Color was (as D23 notes) a television series that aired on NBC from September 24th, 1961 through September 7th, 1969. If you've seen images of an old TV set with Walt in the center and Tink too, odds are it might have been a clip from the Wonderful World of Color.
Disney explains that the show originally launched on ABC in 1954 as "Walt Disney's Disneyland." At that time, "it was broadcast in black and white and hosted by Walt Disney." Then it moved to NBC in 1961 and was broadcast in color. At that time, the name changed to "Walt Disney's Wonderful World of Color," and then it eventually became "The Wonderful World of Disney."
Fun fact: Tink actually made her first flight over Sleeping Beauty Castle in 1961 — the same year she appeared on the Wonderful World of Color show to ignite fireworks. (You may also recognize the name of the show from the World of Color nighttime show, which has some nostalgic references in it, in Disney California Adventure Park.)
Well, now there's a whole merchandise collection that'll capture your heart if you love the sense of nostalgia that comes from that show. It's available online and we found most of it in Magic Kingdom (in the Emporium) as well.
We start with some fun Tinker Bell Crocs themed to the show. They have screen art of Sleeping Beauty Castle and Jibbitz of Tink and the Wonderful World of Disney logo.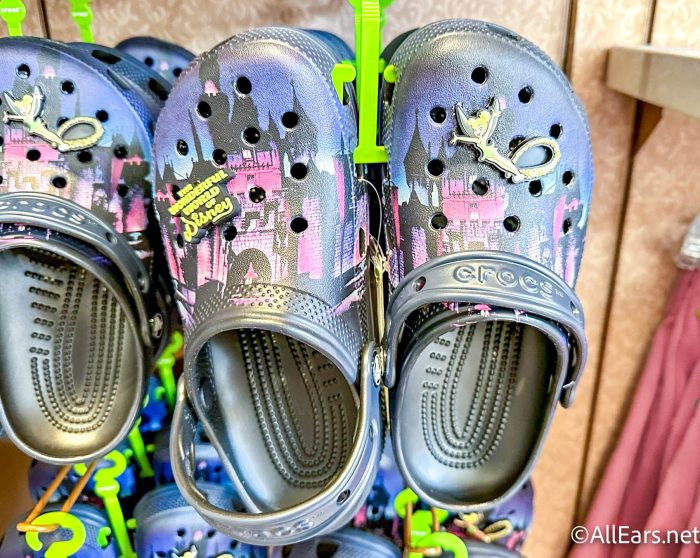 Wear these and you'll feel like you've hopped in a time machine in the best way possible. These really have it all — lightweight, glitter accents, good for rainy days, and a Disney design, what's not to love?
You can pair the Crocs with a hoodie to match. On the front, it's got a simple design with the Wonderful World of Color logo.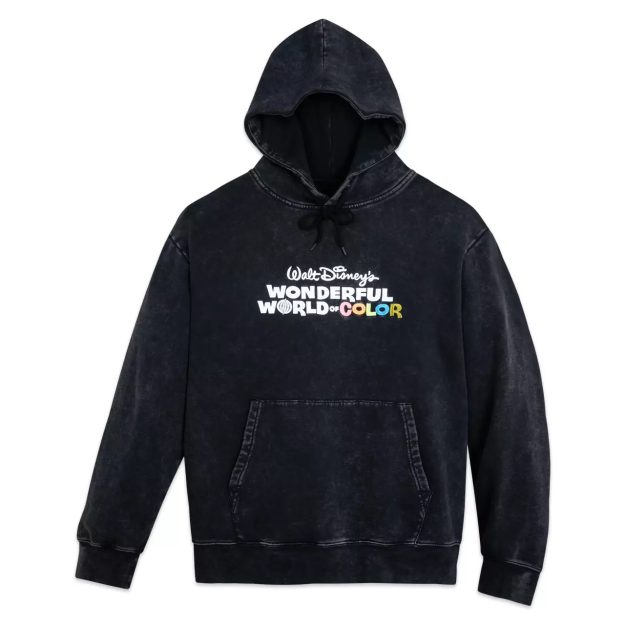 But the back is where things get much more elaborate. That's where you'll find some screen art of Walt Disney himself and Ludwig Von Drake. According to Disney, "Professor Ludwig Von Drake (Donald Duck's Uncle) debuted on the first episode of Walt Disney's Wonderful World of Color: An Adventure in Color in 1961."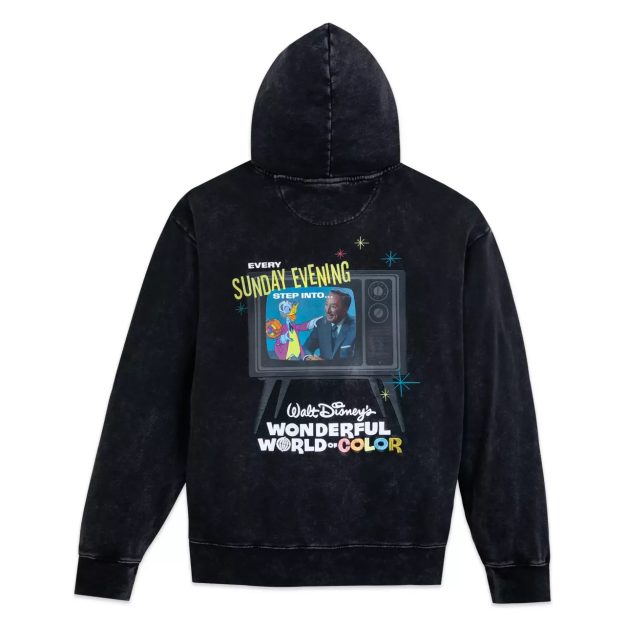 You can get this hoodie online in various sizes.
If you're more of a button-down shirt person, they've got that too. There's a woven shirt available that has a Sleeping Beauty Castle print on it.
What's great is that the design is split so half of it is in color while half is in black-and-white, really honoring the history of the show.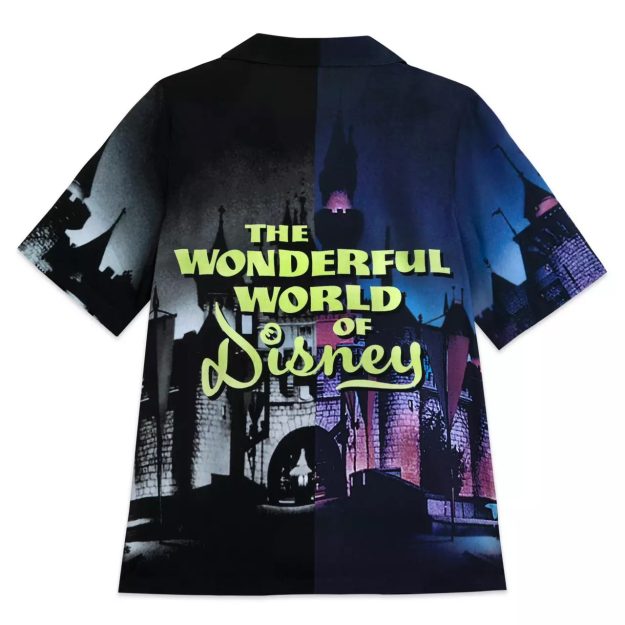 Grab this online or in Magic Kingdom in various sizes.
And if you want something to keep you warm but also show off your style with polka dots, you can pick up the Pullover Sweatshirt.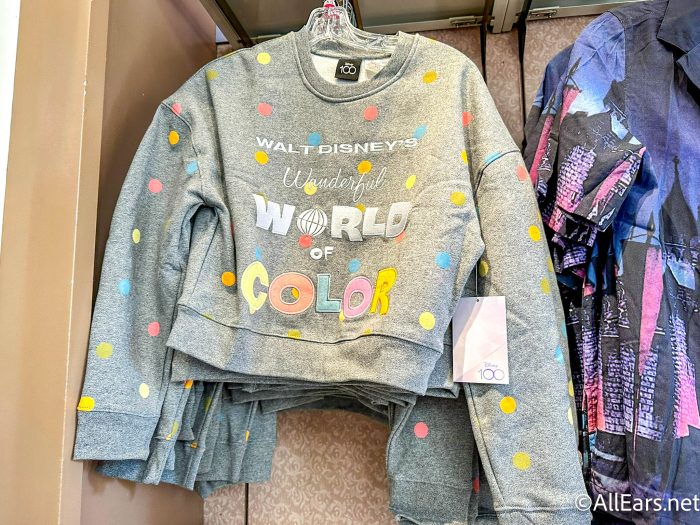 It has the show logo with polka dots in multiple colors all over. Also, how fun is that "O" in the word "World" with the retro design? SO FUN.
You can also pick up a purple Tinker Bell top for kiddos themed to this collection. 
It has more of that Castle and show logo print on it, with Tink displayed prominently on the shirt as the fireworks go off. We spotted this one in the parks a few days ago but now you can get it online too.
We also spotted an adult-sized purple shirt in the Emporium.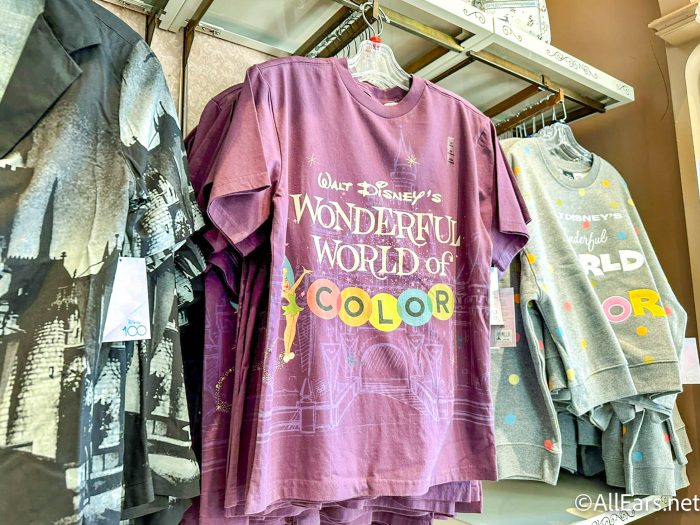 And finally, you can complete your look with the World of Color Shorts! These are a BRIGHT pink color, have the show logo on them, are covered in polka dots, and have Tink featured on them too. Let's just say, these are NOT for those who don't want to stand out.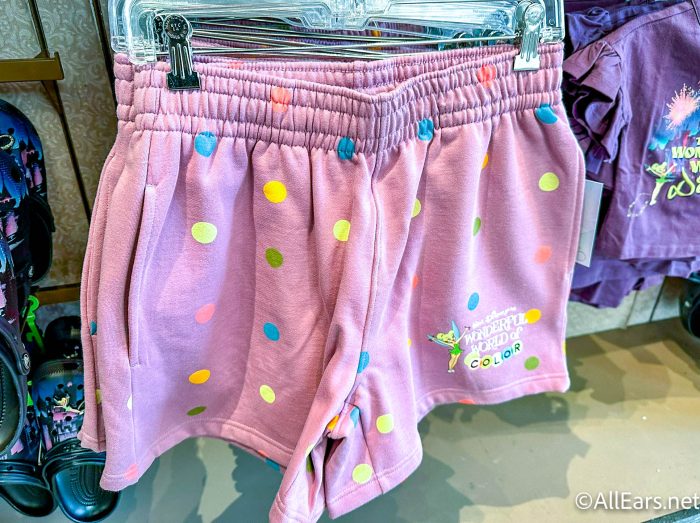 But if you love retro designs, pink, and polka dots — pick these up online or in the park.
That's it for this collection but there are PLENTY of other 100th Anniversary items to get online — you can shop a bunch of them here!
Plus, for a limited time, you can get a $12 Mickey Mouse Disney100 Hat Ornament with your purchase of any Disney100 item so don't miss out on that deal.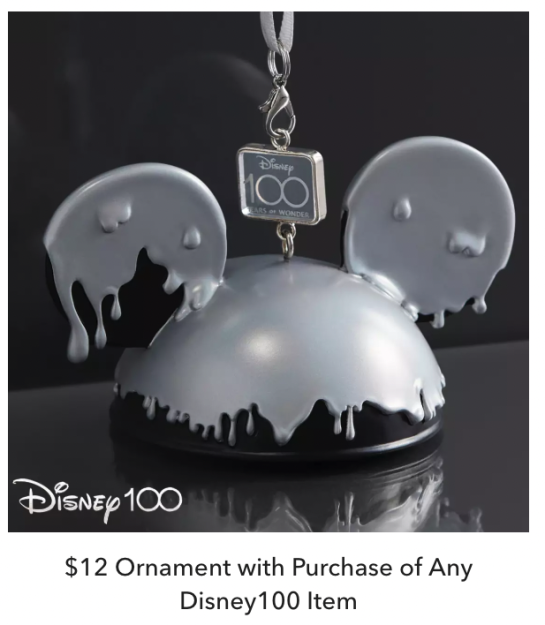 Stay tuned for more 100th Anniversary updates!
Which items from this collection do you like best? Tell us in the comments!