Hurricane season is rapidly approaching and you need to be prepared.
We've already taken a look at some 2023 hurricane season predictions and what they might mean for your Disney World trip, plus we've ranked some Disney World hotels based on hurricane readiness. But now we have some critical dates for you to keep in mind if you'll be traveling to Disney World during this time.
Hurricane season lasts from June 1st through November 30th in the Atlantic. So if your trip falls between those dates, it is in your best interest to know what to expect if a hurricane impacts Florida, what things you'll need, and more.
Now, it's important to keep in mind that Orlando is quite inland so it usually doesn't feel the full force of a hurricane. But even a non-hurricane-force heavy storm can bring down tree branches, cause flooding, and lead to other complications, so storms are important to be prepared for.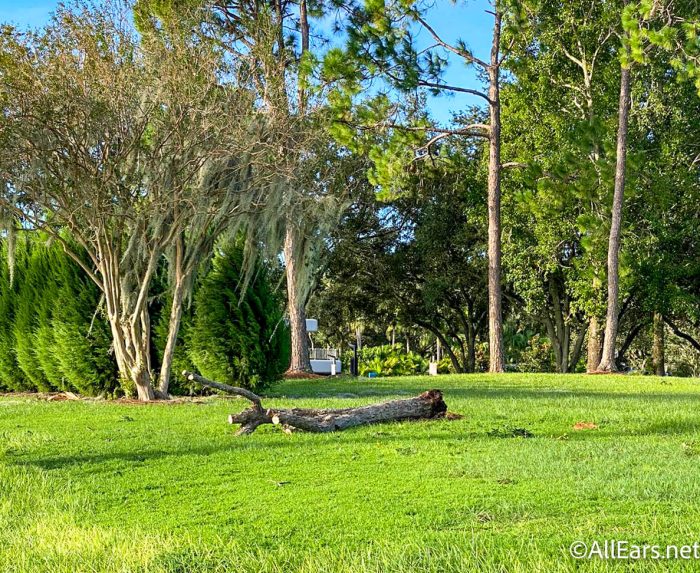 WESH 2 News has released its 2023 hurricane season forecast and it has some important details you'll want to know. This was prepared by meteorologist Eric Burris who has shared his own look at weather patterns from the past and what "hot spots" could pop up this year.
According to Burris, in 2022 the WESH 2 forecast "accurately predicted where every named storm went, and when they made landfall." So there's a good track record there!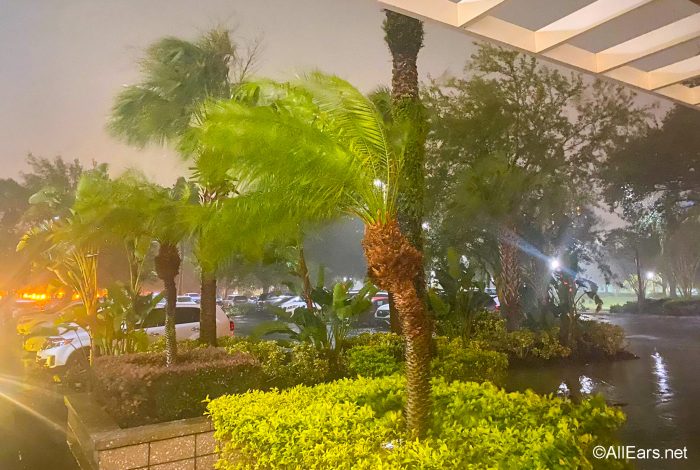 First, let's look at the "hot spots" for 2023 — these are the areas that are at "greatest risk of seeing a landfalling tropical system in 2023." Unsurprisingly, many spots along the Florida coast (including some up closer to Orlando — though Orlando is more in the middle of the state) are on the map.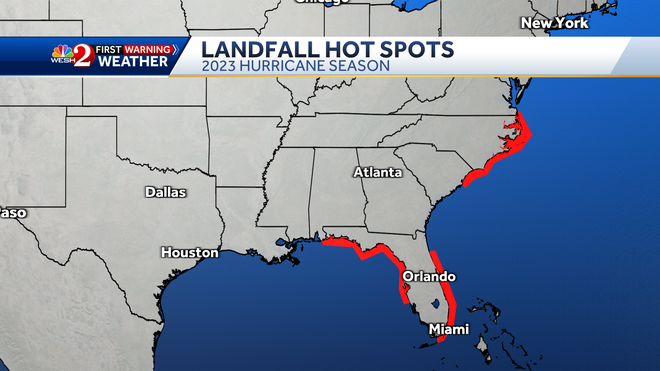 Burris points out that Hurricane Nicole impacted the east coast of Florida (came ashore along the Treasure Coast and moved through Central Florida). He expects that the area highlighted in red has a "higher than average chance for landfall from this part of our weather pattern."
On top of that, Burris has predicted that this weather pattern could "return" between May 30th-June 3rd, July 20th-24th, and September 8th-13th. He notes that during these times he expects a storm system to be around (even if it's just a bit of rain). He also predicts that the September window could have the biggest chance of yielding a tropical system.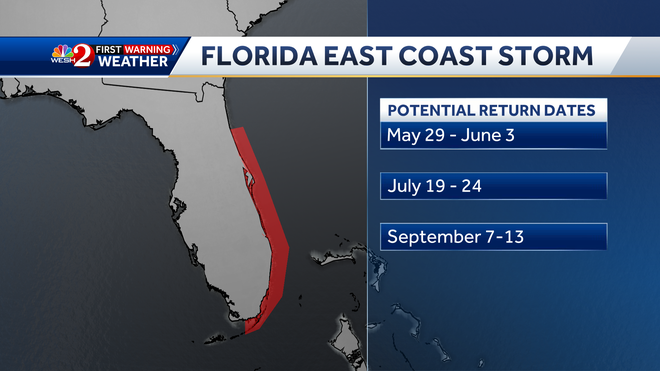 Storms can push in from the west coast too. Burris notes that back in November, an area of low pressure formed in the Gulf of Mexico and moved over Florida. This could threaten the Florida panhandle and west coast again this year.
He has predicted the following potential return dates for this particular pattern: May 22nd-25th, July 12th-15th, and August 31st-September 4th.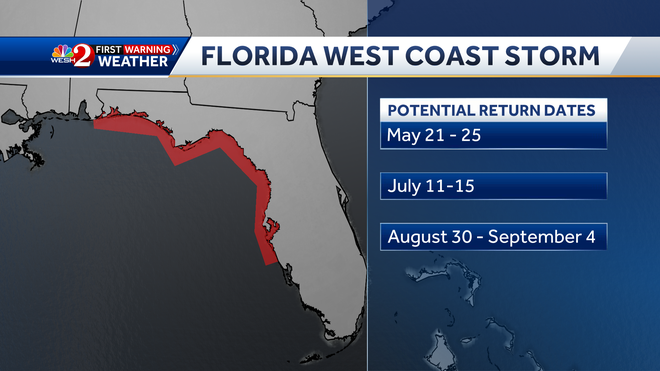 He then goes on to detail potentials for a Carolina coast storm and areas of interest in South Texas and the mid-Atlantic.
In terms of the total number of storms, WESH 2 News is predicting a "somewhat average hurricane season" which translates to around 14-18 named storms, 7-9 hurricanes, and 2-4 major hurricanes.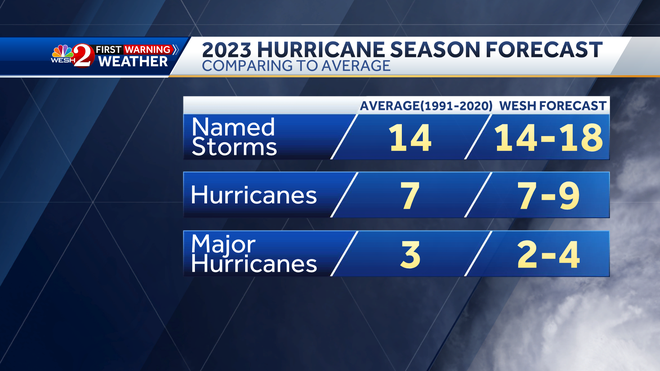 According to Burris, the 1957 and 1976 seasons are the "best" to compare to 2023. He noted that during those seasons most of the systems that made landfall were weak "having tropical storm intensity instead of hurricane or major hurricane intensity."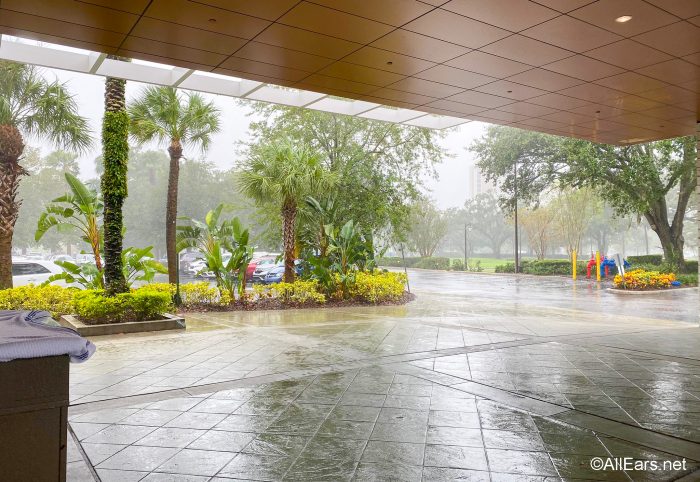 Burris points out that areas outside of the hot spots could still be affected by hurricanes, but the chances are closer to average or below average.
Keep in mind that these are just forecasts and predictions. If you'll be visiting Florida during hurricane season, it's important that you come prepared regardless of whether your dates fall outside of those "hot dates" on the calendar. For some tips check out our posts below: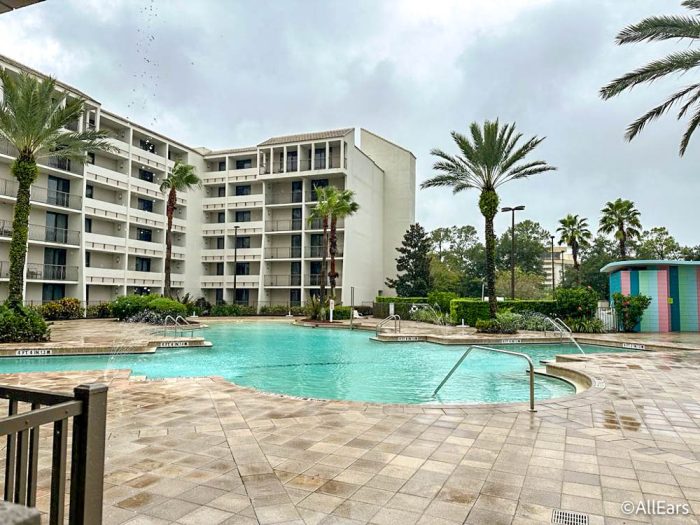 We'll continue to look for news about this upcoming hurricane season and share that with you. Stay tuned for more.
What do you do when traveling to Disney World during hurricane season? Tell us in the comments.