It's Mardi Gras time in Universal Orlando!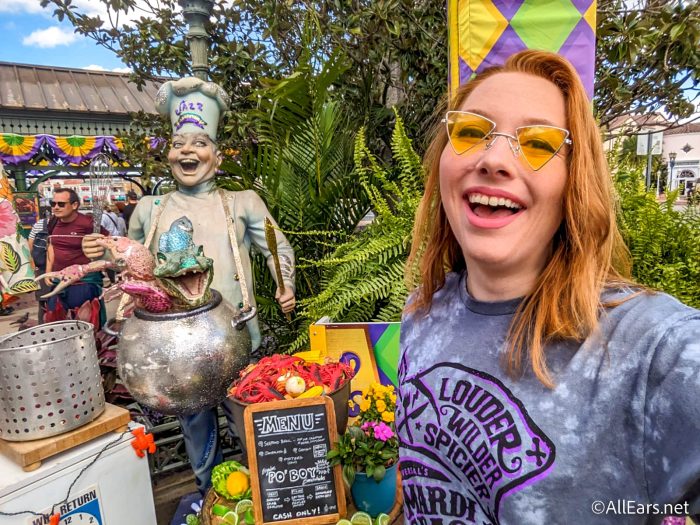 We're checking out everything there is to see and do at this yearly event — but most importantly, we're trying all the food. Come with us to grab some of our favorite treats from this year's celebrations!
You can check out the menus for this year's celebrations right here. There's a lot to grab and explore, so we suggest making a list ahead of time for what you'd like to try.
Tribute Store
Our first stop was at the tribute store, where we eyed a display case of sweet treats.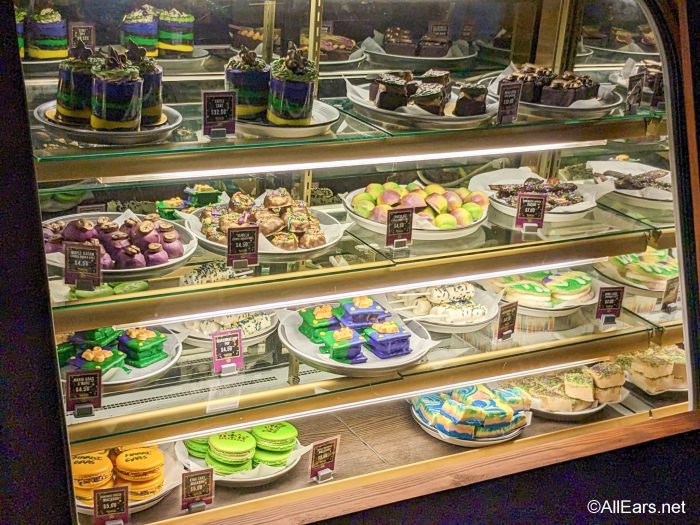 We grabbed the Bananas Foster Macaron for $5. This isn't quite the same as a traditional macaron, but the pastry was the right consistency and texture. This was VERY sweet and we got that bananas foster flavor, including a little kick that reminded us of rum.
Central City
Over in Central City, we tried the  Shrimp Boil for $12.49. This is a mixed bag of shrimp, andouille sausage, potatoes, and corn on the cob. Okay, so here's a heads up — the shrimp is not peeled or deveined. So that was our least favorite part. Also, everything at this booth is cooked to order, so it takes some time to get your food. But that means it's all cooked well and you get it when it's still hot.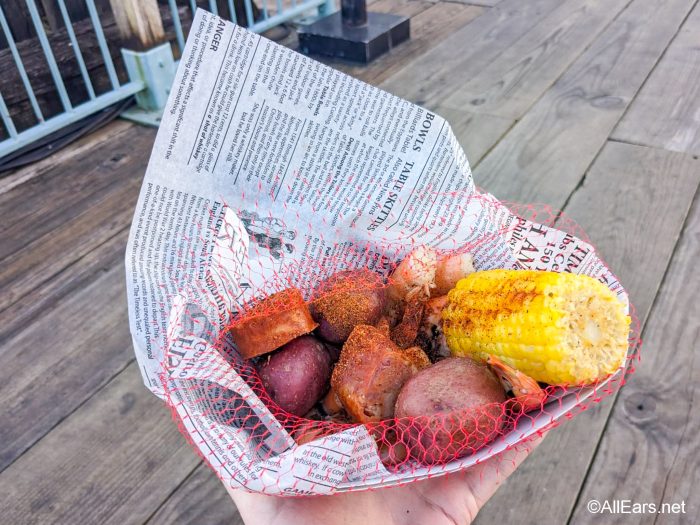 The sausage was our favorite part — it had such a good flavor. The corn added a hint of sweetness. The potatoes were cooked well, but we noticed they had little eyes on them, but that didn't bother us. We liked the flavor of the shrimp, but we would've preferred it being prepared first.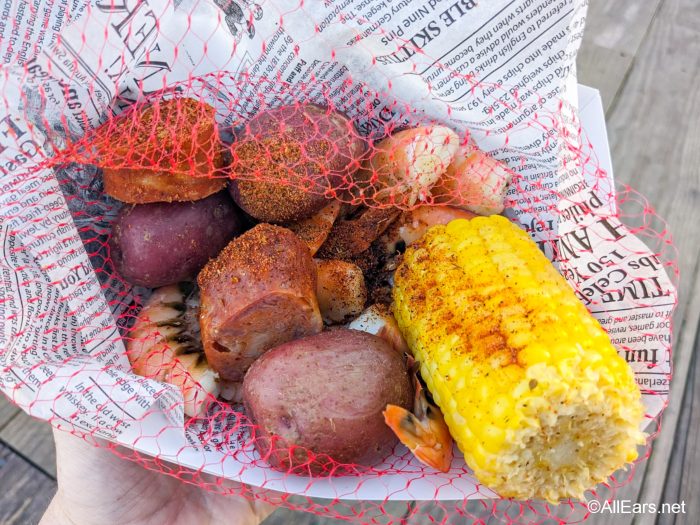 French Quarter/New Orleans Desserts
Our first buy from this spot was the King Cake for $13.99. This treat is a traditional cake with cinnamon swirl icing and colored sanding sugar. This cake is HUGE, so you're getting your money's worth. But it's refrigerated, which made it a little hard to cut into with a plastic knife, and made it hard to chew. If you get this, it might be better to just take it home and let it sit for a while to soften up. But overall, we don't think this is up to the standards of what we expected from a King Cake.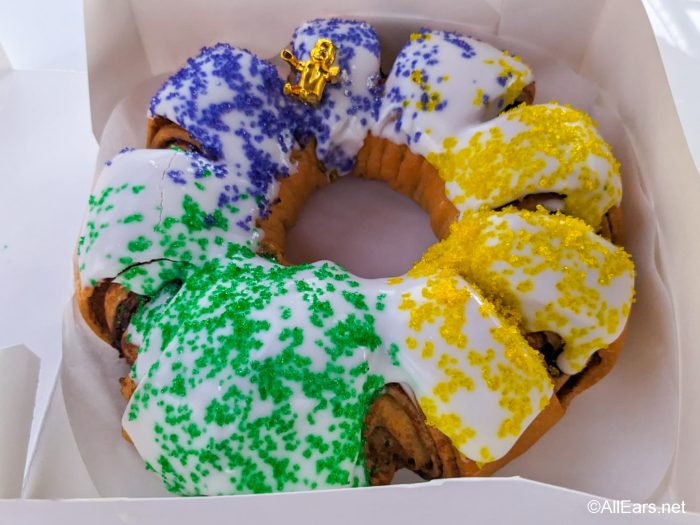 We also grabbed the Beignets for $6.99, which are sweet fried pastries dusted with powdered sugar. The beignets are a little small, but you do get four in a bag. They are warm and had nice crispy edges, but not soft enough like we thought they should be. But it's fried dough covered in powdered sugar, so that made us happy.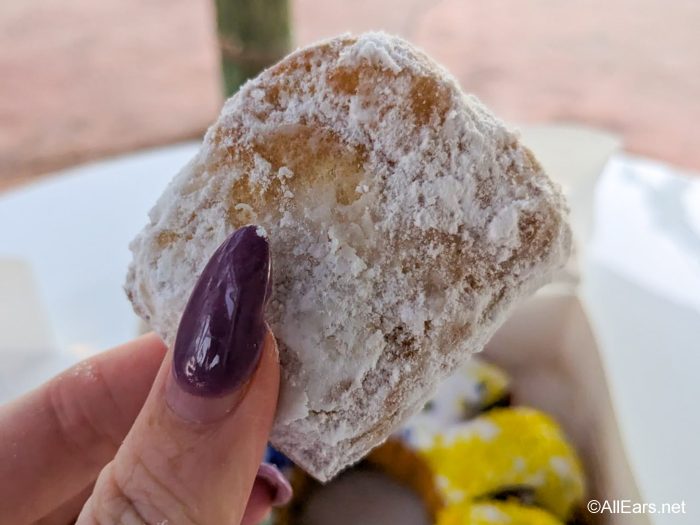 Italy
Next was the Gelato Stuffed Pressed Brioche for $6.29. This ice cream sandwich can be made with Oreo and mint, Nutella and vanilla, or strawberry. We grabbed the strawberry and were IMPRESSED. We think this is even better than the brioche ice cream sandwich you can get at EPCOT. The gelato is creamy and delicious and the strawberry sauce just made it even better.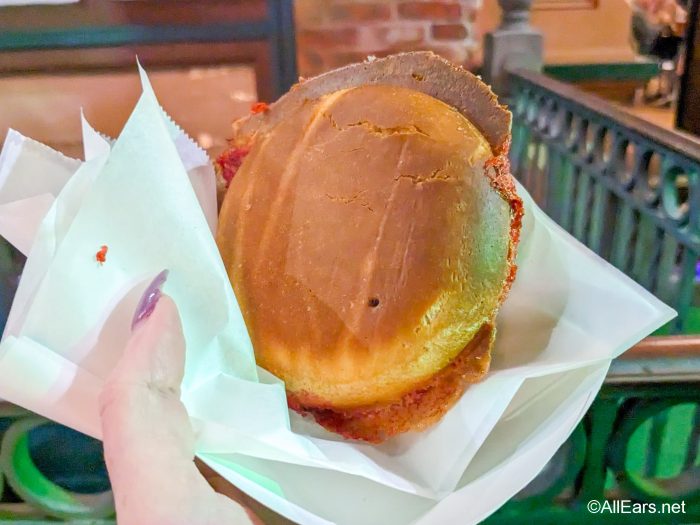 Japan
We had to try the Ube Ice Cream Sesame Bubble Waffle Cone, which can be yours for $9.99. This treat is ube soft serve ice cream served in a toasted black sesame bubble waffle with cookie crumbs, pocky, and a Meiji panda cookie.
This is the PERFECT treat. The waffle is crispy at the edges, but it has those soft pillowy bubbles. The Ube soft serve tastes like vanilla, but with an earthy note to it. We didn't get a lot of the black sesame. Add in those toppings, and this one is a show stopper for us!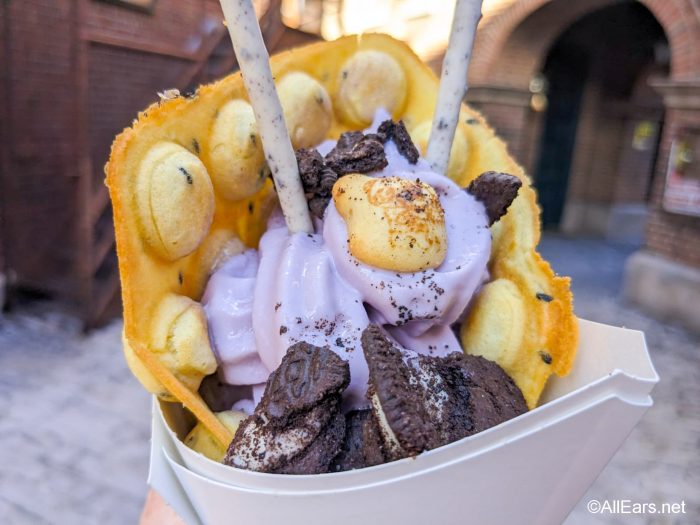 French Quarter Menu #3
We also grabbed the Jambalaya for $6.99, which is mixed rice, andouille sausage, chicken, shrimp, peppers, and tomatoes topped with crawfish. This was tasty and you get a good portion size. It comes with heaps of rice, with a lot of meat mixed in.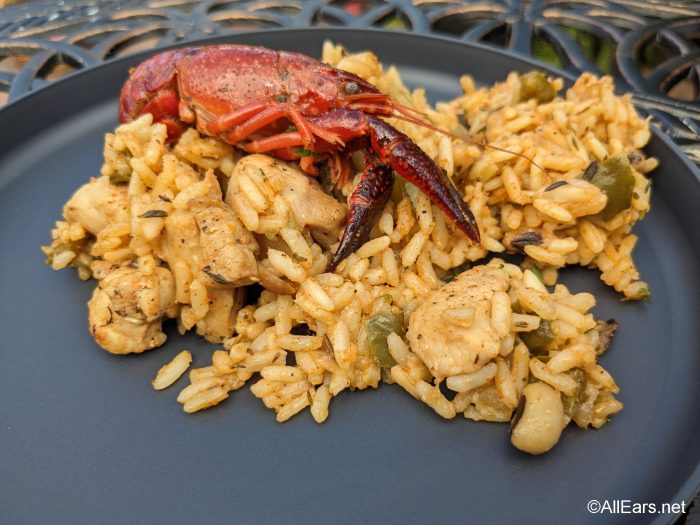 We also liked that it was well-seasoned, but not spicy. However, we struggled a bit with eating the crawfish, but after we fought it, it did taste pretty good.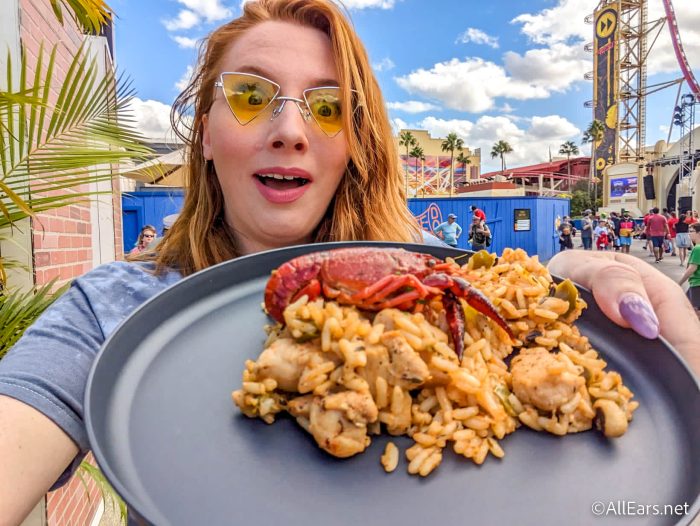 The Category 5 Punch is made with Myers dark rum, Cruzan aged dark rum, passion fruit puree, and grenadine with orange and lime juice. It reminded us of a Mai Tai with all those fruity flavors. Also, get the souvenir cup if you're planning on having more than one drink.
And those are all the treats and eats we tried at this year's Mardi Gras Celebration. As always, be sure to stay tuned to AllEars for all the latest Universal news.
Join the AllEars.net Newsletter to stay on top of ALL the breaking Disney News! You'll also get access to AllEars tips, reviews, trivia, and MORE! Click here to Subscribe!

What are you planning on grabbing at this year's celebration? Tell us below!