To all who come to this photo trivia game, welcome! Along the way, the photos can make us relive memories and see details that Walt's Imagineers put into everything we love in Walt Disney World!
Isabel Blank! Congratulations on getting your Ears! I'm glad to hear from you! Take care of yourself on the black top, and remember: the good Guests might say less than the complainers, but it doesn't mean we're not there, thankful to you and all the other CMs. And you are still one of the proud, Walt's people, doing the tough job so we have a good time. Plus, you can vent here with your fellow CMs 🙂
https://unclewalts.com/forum/viewforum.php?f=2
Andy Hickey, thank you for the wonderful note! I really appreciate it. 🙂
And now: Challenge #701:
And here's the answer: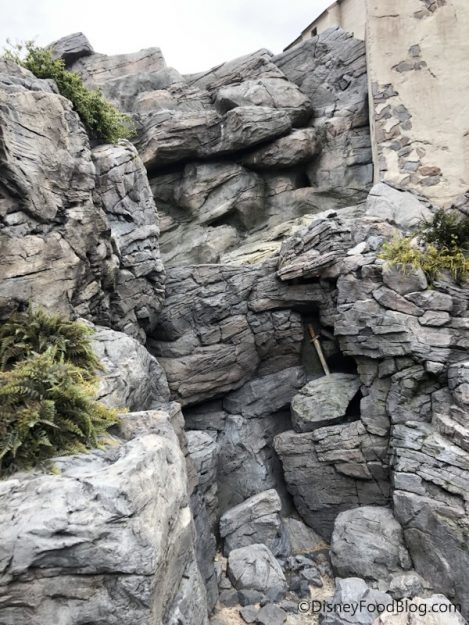 The hidden sword in the Norway Pavilion. The water is turned off here, so the picture shows it even clearer.
You liked this kind of challenge so let me find something like it. After this, we'll do a few mediums to easy challenges.
The first winner this week is: Adolph and Kimberly Timm! Congratulations to Adolph and Kimberly and all the winners this week: Jim Wieczorek, Tony Bivens, Brooksbunch, Luis Rodriguez, Grumpys Groupies, Jennifer Petix, Andy Hickey, Brian Gallant, Claire Gregory, Bonnie Jean, Jim Finley, Ken Savage, Gloria Martin, Vera And Izzy Williams, Nancy Cole, Debby Stailey, Deb Ragno, Tim Burr, Phyllis, Barbara D, Chad D, The Kertes Family, Team Hill, Bob Kiel, Tammy Warmouth, Sandy Gempp, Nance Speth, Glenn And Nancy Motson, Susan K, Joyce Shipman, Karen Fichter, Scott C., Belicia, Joseph Michael Zafia, The Nufranick Family, David G Crockett, Emily Hudson, Erin Kauppinen, Sue And Ed Adams, Martha And Justin Collins, Samantha B, The Hicks Family, Pam And Kevin, Sandra Debow, John Debow, Sue Bridges, David Benjamini, Beth Mcmeekin, Linda College, Beth Wolf, Hunter Armstrong, Linda Hoffman, Sandie Albrecht, Ted Flory, Barry Gruber, Sands Family, Michelle Fure, Robert Wescovich, Richard M Jevack, Theresa Maradei, Linda Ranatza, Arlene Vicek, Kiersten, Jim & Lorie Sonnen, Debra Kuklinski, Tom Patton, Les Whitten, Mike Cassidy, Janet T Thorn, Paul And Kelli Grundman, Holly Baxter, Terry G, Neil And Lori Bowen, Josh Weiss, Charity Lux, Derek Fitchett, Lauren Blair, Betty Serviere, Isabel Blank, Jeff Blank, Theresa Rucando, Curtis Bille, George Mundy Jr, Martin Cassidy, Leigh Mertz, Jodi Cook, Douglas Bryant, Melody Odonnell, Mark Hardy, The Patterson Family, Sandra Ceplecha, Melissa Tortorici, Lou Bodofsky, The Gleckler Gang, Bob & Kathy Mckim, Beau Harrison, Brian Heilig, Michael P Weeman, Scott Sangston, Dee Dee Kenney, Brian Richmond, Jodie S., Barry Sklenar, Barclay Bakkum, Steve Knapp, The Wolfe Family, Shannon Benton, Elliot James Blair, Vicki Britt, Maddie Inman, Gallagher Family, and Ted Dastick Jr.!
______________________________________________________
Challenge #702 for August 22nd 2021 Where in the world is this?
Switching parks again and hopefully I have a real challenge for you. I did play with contrast etc so it's a bit more viewable, but it might throw you off since it's darker in reality. Update: Only 2 people have told me the attraction this is AND what this is. Remember, I need both.
Where in the World #702
Spoiler space (hint below)
|
|
|
|
|
Hint: It's on a faster ride (which is why it's blurry), one that opened 7 years ago. (Wow, 7 years already) Remember: I need both what this is and where this is. So just telling me what ride opened 7 years ago isn't a full answer.
Do you know? Do you have a guess? Send in your answer before the end of the day on Thursday, August 26th by clicking on the blue box below. Please do not post your answers on this blog post.
See you soon, Players!

_____________________________________________________________________
Everyone who sends in a correct answer to a Where in the World Challenge this month will be entered in a drawing at the end of the month for some special AllEars® goodies!
Be sure to follow @allearsnet on Instagram and Twitter!
Check out our YouTube Channel for reviews, news, information, and more!
Click below to subscribe to the AllEars® Newsletter so you don't miss any of the latest Disney news!