To all who come to this photo trivia game, welcome! Along the way, the photos can make us relive memories and see details that Walt's Imagineers put into everything we love in Walt Disney World!
I heard about the problems again, so I contacted the AE admin team. Hang in there, Players, and I hope you see this.
I'm reposting since many people didn't see it.

And now: Challenge #682: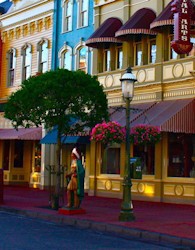 And here's the answer:
Main Street USA! I did this because I was going through an article of Little Known Secrets in Walt Disney World. One of this is the red sidewalks on Main Street that act as the red carpet treatment.
Tom Patton was the first to send in the correct answer! Congratulations to Tom and all our winners this week!  Andy Hickey, Sherry Knoster, Gloria Martin, Karen Davis, Team Hill, Richard Long, Aljaneen Curtis, Brooksbunch, Grumpys Groupies, Robert Hicks, Karen Fichter, Deb Ragno, The Kertes, Deb Ragno, Ken Maikowski, Janet T Thorn, David Brown, Joseph Michael Zafia, Emily Hudson, Martha And Justin Collins, Ken Savage, Brian Gallant, Debby Stailey, Steve Knapp, Tony Bivens, Terry Gengler, Linda Hoffman, Axel Beer, Betty Serviere, Joann Albrecht, Josh Weiss, Nancy Cole, Bonnie Jean, Stacy Sanders, Nance Speth, Paul And Kelli Grundman, Tricia Petty, Glenn And Nancy Motson, Kiersten, Laurie Walker, Linda College, Sue Bridges, Fred Leblanc, John Debow, Sandra Debow, Jennifer Petix, James Malue, Luis Rodriguez, David Benjamini, Tammy Warmouth, The Kuroly Family, Michele Guarneri, Beau Harrison, Arlene Vicek, Vicki Britt, Carolyn Kelley, Susan Higginbotham, Jim Finley, Sandy Gempp, Sandy Gempp, Adolph And Kimberly Timm, John Phillips, Belicia, Mark Hardy, Les Whitten, Phyllis, Dan M., Scott, Robert Wescovich, Sue And Ed Adams, Tim Burr, Chad D, Barbara D, Jim Wieczorek, Gallagher Family, Karen Bellamy, Claire Gregory, Joyce Shipman, Vera And Izzy Williams, The Nufranick Family, Tracy Luzzi, David G Crockett, Michelle Fure, Michelle Fure, Peter, Timothy Snyder, Stefan Owens, Jim & Lorie Sonnen, F Williams, Barry Gruber, Barry Gruber, Ed Suscreba, George Mundy Jr, John Grosz, John Grosz, Russ Morgan, Maura Simon, Jeff Blank, Michael P Weeman, Theresa Rucando, Linda Ranatza, Marlene Barron, Doug Perez, Jodi Cook, John Phillips, Joseph Skeen, Bob Patterson, John Eiler, Ellen Sullivan, The Patterson Family, Martin Cassidy, The Wolfe Family, Caroline Sciore, Jeremy Reichelt, Lou Bodofsky, Sandy Ceplecha, Fred Terluin, Wayne A Chadourne, Shannon Benton, Ruth Woodhouse, Melissa Littman, The Holmes Family, Grumpys Groupies, John Paul, Scott Sangston, Robert Kiel, Annie Tamerjan, Ralph Yeager, Susan, Mis Jamie Marie, Scott Cerino, Kristi Jack, Dennis Bazata, Bruce Hinterleitner, Kim Juday, Beth Wolf, Tammy Cronin, Mark Brooks, Sherri Pell, Lori Rienhardt, Sherry Trapp, Barclay Bakkum, Christy Schor, The Gunnels Gang, Lori, Mark Brooks, Donald Purney, Tony Jack, Maddie Inman, and Hunter Armstrong!
And we have more! These Players also won Challenge 681 and I somehow didn't get their entries. They need to be recognized and they're in the monthly drawing!
Team Hill, Karen Fichter, Deb Ragno, Luis Rodriguez, Sue and Ed Adams, Jim & Lorie Sonnen, Jeff Blank, Linda Ranatza, Ruth Woodhouse, Grumpys Groupies, The Gunnels Gang, and Tony Jack!
______________________________________________________
Challenge #683 for April 11th, 2021 Where in the world is this?
We're going back in time a bit, thanks to Jeff and Isabel Blank! Do you want to submit challenge? Let me know.
Hint: From one street to another. This one used to feature Youse Guys Merchandise.
Do you know? Do you have a guess? Send in your answer before the end of the day on Thursday, April 16th by clicking on the blue box below. Please do not post your answers on this blog post.
See you soon, Players!

_____________________________________________________________________
Everyone who sends in a correct answer to a Where in the World Challenge this month will be entered in a drawing at the end of the month for some special AllEars® goodies!
Be sure to follow @allearsnet on Instagram and Twitter!
Check out our YouTube Channel for reviews, news, information, and more!
Click below to subscribe to the AllEars® Newsletter so you don't miss any of the latest Disney news!